Profiteering on Banker Deaths: Regulator Says Public Has No Right to Details
By Pam Martens and Russ Martens: June 30, 2014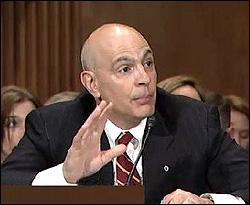 Daniel Stipano, Deputy Chief Counsel of the OCC, Testifying Before the U.S. Senate on April 11, 2013
A man with a long history of keeping big bank secrets safe from the public's prying eyes has denied the appeal filed by Wall Street On Parade to obtain specifics about the worker deaths upon which JPMorgan Chase pockets the life insurance money each year.
According to its financial filings, as of December 31, 2013, JPMorgan held $17.9 billion in Bank-Owned Life Insurance (BOLI) assets, a dark corner of the insurance market that allows banks to take out life insurance policies on their workers, secretly pocket the death benefits, and receive generous tax perks subsidized by the U.S. taxpayer. According to experts, JPMorgan could potentially hold upwards of $179 billion of life insurance in force on its current and former workers, based on the size of its BOLI assets.
The man who denied Wall Street On Parade's appeal is Daniel P. Stipano, who told us by letter on June 20, 2014 that he had 450 pages of responsive material but it was not going to be released to us or the public. (See 
OCC Response to Appeal from Wall Street On Parade Re JPMorgan Banker Death Bets
.)
Continue Reading at .....
http://wallstreetonparade.com/2014/06/profiteering-on-banker-deaths-regulator-says-public-has-no-right-to-details/
Posted by
enerchi
at
6/30/2014 09:48:00 PM
Thanks to:
http://www.ascensionwithearth.com