Bear & Wolf Become Besties!
BY: ROB HOFFMAN
Never before has the wild produced a more unlikely or majestic friendship. Take the most powerful creatures in the woodland and turn them into hunting buddies and what do you get? A photographers wet-dream and international sensation of animal-loving internet onlookers.
Finnish photographer Lassi Rautiainen was able to capture the union of a female grey wolf and male brown bare, documenting the unusual pair over the course of ten days. The two go everywhere together. Hunting as a team and sharing their spoils, the animals constitute what is likely the scariest shit that lower food chain animals have seen since the birth of the clear-cutting machine.To spectators, they represent the fluidity and unrelenting beauty of the wilderness. But the friendship also reminds us of the importance of maintaining our earth's untrodden backcountry.
according to
David Suzuki and Valhalla Wilderness Society.  Think about it—we could be fucking up our chance to see a spirit bear befriend a killer whale.
Until then, this bear-wolf friendship is a symbol of our responsibility to guard Earth's wildlife we need so desperately both in practice and pleasure.
Damn Mother Nature, you sexy.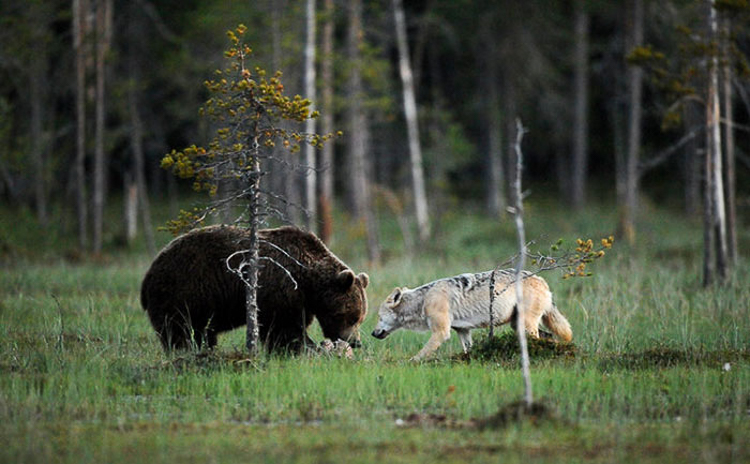 Thanks to:http://www.theplaidzebra.com