Salvador Dalí's 1870s Surreal Tarot Card Designs Being Released as a Complete Deck
---
by
Daisy Magnum
November 11, 2019
It was during the New Age boom of the 1970s, that Dalí was commissioned to create a custom deck of Tarot cards for the James Bond film 
Live and Let Die
. However, the project fell through after Dalí requested an eye-watering rate for the task. Despite this, the artist continued to work on the cards as a passion project, and in 1984 a limited edition batch was published. These cards have recently been resurrected by 
publisher Taschen
. With a 
revitalised public interest
 in alternative spiritualities that reach beyond the patriarchies of monotheistic religions, this tarot feels more relevant than ever.
Each of the 78 cards display unique, colourful designs true to the artist's eccentric oeuvre, eclectically combining recognisable faces from the art history archives with occultism and the notorious Dalí wit. Notable cards include himself cast as the magician; Catherine De Medici (infamous for reputedly poisoning her enemies) as – ironically – the Queen of Cups, and sporting a villainous moustache to boot; and his wife Gala, who apparently invigorated his interest in mysticism, as the Empress. In a nod towards the Bond movies, he also used the omnipotent face of Sean Connery for the Emperor.
The revived tarot cards come with a booklet written by Johannes Fiebig, a leading tarot author and expert in the field of psychological interpretation. Alongside an introduction about Dalí himself, this crucially includes a guide, explaining the meaning of each card and how to properly perform readings. Even beyond the ephemeral realm, Dalí continues to stay one step ahead of the game, 
contributing to culture
 in the most 2019 way.
Available now  from Taschen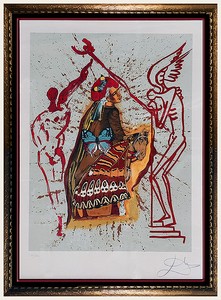 http://woked.co/salvador-dalis-1870s-surreal-tarot-card-designs-being-released-as-a-complete-deck/Thanks to: http://woked.co