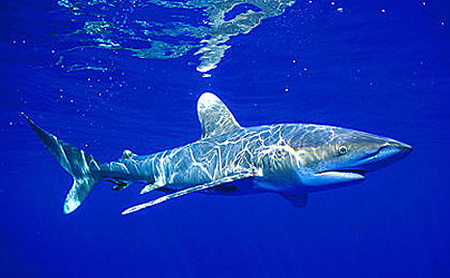 Oceanic whitetip
#sharks
were once so common, a 1969 textbook called them "perhaps the most abundant large animal, large being over 100 pounds, on the face of the earth." They're now suspected to be at a fraction of their former levels, as suggested by some scattered studies from different regions. This July, a group of scientists co-ordinated by the Cape Eleuthera Institute,
#OceanX
, Haiti Ocean Project, and the Atlantic OWT Conservancy journeyed aboard OceanX's
#alucia
to a suspected
#babyshark
nursery just off the coast of
#Haiti
. This is a product of
#OneBigWave
, produced by
#OceanX
in partnership with the Moore Charitable Foundation and the Bloomberg Philanthropies Vibrant Oceans Initiative. Research by the Cape Eleuthera Institute, Atlantic Oceanic White Tip Collaborative, and the Haiti Ocean Project.
https://youtu.be/xb3RA0C-Z1Y