Mystery as pigeon spotted wearing a sombrero
Posted on Sunday, 19 January, 2020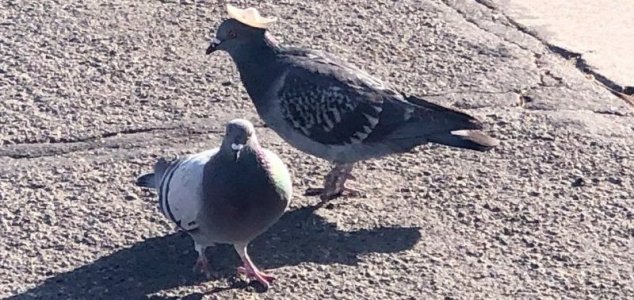 Who is sticking these hats onto pigeons ? Image Credit: Twitter / Sabra Newby @sabrasireen
Last month it was pigeons wearing cowboy hats - now it's pigeons wearing sombreros. But who is responsible ?
The mystery of who has been sticking tiny hats onto pigeons has deepened further still this week after photographs emerged showing one of the birds wearing the pint-sized headgear in Reno, Nevada.
"So I'm out in the field on a ride along with parking enforcement, and what do I see? It appears to be a pigeon with a sombrero..." wrote Twitter user Sabra Newby who snapped the spectacle.
Last month a number of pigeons were spotted in Las Vegas, Nevada
wearing small cowboy hats
, leading to questions over who might be responsible as well as concerns for the birds' safety. 
Earlier this week those fears proved more than justified when one of the original hat-wearing birds was reported to have died, possibly from the fumes produced by the glue that the culprit used.
Investigations however have so far failed to identify who is responsible or why they are doing it.
https://www.unexplained-mysteries.com/news/333908/mystery-as-pigeon-spotted-wearing-a-sombrero
Thanks to:
https://www.unexplained-mysteries.com