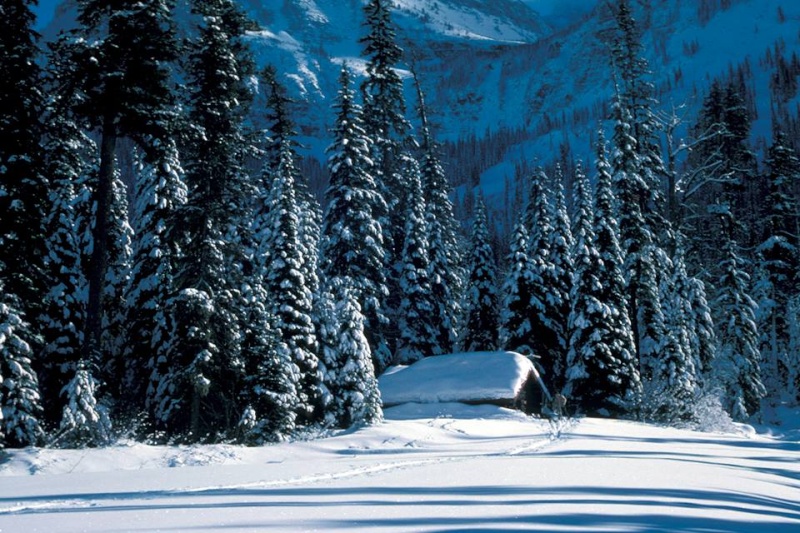 Logan Creek Patrol Cabin, winter 1982. National Park Service Photo
"Have you ever put in a winter
Where the wind seems always to blow,
Sweeping down from the bleak mountain passes,
And most every day brings more snow;
In a cabin set back in the timber
Somewhere near the Canadian line;
With white peaks of the Rockies as guide posts
While patroling [sic] through forests of pine?
Four log walls: they are barren of pictures;
Just two windows; a snug fitting door;
There's a cot, and a table, and cook-stove,
And tin dishes you've used once before.
All the meals are of sour dough for hot cakes,
Or vegetables brot [sic] in a can,
Or dried prunes, navy beans, ham and bacon,
That were packed in ere winter began...
...You come home all tired out in the evening;
Stand the snowshoes alongside the door;
And you think that this cabin's a blessing
When the long day's journey is o'er.
When the fire's again brightly glowing,
There's nothing much else left to do,
But to wait for the coffee-pot's singing,
And my! Smell that Mulligan stew.
If you've ever put in such a winter,
Tho at times you have found it quite tough,
You have proved to yourself and your fellows
That you're made of about the real stuff.
There are others with lives far more easy,
With parties and dances and shows,
But give me the snug snowshoe cabin
In the woods where the free, wild wind blows."
Excerpted from "Winter Patrol in Glacier National Park," poem by Assistant Chief Ranger George N. Page. Published in the January, 1930 issue of "Nature Notes from Glacier National Park".