December 5, 2013
Energies Richochet Wildly in Planet-Wide Events
In times of transition, as in the seasons, the weather, and now Consciousness as the Light chases the dark from the planet, we're seeing wide variances in energies, behaviour, and events. Many 'firsts' occur daily on planet Earth now, as well as strange anomalies.
Thanks Patrick and Uwe.  ~ BP
For example, there's this historical event in Iceland… and something we hear about all the time in America, but there, it was a first.
An Icelandic police officer stands guard at a peaceful protest near Iceland's Parliament house in Reykjavik.
Credit: Ints Kalnins/Reuters
December 3, 2013
Iceland grieves after police kill a man for the first time in its history
It was an unprecedented headline in Iceland this week — a man shot to death by police.
There's an audio at the source you can listen to here.
"The nation was in shock. This does not happen in our country," said Thora Arnorsdottir, news editor at RUV, the Icelandic National Broadcasting Service.
She was referring to a 59-year old man who was shot by police on Monday. The man, who started shooting at police when they entered his building, had a history of mental illness.
It's the first time someone has been killed by armed police in Iceland since it became an independent republic in 1944. Police don't even carry weapons, usually. Violent crime in Iceland is almost non-existent.
"The nation does not want its police force to carry weapons because it's dangerous, it's threatening," Arnorsdottir says. "It's a part of the culture. Guns are used to go hunting as a sport, but you never see a gun."
In fact, Iceland isn't anti-gun. In terms of per-capita gun ownership, Iceland ranks 15th in the world. Still, this incident was so rare that neighbors of the man shot were comparing the shooting to a scene from an American film.
The Icelandic police department said officers involved will go through grief counseling. And the police department has already apologized to the family of the man who died — though not necessarily because they did anything wrong.
"I think it's respectful," Arnorsdottir says, "because no one wants to take another person's life. "
There are still a number of questions to be answered, including why police didn't first try to negotiate with man before entering his building.
"A part of the great thing of living in this country is that you can enter parliament and the only thing they ask you to do is to turn off your cellphone, so you don't disturb the parliamentarians while they're talking. We do not have armed guards following our prime minister or president. That's a part of the great thing of living in a peaceful society. We do not want to change that. "
SourceAnd the pendulum also swings to this, in Thailand…  We need more of this!
December 3, 2013
Thailand orders police to stand down, as protesters vow to oust PM
Protesters entered grounds of Government House, but left peacefully.
Thai anti-government protest leader Suthep Thaugsuban said on Tuesday he will continue the fight to oust Prime Minister Yingluck Shinawatra, despite a government decision earlier not to confront protesters.
"Today we won a partial victory but we will fight on until the Thaksin regime has been driven out," he said in a speech to supporters, a reference to the influence Yingluck's brother, former premier Thaksin Shinwatra.
Earlier on Tuesday, the government ordered police to stand down and allow protesters into state buildings, removing a flashpoint for clashes and effectively bringing an end to days of violence in Bangkok in which five people have died.
The protesters, who are demanding the resignation of Prime Minister Yingluck Shinawatra, entered the grounds of Government House, the complex that houses her office, but left peacefully.
Although the protesters are still on the streets, it appears that this bout of animosty between the Bangkok-based establishment and forces loyal to Yingluck and her brother, former premier Thaksin Shinawatra, may be winding down.
Thursday is the birthday of much revered King Bhumibol Adulyadej, and the protesters are highly unlikely to continue their campaign on what is traditionally a day of prayer and celebration.
"The government is still doing its job. This morning we had a cabinet meeting as usual," Deputy Prime Minister Pongthep Thepkanchana told Reuters.
"We haven't given up, but today the police have backed off because we see the protesters just want to seize these places as a symbolic action, so we want to compromise."
He said Yingluck wanted to open talks with the protesters, academics and others to try to find a solution. She has refused to resign.
After weeks of protests that have brought clouds of teargas, rubber bullets and intermittent gunfire to parts of Bangkok, the demonstrators celebrated the withdrawal of police and the dismantling of their barricades as a victory even though the government remains in place.
At Government House, protesters mingled with police they had been lobbing petrol bombs at the day before. Crowds later strolled through iron gates into the compound waving flags.
It was a similar scene outside the city police headquarters, where officers shook hands with protesters and handed some of them roses, before this group, too, marched away, apparently headed for the Democracy Monument intersection that has been their gathering point for weeks.
"We don't want anyone to go inside and ruin government buildings," said Brenda Nong, 51, a protester from Bangkok. "We're good people. We're here for democracy."
Army keeping distance
Suthep is a former deputy prime minister of a government bitterly opposed to Thaksin that ordered the military to put down pro-Thaksin protests in 2010. About 90 people were killed.
Yingluck's government came to power with a landslide election victory in 2011.
More violence could have increased the chances of the army stepping in to restore order but ordering the police to stand down to avoid bloodshed makes the government look magnanimous.
Thaksin was ousted by the military in a 2006 coup but army chief Prayuth Chan-ocha told reporters on Tuesday the army was not getting involved this time: "This is a political problem that needs to be solved by political means. However, we are monitoring from a distance."
Thai consumer confidence has been hurt by the protests, falling in November to its lowest level since February 2012. . That, plus cancellations by tourists, could add to the problems of an economy struggling with the weakness of global export markets.
Thai financial markets have fallen sharply since the protests began more than a month ago in opposition to a government bid to introduce an amnesty that would have expunged Thaksin of a graft conviction and allowed him back from self-imposed exile.
However, the baht currency was steadier on Tuesday at around 32.20 to the dollar, while the stock market rallied almost 1 percent.
Five people have died in the violence, including one who succumbed on Tuesday to wounds sustained in weekend clashes. A Bangkok hospital said two protesters were shot and wounded on Monday. It was not known who shot them.
Thaksin's opponents hold considerable power and influence, among them wealthy conservatives, top generals, bureaucrats, royalists and many members of the urban middle class.
Many of them see Thaksin as a corrupt, crony capitalist who manipulates the masses with populist handouts and is a threat to the monarchy, which he denies.
He is adored by the poor who would be outraged to see Yingluck's government removed. Yingluck said on Monday she was willing to explore every possibility for a peaceful solution. Her party would probably win any new election.
Suthep, 64, who resigned as a Democrat lawmaker to lead the protests, wants a vaguely defined "people's council" to replace the government. Yingluck said that was unconstitutional.
More on that…
Hundreds of Thai opposition protesters entered the government headquarters unopposed Tuesday, after police said they would offer no resistance to the demonstrators who have vowed to topple the prime minister.
Police removed barricades and laid their armor and helmets down in the streets. I have never seen anything like this.
"Thailand: protesters enter government headquarters unopposed"
http://www.telegraph.co.uk/news/worldnews/asia/thailand/10490226/Thailand-protesters-enter-government-headquarters-unopposed.html
"Bullets become backslaps in Thailand as police stand down"
http://metro.co.uk/2013/12/03/bullets-become-backslaps-in-thailand-as-police-stand-down-4212404/
"Thailand orders police to stand down, as protesters vow to oust PM"
http://www.haaretz.com/news/world/1.561485
Source
And this is unusual, too…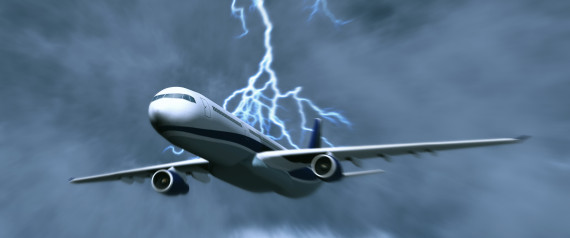 Dec. 3, 2013
In Just Six Hours, Four Planes Were Struck By Lightning Over Honolulu
HONOLULU — For hundreds of Hawaii residents and visitors, the Thanksgiving holiday ended with a bang — from a lightning strike.
A little after noon on Sunday, Hawaiian Airlines Flight 19 was struck by lightning about 12 miles southwest of Honolulu International Airport as it was arriving from Sacramento.
Four hours later, Hawaiian Airlines Flight 1121 was also hit as it was en route from Hilo to Honolulu.
Hawaiian Airlines Flight 278 took a blow at 5 p.m. while it was flying from Honolulu to Kona. And less than an hour later, Flight 236 was hit as it shuttled passengers from Honolulu to Maui.
Four lightning strikes in a span of six hours is highly unusual, according to aviation experts. And while pilots are trained to avoid storm clouds, the heavy cloud cover and pounding rains on Sunday may have given them little choice but to punch through the turbulence.
"It gives you an indication that there must have been lots of rain that the planes were flying through and an environment for static issues," said Peter Forman, a local aviation historian.
Airplanes can actually create lightning as they travel through clouds. The airplanes were "probably picking up static faster than they could get rid of it," he said.
There were no injuries from the strikes and only two planes suffered minor damage, said Huy Vo, a spokesman for Hawaiian Airlines.
While airline officials did not respond to an interview request, Vo said by email that all its planes have safety features in the event of a lightning strike. "All or our aircraft are FAA certified to ensure that lightning does not affect the structure or avionics of our aircraft," he said.
Vo said the cluster of strikes was unusual.
Only the first incident was reported to the Federal Aviation Administration and none of the four incidents were reported to Hawaii's Department of Transportation.
It's up to the discretion of pilots to report such incidents to the FAA, said Ian Gregor, a spokesman for the agency. (He said that he didn't think the FAA keeps records of aircraft lightning strikes.) Hawaiian Airlines also isn't required to report such cases to the state transportation department, which has oversight of the state's airports, said Vo.
Caroline Sluyter, a DOT spokeswoman, said that if it was a serious incident DOT would probably be kept informed.
"If it happened near the airport or affected a flight, such as if a flight had to return to a Hawaii airport due to a lightning strike, then we we would most likely know about it," she said.
But while federal and state officials were unaware Sunday of the unusual spike in lightning hitting airplanes, passengers stuck for hours at island airports were aware that something had happened, even if they didn't know what.
Two of the 717 aircraft were pulled from the airlines' lineup to undergo maintenance causing a cascade of delays throughout the islands' airports for much of the day. Hundreds of island residents and tourists returning home for the holiday lay sprawled out on couches and chairs, some nodding off as delays stretched as long as four hours, some lasting past midnight.
Source
Thanks to: http://2012thebigpicture.wordpress.com