NYPD Officers Send Aerial Message to Mayor De Blasio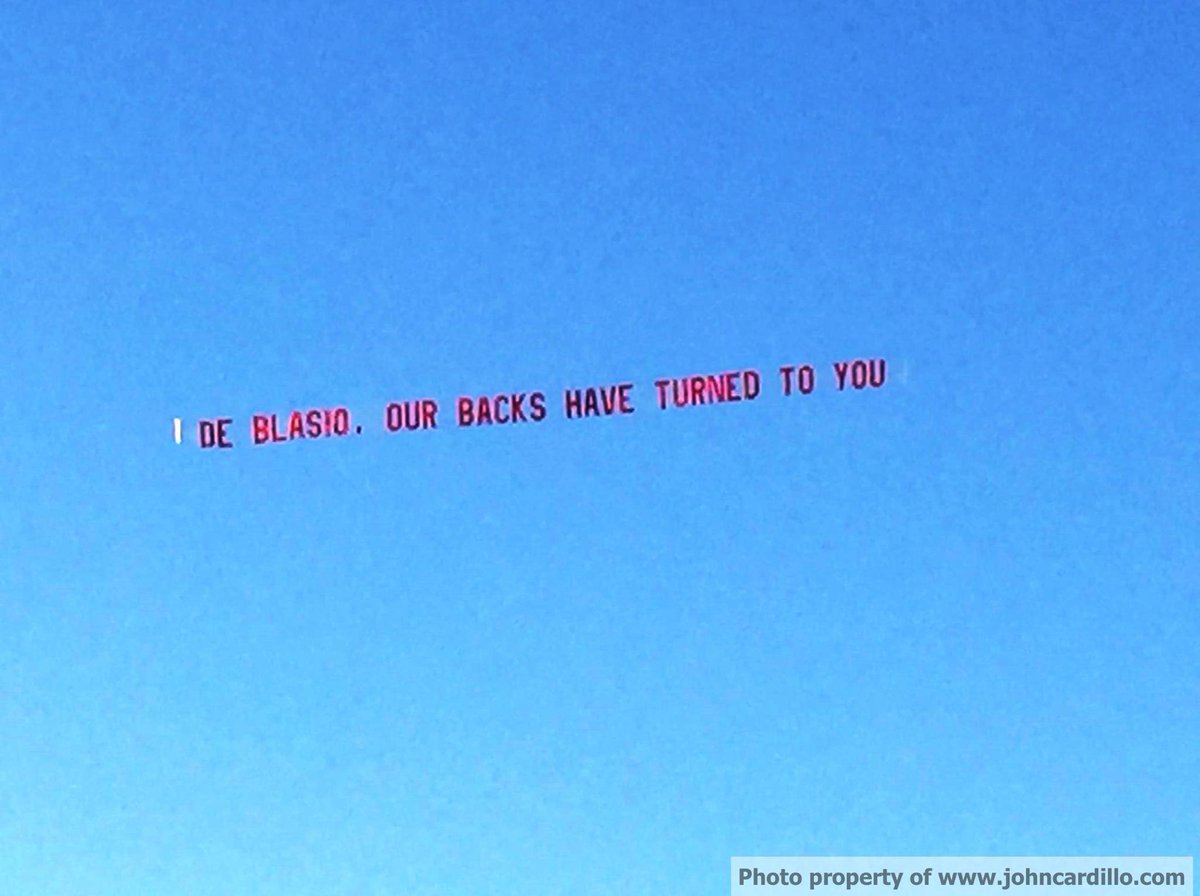 Interesting developments continue to unfold in the wake of the two NYPD officers shot in their patrol car on Dec. 22, after which the gunman shot himself. No surprise there. Funny how the gunmen never survive these shootings to tell their stories, isn't it?There seem to be endless schemes to generate civil unrest involving the police these days. It's nice to see the ranks standing up for themselves and sticking it to the upper echelon of the NYPD, known for  corruption.  ~ BP
Backlash Against De Blasio In Wake Of NYPD Officers' Deaths Takes To Skies
Plane Pulling Anti-De Blasio Banner Seen Flying Over Hudson RiverNEW YORK (CBSNewYork) –
The mounting backlash against Mayor Bill de Blasio took to the skies Friday in the wake of two officers' deaths in Brooklyn.
A plane pulling a banner reading: "De Blasio, Our Backs Have Turned To You" was seen flying over the Hudson River near the George Washington Bridge and lower Manhattan Friday morning.
Blogger and former NYPD cop John Cardillo tweeted a picture of it Friday. He said a coalition of retired and current NYPD cops, detectives and supervisors paid to have the banner flown and asked him to release a statement.
The statement said the group is "outraged by the mayor's incendiary rhetoric and for facilitating the current hostile climate towards the NYPD."
"It is our opinion that Mayor de Blasio's dangerous and irresponsible comments about his and his wife's concern for their son's safety at the hands of the NYPD fueled the flames that led to civil unrest, and potentially to the deaths of PO Wenjian Liu and PO Rafael Ramos, as well as the continued threats against NYPD personnel," the statement said. "The Mayor shows us no respect, and encourages the public to follow his lead."
Read the rest…
Thanks to: http://starshipearththebigpicture.com