French coast braced for 'tide of the century'
Rate This
More daunting earth changes expected to hit France coastline this month…
Published: 19 Feb 2015 13:07 GMT+01:00
The French coast is braced for the slightly misleadingly named "tide of the century". Photo: Franck Perry/AFP
Parts of the French coast will be on alert next month for the so-called "tide of the century", but it might get a glimpse of how bad it's going to be this weekend when seas are expected to be almost as high.
It might sound like something out of a Hollywood disaster movie, but French authorities are taking next month's "tide of the century" pretty seriously, partly due to recent and dramatic erosion of parts of its coastline.
The high tide is due to strike on March 21st and will see particularly high sea levels in certain areas along the French coast.
At the famous island of Mont Saint-Michel in Normandy (
see photo below
), which has one of the most marked differences in the levels of low and high tides, waters will rise by about 14.50 metres, compared to low tide – that's the equivalent of a four story building.
The hazards caused by the high tide were made clear on Friday live on French television when BFM TV's weather girl Fanny Agostini was taken out by a wave (see video).
It's a phenomenon that could cause coastal flooding and has put local authorities on alert.
"Of course I'm worried, even if the weather forecast is reassuring and we have put in place an emergency plan," said Alain Bachelier, mayor of Saint-Jean-le-Thomas, in western Normandy where around 140 houses are threatened if the sea breaks the natural barrier of the sand dunes.
Communes up and down the coast have been stocking up on sand bags and on the Island of Oléron, in Charente Maritime, they have brought in a 700 metre-long infatable barrier.
France's marine and oceanic service "Shom" has called for vigilance ahead of the high tides. It has warned coastal walkers, fishermen and swimmers "to not adventure too far", because the "sea will rise quicker than a man can run".
France will get a taste of how high the seas will be this weekend when another high tide is expected.
The tide coefficients, which help forecast the height of the tide, will be 118 out of a possible maximum of 120 this weekend. When the "tide of the century" hits in March, the coefficients will be 119 out of 120.
The risk of sea flooding this weekend is heightened by a low pressure weather system expected to move in from across the Atlantic, which is often accompanied by a rise in water levels.
The "tide of the century" is a slightly misleading title, given that it occurs every 18 years, the last one being in March 1997. As well as the bay of Mont st-Michel, the Atlantic coast in the  Aquitaine region will be see the highest tides.
Throughout 2015 there will be around 40 high tides of where the co-efficiencies are rated above 100 and 20 where they are calculated at over 110. By all accounts those figures are considered exceptional.
Authorities in France have grown increasingly concerned about coastal flooding. In February last year swathes of pristine coastline were washed away in storms on the Atlantic coast.
The erosion of a coastline normally takes place over decades and centuries. But in western France it happened a lot quicker last winter, with storms taking 10 metres of land off parts of the Atlantic coast, a study revealed.
The Aquitaine Coast Observatory said that its picturesque, beach lined coast had been eroded by at least 10 metres, because of all the recent storms and tidal waves.
In January Le Signal residence was evacuated when it looked as though it was going to fall into the sea.
Around 45 years ago, Le Signal was away from the sea by 200 meters. Now, the distance is 16,50m. The tweet below shows the erosion over recent years.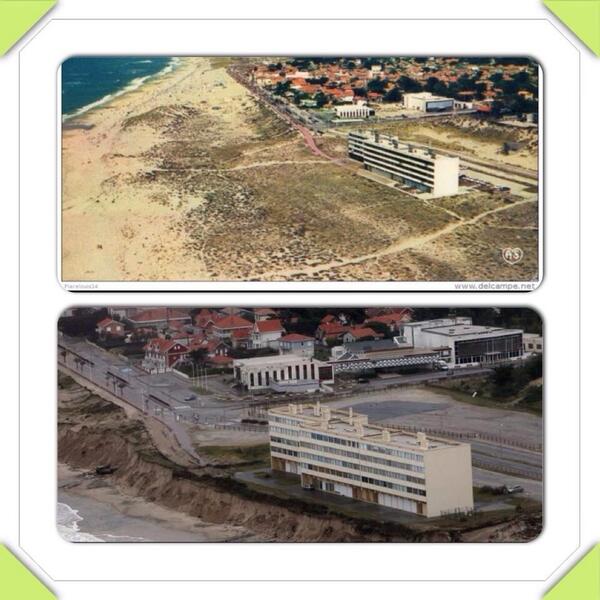 Ben McPartland (ben.mcpartland@thelocal.com)
 Source:
 http://www.thelocal.fr/20150219/french-braces-for-tide-of-the-century
Thanks to: https://ascendingstarseed.wordpress.com