French Restaurant Bans Bankers For Denying Owner Loan
French Restaurant Bans Bankers For Denying Owner Loan
But dogs are welcome in the fine dining venue.
02/19/2016 05:43 am ET
Lee Moran Trends Editor, The Huffington Post
Dogs can dine at this top Paris restaurant, but bankers? Non!
It doesn't matter how much cash they have to splash, owner Alexandre Callet is not letting them through the door.
He's making the stand at Les Ecuries de Richelieu after repeatedly being turned down for a 70,000 Euro ($77,000) loan to open a second branch.
A blackboard outside the eatery in the leafy western suburb of Rueil-Malmaison sends his message out loud and clear.
"Dogs accepted, bankers banned, unless they pay an entry fee of €70,000," it reads.
"This is not just a kebab shop," My restaurant is in the Michelin Guide and film stars come in here," Callet told The Local. "A lot of bankers who turned me down know me. They come in here."
The 30-year-old said he felt "humiliated" at the rejections because his turnover last year was around $332,000.
"I have never had financial problems and yet I find myself in this situation,"he told the Daily Telegraph. "Bankers are not doing their job."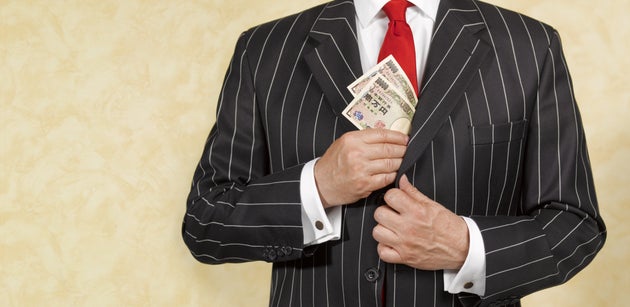 Peter Dazeley via Getty Images Bankers turned Alexandre Callet down on numerous occasions. Now he's getting his own back.
He said the policies of France's socialist government force entrepreneurs to resort to crowdfunding and that he was witnessing the "permanent sabotage of the economic fabric of France."
"Restaurateurs, entrepreneurs, we are all in the same situation," he told Le Figaro. "Whenever we want to start a business, we have to get on all fours."
Callet said he has since received a personal apology from one bank director.
The Qatari embassy in Paris has since offered Callet help, linking him to a bank in the gas- and oil-rich Gulf state, according to the Daily Telegraph.
But he rejected the offer because he'd had to put the plans for the second restaurant on hold, and didn't want to deal with banks anymore.
Posted by Obi-Wan Kabuki at 5:23 PM
Thanks to: http://americankabuki.blogspot.com