by Bridgette Lyn Dolgoff
CONTACT HERE TO SCHEDULE ONLINE SESSIONS
www.

https://coe-llc.com
NEW ETSY SHOP FEATURING HERBAL SALVES

NOW MAKING A MEDICATED OIL FOR PEOPLE WHO HAVE PCR DAMAGE
josuemercadoproductions.tk

Buy Me A Coffee:

PayPal:www.paypal.me/swaymerk CashApp:
Hillary and Bill Clinton Busted!!! plus MORE
PurpleSkyz
Admin
PurpleSkyz
Admin
Tom Henegan Update - June 2, 2016

Exclusive, explosive reports from the patriot
Joint U.S.-French Intelligence Task Force, 
operating on American soil for over 200 years

TOM HENEGHAN INTELLIGENCE BRIEFINGS
ALL Patriot Americans MUST know with sources inside
American/European intelligence agencies and INTERPOL
reporting what is really going on behind the scenes of the
corporate-controlled, fascist, extortion-friendly
propaganda U.S. media's massive deceptions

Protect and defend   YOUR   Constitution Bill of Rights,
the Supreme Law of the United Stateshttp://www.tomheneghanbriefings.com/
https://twitter.com/Tom_Heneghan



Thursday   June 2, 2016


Husband of Prosecutor Investigating Pedophile and Child Rapist Bill Clinton Assassinated


by Tom Henegan, International Intelligence Expert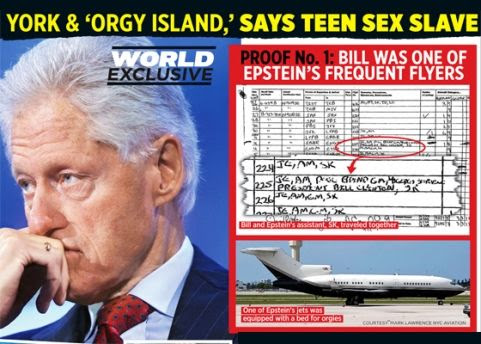 source



UNITED States of America   -   It can now be reported that the Clinton-Bush 'True Colors' Gary Best-CIA-Israeli Mossad domestic assassination teams have once again become operational on American soil putting at risk patriotic American citizens who have been opposed and been the resistance to the Clinton-Bush dictatorship that has destroyed the U.S. Constitution, looted the U.S. Treasury and wrecked our American way of life.

The SECOND AMERICAN REVOLUTION must continue and be prepared to take the Revolution to the next level
Husband Of Prosecutor Investigating Bill Clinton For child Sex Charges Gunned Down

By: Sorcha Faal, and as reported to her Western Subscribers

A shocking new Foreign Intelligence Service (SVR) report circulating in the Kremlin today is alleging that an elite team of Central Intelligence Agency (CIA) assassins controlled by President Obama have gunned down the husband of a US prosecutor who was preparing to charge former President William (Bill) Clinton with crimes relating to his having had sex with an underage girl child kept as a sex slave by his close personal billionaire friend Jeffery Epstein.


Read more »
Posted by   enerchi    at 6/03/2016 12:29:00 AMThanks to enerchi at: http://www.ascensionwithearth.com
Permissions in this forum:
You cannot reply to topics in this forum