BREAKING: WikiLeaks releases 2nd batch of 2,000 & Clinton Campaign Insiders Fear Bill's Sex Life Could Sink Hillary
(Stillness in the Storm Editor)
Wikileaks just released another round of emails and here are the first set of data picks. The Clinton campaign appears to be under pressure and will no doubt try and spin data revealed—but there is more than just political news to pour through. 
A volunteer offered to write about the disclosure related information contained in the latest leak, which will be published soon. 
Related BREAKING: WikiLeaks Releases New Emails Exposing Clinton's & Podesta's Knowledge Of Extraterrestrial Intelligence
- Justin
Source - RT
by Staff Writer, October 10th 2016
Whistleblowing website WikiLeaks has released a second batch of emails from Hillary Clinton's presidential campaign chairman John Podesta. The new release features 2,086 hacked emails out of a trove that Julian Assange says includes 50,000 messages.
Former President Bill Clinton features prominently in the latest leaks, as highlighted by Wikileaks' Twitter feed. In one, People close to the power couple pushed for Mr. Clinton, referred to as "WJC" for William Jefferson Clinton, to be less involved with his wife's presidential campaign due to his extramarital affairs.
Related BREAKING: WikiLeaks Exposes White House, Media & Clinton Colluding to Label Critics Conspiracy Theorist
"I had a multi-email exchange with someone in the media this morning---a name you would know---who is telling me that there are people close to the Clintons who says WJC's sex life could be damaging to her," a January 2016 email from blogger Brent Budowsky to Podesta reads.
Another email, dated December 2011, from Doug Band, a lawyer who helped create the Clinton Global Initiative (CGI), said that Clinton Foundation Chief Operating Officer Laura Graham was "suicidal" due to "the stress of all of this office crap with wjc" and the Clinton Valley Center. Band also called out the couple's daughter Chelsea for not caring about "her role" in the office problems.
"Bruce [Lindsey] said the stress of specifically the office had caused his very serious health issues as you both know," he wrote. "But I'm sure chelsea is more concerned with a mostly false story in the distinguished ny post about mf global and teneo not her role in what happened to laura/bruce, what she is doing to the organization or the several of stories that have appeared in the ny post about her father and a multitude of women over the years."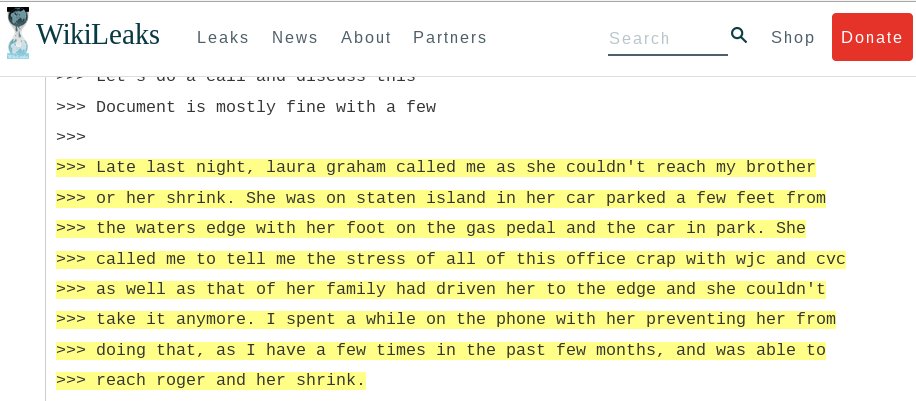 That email wasn't the first time Band expressed dislike of Chelsea Clinton. In an email to Podesta a month previous, he said she was "acting like a spoiled brat kid who has nothing else to do but create issues to justify what she's doing because she, as she has said, hasn't found her way and has a lack of focus in her life."
With the nearly 2,100 emails released Monday morning, Wikileaks has now published more than 4,000 Podesta emails. During the second presidential debate on Sunday, Mrs. Clinton confirmed the authenticity of the messages released on Friday by clarifying comments exposed by the leak.
An email between Graham and a senior aide to Mrs. Clinton, Huma Abedin, from November 2011 discusses the Clintons' relationship with Goldman Sachs, and how it will help the foundation with additional office space.
"They have an interested party (who today just asked for a draft lease - so that is moving quickly) on the table for part of the space so if we want additional space, we need to move quickly," Graham wrote. "Goldman, b/c of their relationship with us, is delaying the drafting of a lease for this interested party until they get a better sense from us but they cannot hold them off too much longer."
Monday's release covers emails between September 2007 and March 2016.
Source - Infowarsby Paul Joseph Watson, October 10th 2016
A new Wikileaks email dump released today reveals that some Hillary campaign insiders are petrified that Bill Clinton's sordid sexual past could severely damage Hillary's chances.
The revelation is of particular note because it dovetails with Donald Trump holding a press conference yesterday before the debate with three of Bill Clinton's sexual abuse victims.
The email, which is marked "confidential," was sent to Clinton campaign chairman John Podesta by prominent left-wing journalist Brent Budowsky. It includes details of Budowsky's exchange "with someone in the media," who told him that, "there are people close to the Clintons who says WJC's (William Jefferson Clinton) sex life could be damaging to her."
Although Budowsky stresses his view that the more Bill Clinton the better for Hillary, he adds that, "there were people purportedly close to the Clintons pushing the line that the less WJC the better."
"Whoever is peddling this crap from somewhere within the Clinton camp is having the effect of encouraging the media to give the issue more prominence," complains Budowsky.
"They are hurting both Clintons. I always stay out of intra-staff stuff like this, both Clinton's would be well advised to advise the people in their orbit to shut the hell up about this," he concludes.
In an unprecedented move, Donald Trump tricked the media yesterday by holding a press conference before the debate, only to be joined by three of Bill Clinton's alleged rape victims – Juanita Broaddrick, Paula Jones and Kathleen Willey, as well as Kathy Shelton, who accuses Hillary Clinton of helping her rapist get away with the crime and then laughing about it on tape.
The new batch of Podesta emails released by Wikileaks can be found here.
_________________________
Stillness in the Storm Editor's note: Did you find a spelling error or grammar mistake? Do you think this article needs a correction or update? Or do you just have some feedback? Send us an email at sitsshow@gmail.com. Thank you for reading.
_________

Sources:
https://www.rt.com/usa/362255-clinton-podesta-wikileaks-emails/
http://www.infowars.com/new-wikileaks-emails-clinton-campaign-insiders-fear-bills-sex-life-could-sink-hillary/
Thanks to Justin at: http://sitsshow.blogspot.com