THRIVE Creators Foster & Kimberly Gamble Talk About Their Journey With Plant Medicine
11 Jan 2017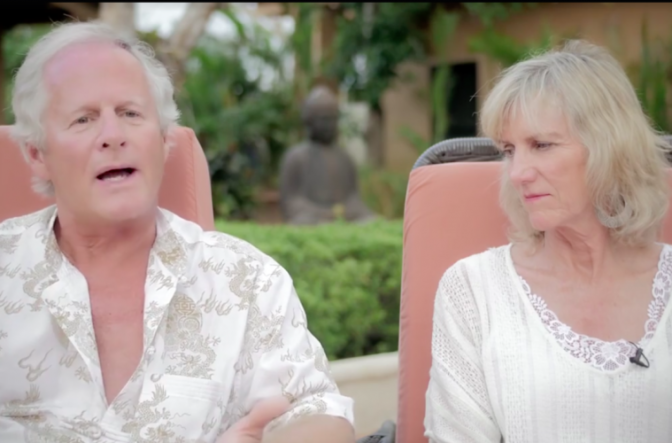 Written by Alanna Ketler
Last year, Foster and Kimberly Gamble, creators of the popular documentary
Thrive: What On Earth Will It Take,
tried plant medicine for the first time over at Rythmia. Lucky for you, their experiences were documented in a short video.
In the video below, the Gambles share the insight that they gained from this experience, and share in detail the visions they were shown while under the influence of this powerful plant medicine and guided by a trained shaman.
Similar to what most people feel going into this experience –the Gambles discuss the level of nervousness and excitement they are also feeling before trying the medicine. Foster tells us how he has seen the amazing benefits that this plant has had on some of his friends and how he is excited to see what it has to offer for him. As someone who has done plant medicine before in a sacred space, he already knows of the potential benefits and insight that can be gained from this type of journey.
Kimberly explains how she does not feel afraid, but rather humbled because she is aware that she is dealing with an extremely powerful and spiritual medicine.
Foster expects the medicine to expand his consciousness and provide insight into his work and his daily life. He expects to get what he needs, rather than what he thinks he might want. Foster tells us:
"The experience that I just came out of involved as profound and beautiful vision that I've ever experienced in my entire life. And I wasn't expecting that, but I was literally weeping tears of joy at just the privilege of having had the opportunity in this beautiful place with masterful guidance."
He goes on to explain his experiences and being guided through what have been known as the Akashic Records. The experience is explained as an experience that he will never forget.
Video: Foster & Kimberly Gamble Take Plant Medicine
https://youtu.be/_Ra9wZdFeNE
They are both at the incredible 
Rythmia: Life Advancement Center
where the CE Team recently had the incredible opportunity to experience this past December. To read more about what we experienced, please click HERE.
What Is Ayahuasca?
In case you don't already know, ayahuasca is a combination of two plants from the Amazonian rainforest. When these plants are brewed together they create the most powerful psychotropic known to man. Shamans and medicine men have been using this sacred psychedelic brew for centuries to provide insight and guidance for their people.
In recent years, ayahuasca has made it's way into western culture and has been healing people of various types of ailments including depression, lack of passion and direction, addiction, childhood traumas and so on. Quite frankly, this medicine has the capability to change the world. It assists participants with facing the things that plague their daily lives, and forces us to come face to face with that which we resist. The result of this is a newfound freedom, joy and understanding of life -it is truly a profound experience.
While maybe it's not for everyone, it can be specifically beneficial for those who are struggling with any of the aforementioned conditions. Or can even be particularly insightful for those who are feeling lost in life, and need some direction.
Much Love
Originally posted @ Collective Evolution
Thanks to: https://newearth.media