Brilliant green meteor fireball photographed over Southern India
Indian Express News Service
Tue, 24 Jan 2017 17:47 UTC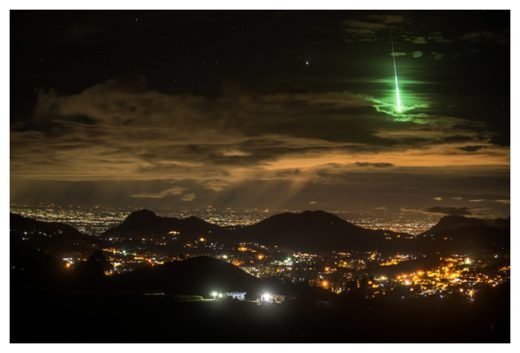 © Prasenjeet Yadav
While exploring the sky islands of the Western Ghats in 2015, molecular ecologist turned photographer Prasenjeet Yadav shot a rather rare photograph with a green meteor up in the sky and the twinkling lights of the town below. It earned him a plethora of awards, including
National Geographic
Nature Photographer of the year, 2016, and also an Honourable Mention in the Landscape Category by National Geographic.
The photograph was shot on October 9, 2015, and Yadav was at the Nilgiri's near Ooty when he shot the green meteor. The town he is overlooking is Mettupalayam.
"This is probably the only composed photo of a green meteor. No photographer can plan this shot. This can happen for a fraction of second anywhere in the universe, and the fun part is, I was sleeping when my camera captured it. Everything else was hard work but for those 15 seconds, I was the luckiest photographer on the planet," says Yadav, who was working on a story on sky islands of Western Ghats when he shot this. Along with bird ecologist Dr Robin Vijayan, Yadav was working on a project to understand the role these mountains play in the formation of new species.
Born in Nagpur, Yadav went to Bangalore to pursue research at the National Center for Biological Science. In 2013, he moved to photography and began concentrating on environment and conservation stories. He is reportedly the only Indian to be represented by the National Geographic Creative. Although he has stepped away from the academic realm, Yadav considers himself a non-traditional scientist and often collaborates with researchers, policy makers and conservationists for his projects in the world of nature photography. Currently, he is working on a story on the sky islands of southern India for National Geographic and is documenting the unseen species of amphibians, reptiles, birds and mammals found only in the south Western Ghats.
Thanks to: https://www.sott.net