Massive Cavity Discovered Inside The Great Pyramid
By
zIKY
-
November 2, 2017
https://youtu.be/uT5YxgBpC_M
What could be within this new area of the Great Pyramid that has been sealed up so drastically, it is not accessible via any of the existing corridors so you have to consider that this area of the Pyramid could in fact be the most important part of the Pyramid, the missing link!
Narrated by BuzWeaver:
https://www.youtube.com/user/BuzWeaver
'Breakthrough' discovery inside Giza Pyramid baffles scientists
By
zIKY
-
November 2, 2017
Kenneth Garrett / Global Look Press
Scientists have discovered a secret, giant void hiding inside the Great Pyramid of Giza in Egypt. Located above the pyramid's Grand Gallery, the 30-meter-long void inside Khufu's Pyramid remains a mystery.
Its size suggests it plays an important role in the tomb's structure. It's the first discovery of its kind since the 19th century.
"These results constitute a breakthrough for the understanding of Khufu's Pyramid and its internal structure,"
the scientists explained in a journal published in Nature.
READ MORE: Pyramid scheme: Mysterious chambers found hidden in ancient Giza structure
Scientists uncovered the void as part of the ScanPyramids project that dates back to 2015. The chamber was found using cosmic-ray imaging and by recording subatomic particles, a practice known as muon radiography, which bounces inside the structure providing an outline for 3D reconstruction of the space.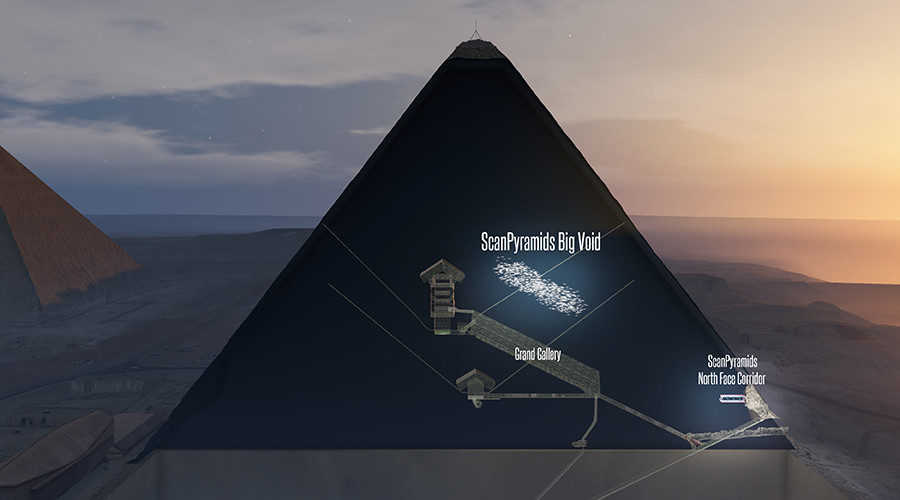 ScanPyramids mission / AFP
This method allows researchers to visualize the known and potentially unknown voids in the pyramid in a non-invasive manner.
"
This large void has therefore been detected with a high confidence by three different muon detection technologies and three independent analyses,"
the scientists said.
"While there's currently no information about the role of this void, these findings show how modern particle physics can shed new light on the world's archaeological heritage."
Source: https://www.rt.com
Thanks to: http://awakeandaware.ca