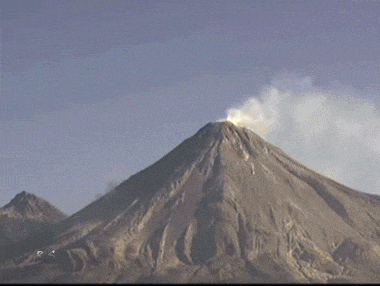 https://youtu.be/Ls23irAa4rA
NIC INDIA
Published on Nov 28, 2017
THE Bali volcano is likely to erupt with another larger explosion as Mount Agung continues to hurl ash 9,800 feet into the air.Explosions from the mountain have been heard more than seven miles away and red-hot lava is welling up in the crater, sometimes seen in the reddish glow of the huge ash plumes. Indonesian authorities have raised the volcano's alert to the highest level and expanded the danger zone to six miles. like and subscribe for latest updates around the world and india.
https://youtu.be/hMmo-enILiE
alpha News UK
Published on Nov 28, 2017
TERRIFYING photos show the devastation left by the Bali volcano as cold lava known as lahar pours from Mount Agung and surges into towns and villages leaving 60,000 tourists stranded. Cold lava flows, known as lahar, have flooded the rivers and canals of nearby villages, with many locals ignoring warnings to steer clear. Videos from the scene show as lahar surges down the mountainside, pouring from the summit and rushing down main roads and into homes. And extraordinary photos show the masses of volcanic sludge surging through riverbeds as locals film the terrifying scenes. The thick, grey, 'mud' has a concrete-like consistency, with flows building up as much speed as a fast-flowing river - clocked at up to 50km/h. And the sludge can be deadly. About 24,000 people were smothered by a lahar from Colombia's highest volcano, the Nevada del Ruiz, on November 13, 1985. Travelling at up to 50 km/h, a series of hot lahars raced down river valleys to cover Chinchina village and the town of Armero within hours of the mountain's eruption Today back in Bali, experts warn the hazardous mudflows could breach Agung exclusion zone, according to an expert in volcanology. Professor Joachim Gottsmann, head of volcanology at Bristol University, told Express.co.uk: "Lahars can perhaps be best described as being similar to very wet concrete "They are devastating because they are fast moving and erosive due to their volcanic debris load – they can also travel very far. Examples in the Andes report a 400km run out distance from the source. "Hence populations along rivers which are usually fed from water from a volcano are at risk from lahars even if they are well outside an immediate exclusion zone." An Indonesia's Disaster Mitigation Agency (BNPB) spokesman also said: "Watch out for lahar floods around Mt Agung "Lahar floods have already occurred in several places on the slopes." The agency's spokesman also urged people to avoid nearby river areas. Hundreds of flights have been cancelled and the local airport remains closed for a second day, leaving about 59,000 tourists stranded on the Island. Indonesian officials have ordered the evacuation of 100,000 people but so far only about 40,000 people have left. Others have stayed in their homes because they feel safe or don't want to abandon their livestock. "Authorities will comb the area to persuade them," he said. "If needed we will forcibly evacuate them." Bali airport, about 60 km (37 miles) from the volcano, will remain closed for a second day - possibly reopening at 7 am local time on November 29. A report from local aviation navigation authorities showed that "aircraft flight channels are covered with volcanic ash", Indonesia's transport ministry said in a statement. Ten alternative airports have been prepared for airlines to divert inbound flights, including in neighbouring provinces. But frustration at the country's second-busiest airport were starting to boil over, with an estimated 2,000 people attempting to get refunds and reschedule tickets. Some 60,000 holidaymakers in total are believed to be stranded on the island, a popular tourist attraction. Nitin Sheth, a visitor from India, said: "There are thousands of people stranded here at the airport. "They have to go to some other airport and they are trying to do that, but the government or authorities here are not helping." Others were more relaxed. Matthew Radix from Perth said: "No, there's not a lot of information ... very little. (But) it's all right. We're on holidays so it doesn't matter. "We don't know what's going to happen but we can get back to the bar and have another drink." Airlines are bracing for millions of dollars of lost revenue per day are scrambling to minimise damage by offering travel to other destinations and alternative transport off the island.
Thanks to: https://buffalohair.wordpress.com