FCC Votes to Kill Net Neutrality, Capping a Year of Endless Bullshit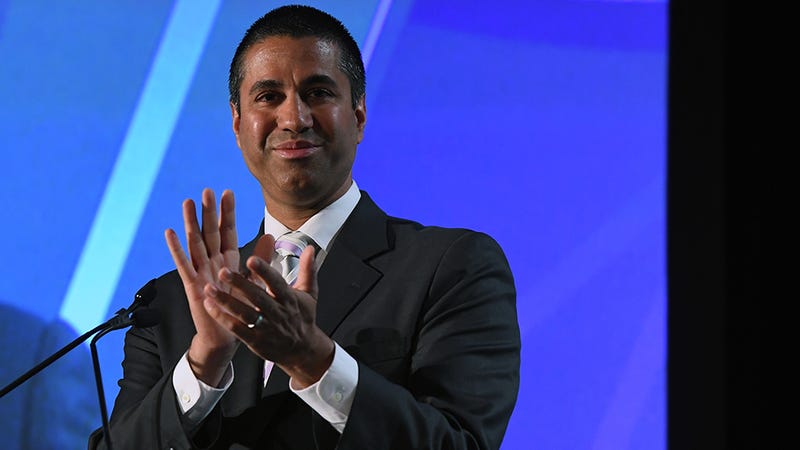 You tried, America. You tried.
Despite overwhelming bipartisan support for safeguarding the open internet, the Federal Communications Committee voted on Thursday to ignore the public and kill net neutrality protections.
Recent Video from Gizmodo
View More >
The Only PC Gaming Controller You Should Bother With • Battlemodo
11/14/2017
With his familiar shit-eating grin, FCC chairman Ajit Pai went through the motions of holding a committee hearing on his "Restoring Internet Freedom" initiative. The hearing was as much of a fraud as the title of the item: It was a foregone conclusion that under Pai's leadership the FCC would hand big telecoms an early Christmas present.
In a 3-2 vote along party lines, the Republican-led commission decided to eliminate the current net neutrality rules and remove the shackles that prevent ISPs from blocking online content, slowing a competitor's website, or charging you extra just to access YouTube. (You can read the dissenting opinions here.) It paves the way for an ISP free-for-all, baby, and you can bet telecom executives have plenty of lucrative plans in mind that we haven't even considered.
The vote was briefly delayed after Pai's comments were interrupted by security. The room was evacuated and searched by Federal Protective Service before Pai resumed. The nature of the threat was not immediately disclosed.
From the moment President Donald Trump appointed Pai, we knew he was dead-set on killing net neutrality protections. He's advocated for ISP interests for years. Before joining the FCC, Pai was a lawyer for Verizon, and he worked as counsel for the Senate Judiciary Committee under mega-conservative former Sens. Sam Brownback and Jeff Sessions. But make no mistake—just because Pai is a Republican doesn't mean this is a partisan issue for the American public.
Studies show that the vast majority of Americans support regulating ISPs to guarantee that they treat all internet traffic equally. A new survey published on Tuesday found that four out of five Republicans support net neutrality.
California representative Jerry McNerny requested the opportunity to speak at today's hearing but he was denied by the Chairman. As part of her dissent, FCC Commissioner Mignon Clyburn read a statement from McNerny. It said, in part:
Why such a bipartisan outcry? Because the large majority of Americans are in favor of keeping strong net neutrality rules in place. But the saddest part, to me, about all of this, and it's painful for me to say this, is that this is the new norm at the FCC. A norm where the majority ignores the will of the people. A norm where the majority stands idly by while the people they are committed to serve, that they've taken an oath to serve, are about to lose so much.
In August, a study funded by the broadband industry found that 98.5 percent of unique comments submitted to the FCC regarding net neutrality were opposed to gutting the rules that went into effect in 2015.
We have to specify
unique
comments because the FCC was overwhelmed by 23 million comment submissions, and many that supported killing net neutrality were filed by fraudulent bots robo-signing forms and stealing real people's identities, according to New York Attorney General Eric Schneiderman's office.
Even though the FCC is required to consider public comments for a specified time period, it has refused to cooperate with Schneiderman's criminal investigation into the corruption of its commenting process. FCC Commissioner Jessica Rosenworcel, one of the two Democratic commissioners who voted to keep net neutrality rules in place, explicitly said this week, "there is evidence in the FCC's files that fraud has occurred," but the agency won't cooperate.
Regardless of the process, or the criminal investigation, or the protests, or the opposition from lawmakers—including fellow Republicans—Pai and his cronies were always going to ignore the public. The chairman has made his disdain for the public's input and any study that disagrees with his position absolutely clear. He will go down as one of the Trump administration's most effective pro-corporate puppets. And when he leaves office, he'll be welcomed by the telecoms with open arms.
But that doesn't mean all is lost. Even though ISPs have been softening their statements that promise never to violate net neutrality principles, they must wait to take full advantage of their newfound freedom. There's too much public scrutiny at the moment for them to start installing fast lanes or censoring content. Lawsuits challenging the decision will head to court from every direction. And with the right push from voters, Congress could even do the right thing by passing a law to correct this injustice.
Net neutrality is dead. Long live net neutrality.
Thanks to: https://gizmodo.com