Fire! Fire!
… in the hole!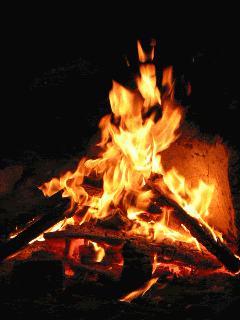 At just 1:30 this afternoon today I received a notification from various publications, one of which which I immediately forwarded to Granny. it stated, "
A fire broke out Wednesday at property owned by Bill and Hillary Clinton in Chappaqua, N.Y..
" My response to Granny was, "
Yeah – sure it did. What kind of records and computers are being destroyed
," to which she stated, "
As many as they were able to hide in there
."
In response to the following posted column, at 6:48 this evening, the following came from Granny; "Is Anyone surprised? Hillary knows her TIME is coming to an end so she is getting rid of everything she can – but there are copies in other places that WILL be uncovered at some point. She didn't anticipate the Weiner emails – more will surface. The TRAIL of Hillary bodies is still traveling. Her day of judgement is one she won't be able to avoid – God knows ALL she has done and she WILL pay the price for all her evil deeds in life."
Fire Dept: "Room Full Of Servers, Hard Drives Destroyed In Clinton House Fire"

A room full of servers and hard drives was destroyed in the Clinton house fire in Chappaqua, New York, on Wednesday, according to a Chappaqua Fire Department source, raising fears that incriminating evidence against the Clintons has been destroyed just days after a White House insider warned that Trump was preparing to prosecute their crimes.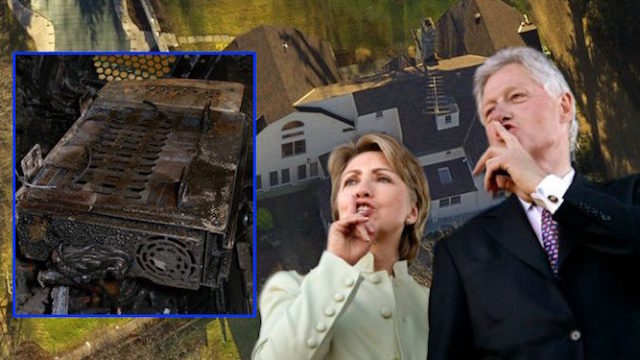 "I saw smashed up hard drives, melted memory cards and the charred remains of paper scattered all over the room and immediately knew the fire must have started there," a Chappaqua Fire Department source told local news reporters, explaining that the house fire was "put out by Secret Service agents" before the Fire Department arrived.
"I immediately called it a code 10-41 and requested a Fire Marshall."
Code 10-41 is firefighters' code for a suspicious fire.
According to QAnon, the infamous White House insider, President Trump's recent announcement that he is going after high profile child traffickers is directly linked to the Clinton house fire.
Hillary Clinton, the presidential candidate whose notorious "home-brew" server sparked multiple FBI investigations and eventually one very controversial exoneration by former Director James Comey, has long been known to keep classified and illegal information in the less-than-secure domain of her New York household.
The Clinton house fire represents another astonishing prediction come true for QAnon, the White House leaker.
According to QAnon, who has predicted the future with remarkable accuracy in the last month, the Clintons are running scared and attempting to cover their tracks. The calm before the storm has ended. Trump has hit his stride in 2018 and the Clintons not fear him. They are also fearing for their freedom.
Time is running out for the Clintons
Earlier this week, after Trump warned "high-profile child traffickers" that he was coming for them, QAnon, posting from the White House, pointed followers to to an elite pedophile ring investigation at the State Department in 2013 that was shut down and covered up by Secretary Hillary Clinton.
Posting from Q's official Twitter account, @kill_rogue, the anonymous insider posted a video of an NBC news report which contained explosive revelations about an investigation into a child abuse and human trafficking network that was operating in Clinton's State Department.
The NBC investigation was broadcast at a time when they were a real news organization rather than a branch of the Democratic Party's PR department, and provided leaked internal State Department memos to back up claims of a massive Hillary Clinton elite pedophile ring cover-up.
However, according to NBC, the investigation into the elite pedophile ring was whitewashed by Hillary Clinton in order to protect high-ranking officials, including an ambassador.
"Serious allegations concerning the State Department," the NBC anchor announced, before launching into the disturbing details that mainstream media would be unable to report on in 2017.
"According to internal State Department memos the agency might have called off or intervened into investigations into possibly illegal, inappropriate behavior within it's ranks allegedly to protect jobs and avoid scandals.
Written by Baxter Dmitry and published by Your News Wire ~ January 3, 2018.
FAIR USE NOTICE: This site contains copyrighted material the use of which has not always been specifically authorized by the copyright owner. We are making such material available in our efforts to advance understanding of environmental, political, human rights, economic, democracy, scientific, and social justice issues, etc. We believe this constitutes a 'fair use' of any such copyrighted material as provided for in section 107 of the US Copyright Law. In accordance with Title 17 U. S. C. Section 107, the material on this site is distributed without profit to those who have expressed a prior interest in receiving the included information for research and educational purposes. For more information go to: http://www.law.cornell.edu/uscode/17/107.shtml

Thanks to: http://www.federalobserver.com