Homes wiped out after heavy rainfall, deadly floods and mudslides hit California
Posted by TW on January 09, 2018 
A powerful winter storm hit much of California overnight Tuesday, January 9, 2018. Heavy rain caused deadly flash floods and mudslides, triggering multiple water rescues. More than 20 000 people have been evacuated from areas below hillsides scorched by Thomas Fire, California's largest wildfire in history. As of 19:00 UTC today, at least 6 people have lost their lives in mudflows that hit Montecito and 2 in weather-related road accidents.
This strengthening weather system dropped record-breaking daily rainfall to downtown San Francisco where weather stations recorded 80 mm (3.15 inches) of rain on January 8, breaking the old record of 60 mm (2.36 inches) set in 1872. The amount built up to make Monday the city's 16
th
wettest day since 1849, the National Weather Service said. On the same day, Mining Ridge on the Big Sur coast, Monterey County recorded 240 mm (9.6 inches).
2-day rainfall totals through 09:00 PST, January 9 in Southwestern California reached up to 118.8 mm (4.68 inches) in Ventura County (measured by a weather station located at Old Man Mountain). This is so far the highest total, followed by 116 mm (4.57 inches) at Ortega Hill (Ventura County), 104.1 mm (4.10 inches) at Alamo Mountain (Ventura County) and 102.1 mm (4.02 inches) at Crystal Lake (LA County).
The following list holds maximum rain reports Tuesday morning near Thomas Fire, California's biggest wildfire on record:
13.7 mm (0.54 inches) in 5-minutes at Montecito
18.5 mm (0.73 inches) in 10-minutes at KTYD Radio Towers
21.8 mm (0.86 inches) in 15-minutes at Carpinteria
28.1 mm (1.11 inches) in 30-minutes at Carpinteria
36.9 mm (1.45 inches) in 1-hour at Matilija Canyon
The maximum rainfall today occurred between 03:30 and 03:45 PST near Montecito, Summerland, and Carpinteria areas. 
Flash flooding, debris flow, and mudslides hit hard areas scorched by the Thomas and La Tuna fires where thousands of people were forced to evacuate Monday and again on Tuesday.
One of the hardest hit areas has been the wealthy community of Montecito where massive runoff sent mud and debris slamming into homes located on the Hot Springs Road. At least 3 homes were completely destroyed and 5 people killed, Santa Barbara County Fire Department said after recovering their bodies. Since this area was not directly in the Thomas Fire burn zone, it was under a voluntary evacuation order.
Another dead body was later found at Olive Mill Road at the railroad track, bringing the number of people dead in Montecito area to 6.
Some parts of Montecito were covered in waist-high mud, SBC fire spokesman Mike Eliason said. Emergency crews working in the area said they've received numerous unconfirmed missing-person reports, he said, adding they are still hoping that's not the case.
"Mud came in an instant, like a dam breaking," a Montecito resident told CNN.
Local media reported some residents of the scorched area did not heed warnings to evacuate Monday, only to find themselves in the middle of deadly chaos Tuesday morning.
"I woke up ready this morning to laugh and scoff at all the gloom-and-doom predictions," one of the residents told The Los Angeles Times. "It's actually way worse than I thought it was going to be."
The 101 Freeway was shut down in both directions for more than 50 km (30 miles) in the Thomas Fire burn area because of flooding and debris flow, spanning an area from Santa Barbara to Ventura, according to the California Highway Patrol. Highway 33 has been closed between Fairview and Rose Valley roads north of Ojai, according to the Ventura County Sheriff's Department.
In Los Angeles, mudflows overwhelmed a police squad car responding to help with evacuations. "Their vehicle was consumed by mud within seconds, but all officers are safe," LAPD said.
One person was killed when a big rig overturned in the northbound lanes of the 5 Freeway near Los Feliz, Los Angeles County. Another person died and two were injured on Monday afternoon in a crash on Highway 126 in Ventura County, about 3 km (2 miles) from the Los Angeles County line.
More than 30 000 customers were without power statewide Tuesday morning, mostly in Southern California.
"Because of the heavy rainfall and other conditions in place, a high risk of flash flooding is possible through Tuesday night," NWS warned.
By Wednesday, January 10, the front will move east toward the southern Plains, diminishing the rainfall over southern California. In addition to the heavy rainfall across the area, snow across the Sierra Nevada will also occur during this event.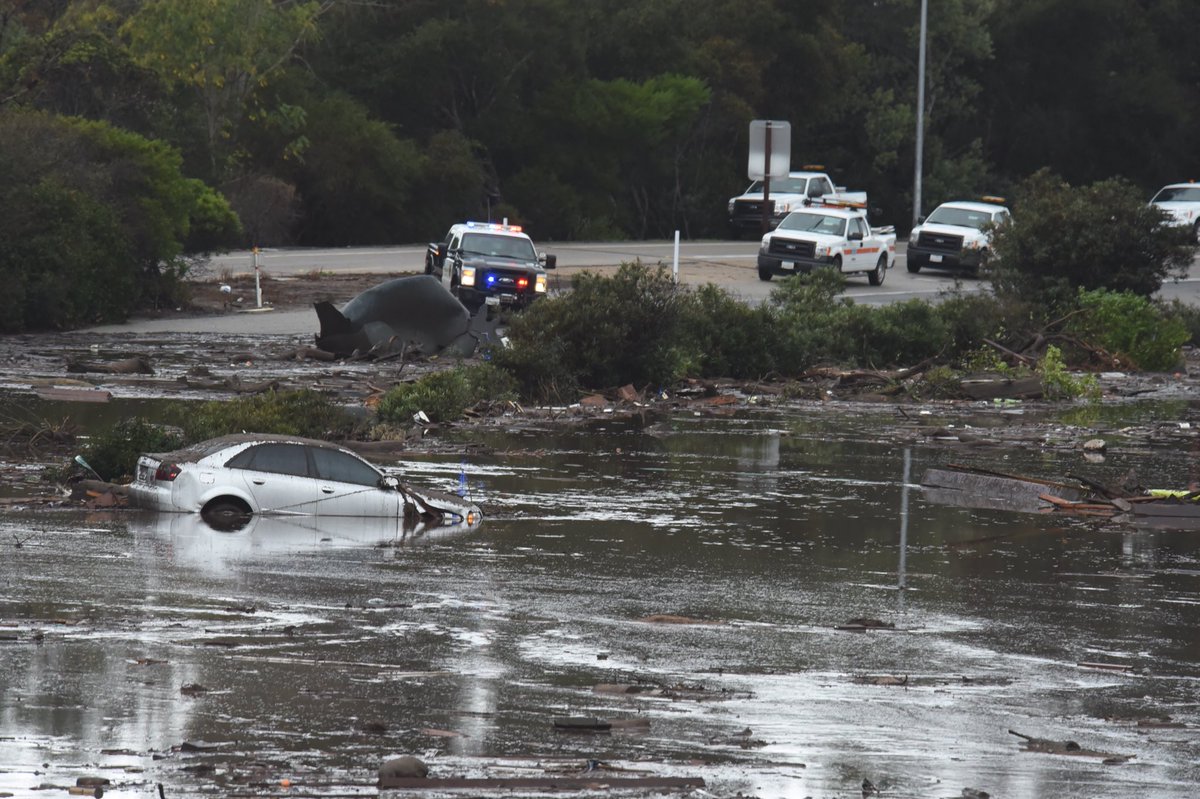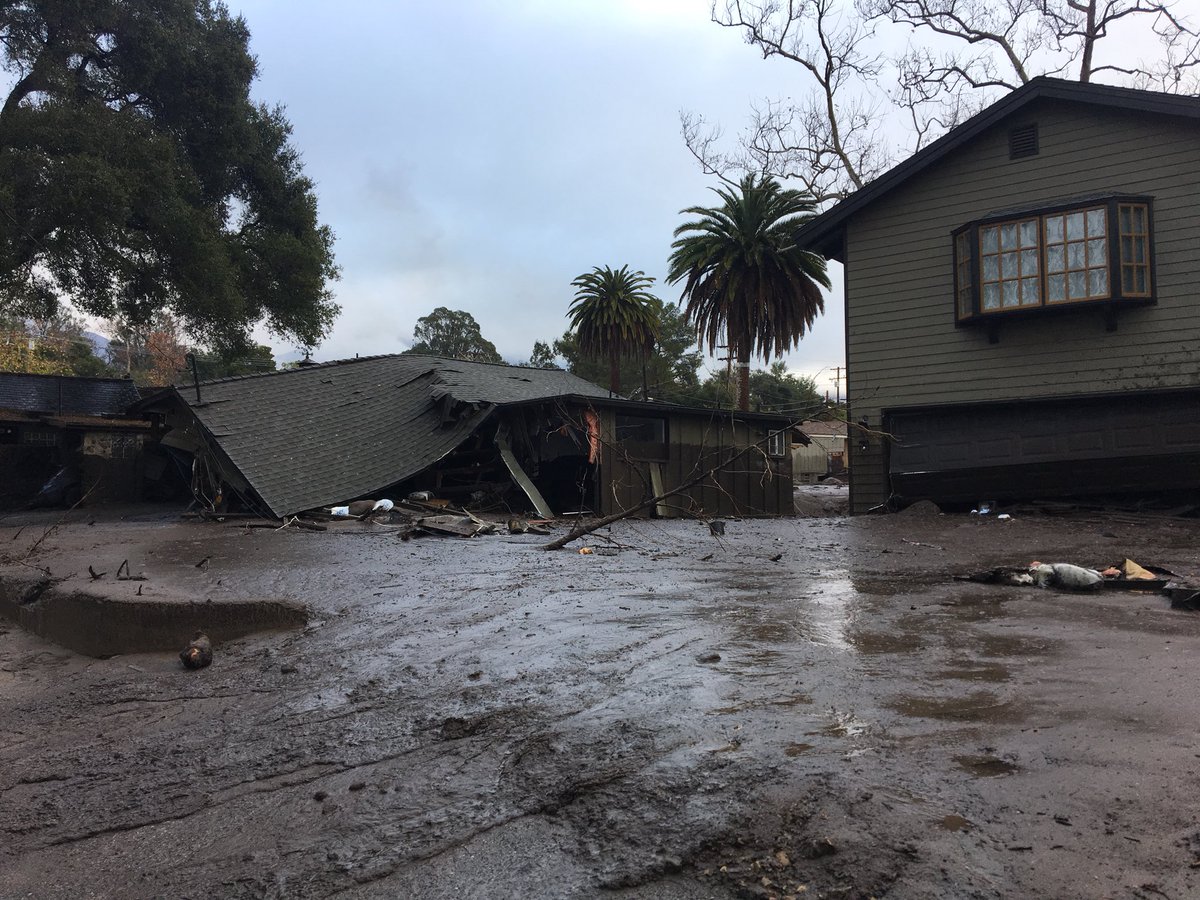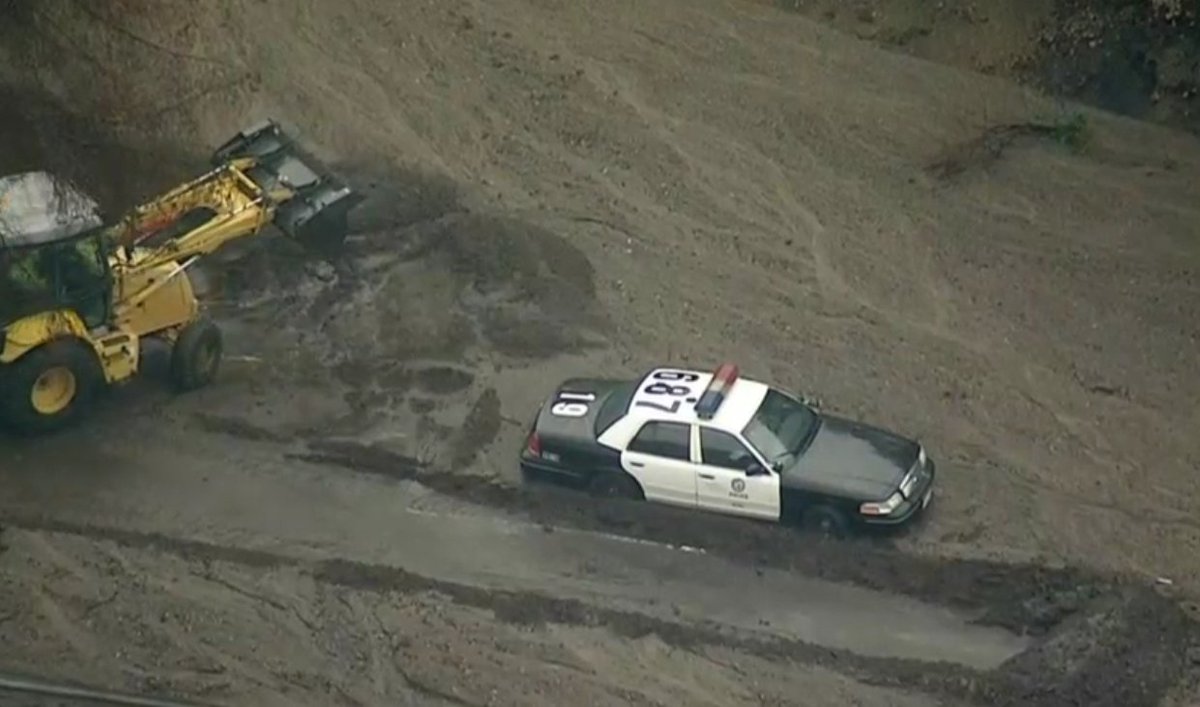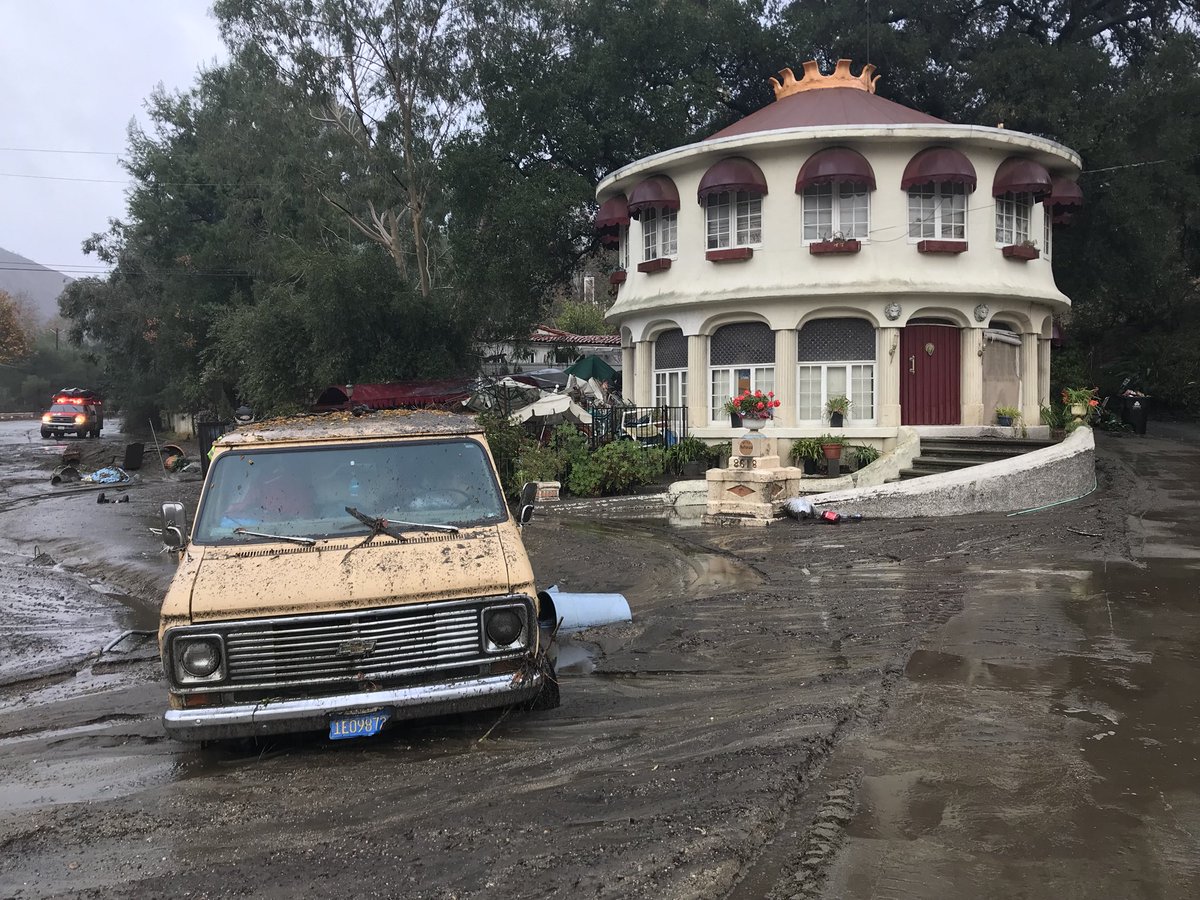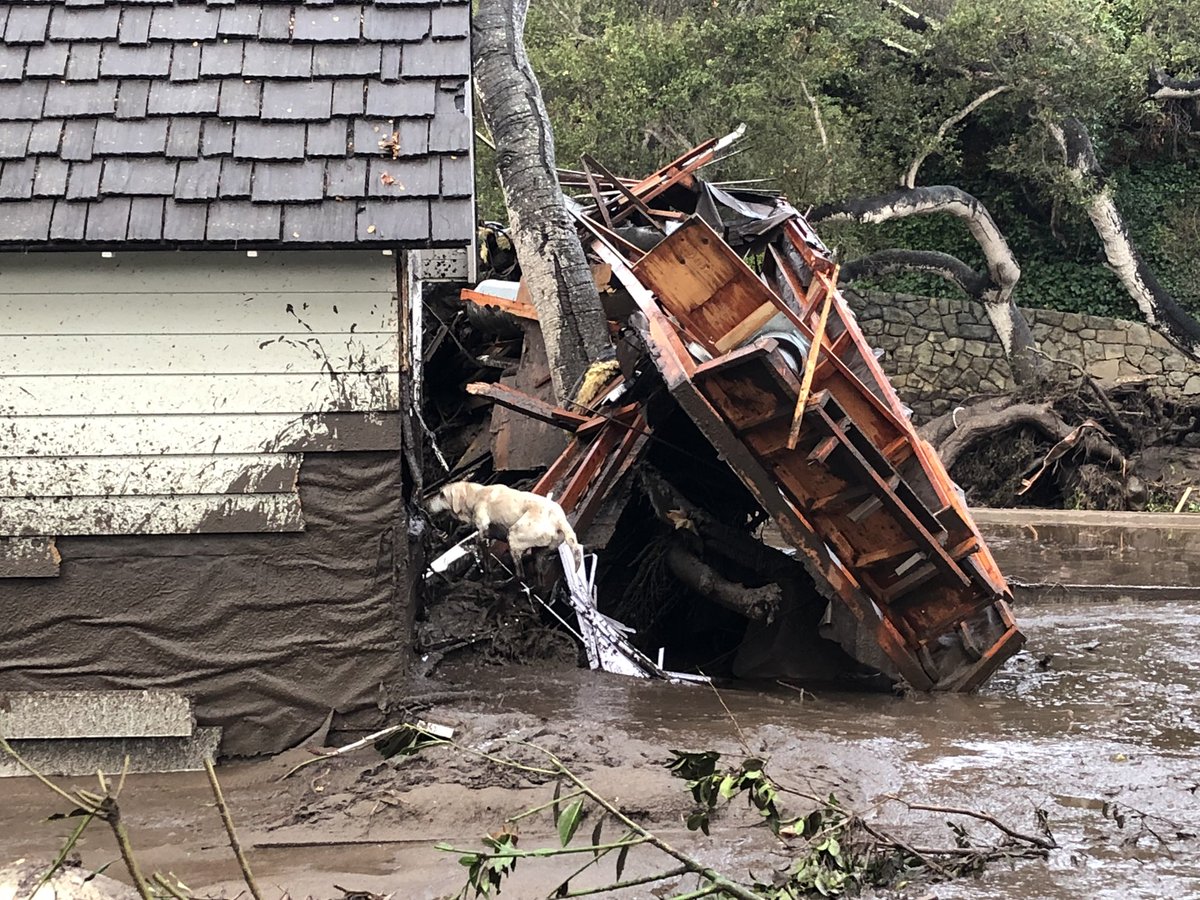 Thanks to: https://watchers.news