Is Assange Preparing to Checkmate Deep State?
Posted on
January 13, 2018
by
David Nova
'Marshall attack': Assange sends Twitter into frenzy of speculation over chessboard
Source:
RT
Julian Assange has once again sent Twitter into a frenzy of speculation with another cryptic tweet – this time posting an image of a famous chess strategy, prompting suggestions the whistleblower is preparing 'checkmate'.
The chessboard tweeted by Assange, unaccompanied by any text, shows a move from the
Capablanca vs Marshall
chess game of 1918 – considered one of the greatest defensive games of all time.
READ MORE: Ecuador has granted citizenship to Julian Assange, says Foreign Ministry 
The story goes that then-reigning US champion Frank Marshall spent years
planning
a surprise attack against Cuban rival José Raúl Capablanca, even avoiding playing the move in earlier matches so that he could spring it suddenly on his opponent at the right moment.
Nevertheless, Capablanca (represented on the board by white pieces) skilfully defeated Marshall's attack and went on to win the game.
Speculation mounted over which color represented Assange and what exactly he was trying to convey with the mysterious tweet.
One Twitter user suggested that Assange's choice to post this particular position may indicate that he has already left the Ecuadorian Embassy in London. Another interpretation, posted by the same user, mused that the 'game' could still be in play, but with Assange in a strong position.
Other avid chess fans 
pointed
out that although checkmate is not inevitable, it could mean the game is coming to a close.
According to Twitter users the play tweeted by Assange suggests that three moves are needed to checkmate, generating other
theories
that the tweet relates to the impending publication of the US Department of Justice report into the FBI handling of the Hillary Clinton email investigation.
Or perhaps it's just anticipating Trump's upcoming 'Fake News' awards, others quipped. In any case the burning question remains: whose move is it?
READ MORE: 'Assange status unchanged' despite cryptic tweets, Ecuadorian embassy tells RT
Assange also changed the icon beside his Twitter profile name from a blue diamond to an egg timer – an image associated with Wikileaks and used on its 
website
.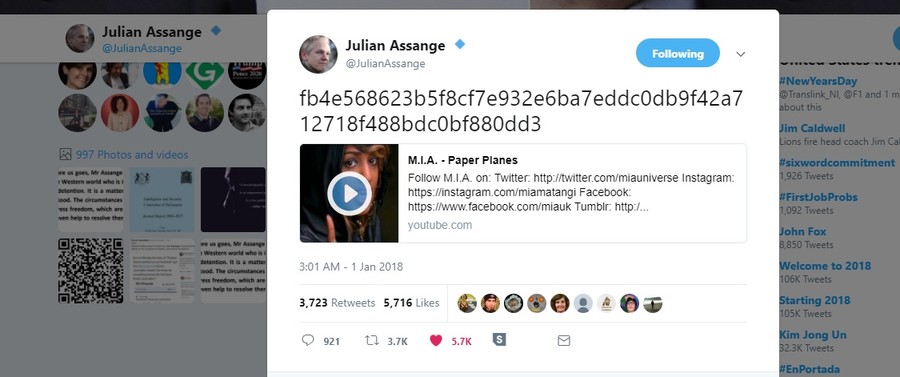 The Wikileaks founder, known for his profuse tweeting, has in the past two weeks only sent three tweets – all cryptic and igniting much conjecture online. Last week the Ecuadorian Embassy in London
confirmed
to RT.com that the WikiLeaks founder was still in the building.
READ MORE: 'More records than the KGB': Cryptic Assange tweet ignites concern for his wellbeing
The Ecuadorian Foreign Ministry announced this week that it had granted citizenship to Assange. The UK Foreign Office, however, rejected a request from Quito to grant the
whistleblower diplomatic status.
---
In a motion filed with the U.S. District Court for the District of Columbia on Dec. 29, 2017, in the case Roy Cockrum vs. Donald J. Trump for President, attorneys for President Trump argued that Julian Assange had a right under the First Amendment to publish the DNC and John Podesta emails, even if the emails were stolen.
---
Case for Trump to Pardon Assange Gaining Momentum
Source:
NewsWars.com
| By
Jerome Corsi
WASHINGTON, D.C. – The case that President Trump should pardon Julian Assange, founder of WikiLeaks is building, bolstered both by WikiLeaks' continued insistence that the Russian collusion argument is a hoax and by arguments made at the end of December by Donald Trump lawyers in a 2017 case involving Infowars.com Roger Stone.
On New Year's Day, the Wikileaks Task Force responded forcefully to assertions by Neera Tanden, the president and CEO of the leftist Center for American Progress, that the "Russian collusion" argument had no basis in fact.
In a tweet posted Jan. 1, 2018, the WikiLeaks Task Force said unequivocally, "Russia was not @wikileaks source. Deal with it."
The WikiLeaks Task Force was responding to Tanden's argument that Donald Trump would not have won the presidency without Russia's help.
"It was DNC [Democratic National Committee] & MSM [Mainstream Media] who promoted Trump as "pied piper" GOP candidate," the WikiLeaks Task Force responded. "Own it."
The WikiLeaks Task Force ended with a strong rebuke to Tanden. "Your giant #nothingburger is still not a logical argument," the WikiLeaks Task Force insisted. "Stop it."
Trump's attorneys argue Assange's First Amendment right to publish
In a
motion filed
with the U.S. District Court for the District of Columbia on Dec. 29, 2017, in the case
Roy Cockrum vs. Donald J. Trump for President
, attorneys for President Trump
argued
that Julian Assange had a right under the First Amendment to publish the DNC and John Podesta emails, even if the emails were stolen.
The case was orchestrated by Project Democracy, a group run by former attorneys from the Obama administration, arguing that then former Trump campaign adviser Roger Stone had conspired with the Russians to publish the DNC and Podesta emails.
In a 32-page motion defending the Trump Campaign, Michael A. Carvin of the Jones Day law firm, attorney of record representing President Trump, argued that the Trump campaign, and by inference Julian Assange at WikiLeaks, could not be held liable under the First Amendment for a disclosure of stolen information if the information published deals with "a matter of public interest" and the speaker was not "involved" in the theft.
In making the argument, Trump's attorneys relied upon Bartnicki v. Vopper. 532 U.S. 514 (2001), a labor union case in which the Supreme Court
ruled
a radio station had the right to broadcast a stolen tape of a phone call between the chief union negotiator of a Pennsylvania high school and the chief union negotiator together with the union president.
Technically, Assange has not yet been indicted of any criminal offense in the United States, nor is it clear he has committed any crime. Under the Supreme Court Decisions
New York Times v. Sullivan
, 376 U.S. 254 (1964), and in the Pentagon Papers case, New York Times v. U.S. 403 U.S. 713 (1971), a journalist is allowed to accept and publish classified documents provided by other sources.
On Dec. 29, 2017, Assange
posted a tweet
that referenced an article
published
by the Guardian on Dec. 14, 2017, citing a United Kingdom tribunal that declared WikiLeaks to be a media organization and a free speech advocate – designations that could carry a legal importance in placing Assange under "free speech" protections both in the UK and in the United States.
While Roger Stone's case is still pending in the District of Columbia District Court, the opinion submitted by President Trump's attorneys can be seen to have established the basis for pardoning Assange as a pre-condition of allowing Assange to leave the Ecuadorian Embassy in London without U.S. federal authorities seeking to arrest him.
Both CIA Director Mike Pompeo and Attorney General sessions
have argued
that arresting Julian Assange is a priority, even though it is not clear that Assange has violated national security laws – even if it can be shown he published U.S. national security classified documents.
Thanks to:
https://deusnexus.wordpress.com