January 28, 2018
 Print This Post
"Broken Brain" FREE Replay Weekend: Online Series on Holistic Mental Health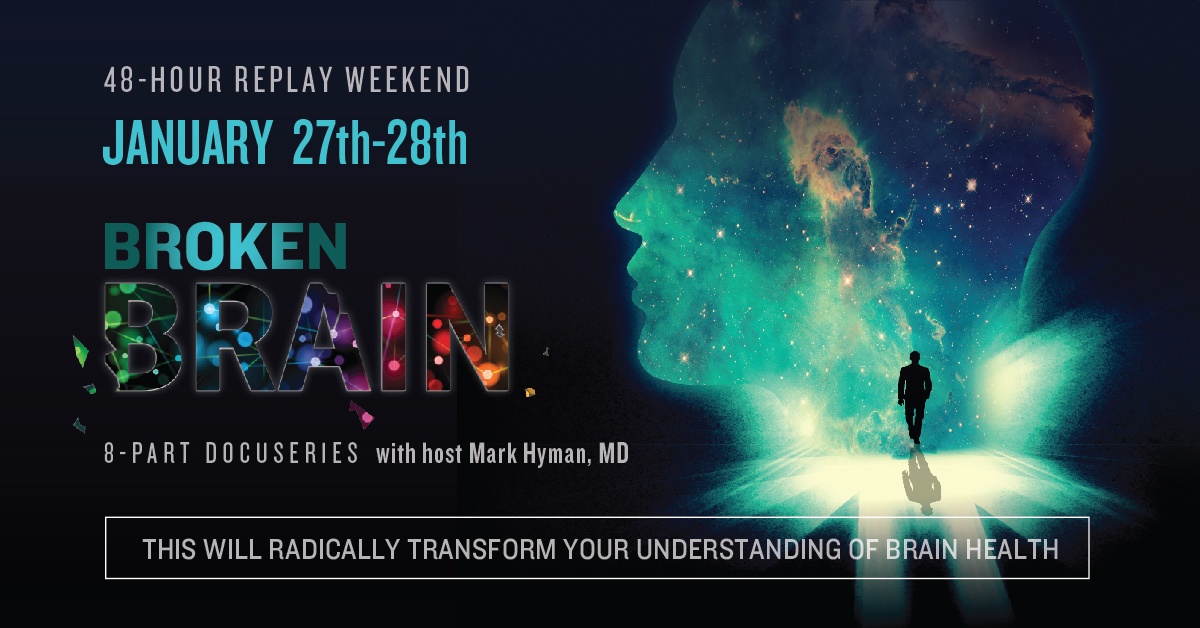 Health Impact News
NY Times Bestselling author Dr. Mark Hyman's online docuseries called "Broken Brain" just completed, and was a HUGE success! Many people emailed us to thank us for offering this docuseries on holistic mental health.
Due to overwhelming demand, Dr. Hyman's team has decided to present a FULL encore screening of Broken Brain for FREE this weekend.
For the next two days, starting at 6:00 AM ET Sharp on Saturday, January 27th ALL the episodes are available for you to watch.
You can see them all
, 100% FREE, until the bell tolls Midnight ET on Sunday, the 28th of January.
We're also EXTENDING the deadline for your special opportunity to own the entire
Broken Brain
series, digitally, on DVD, or BOTH at a
huge 50% discount
– so if you can't tune in this weekend – make sure you grab your own personal copy of it!
Remember, with each and every purchase, a portion of the sale is donated to The Institute for Functional Medicine, to help continue their amazing mission!
This 8-part docuseries gives you a better and much deeper understanding of our most precious and dynamic organ – the brain.
Over 50 experts give you their top tips for creating your best brain.
You can achieve more mental clarity, become sharper, more focused and live a more joyful, healthier life.
When it comes to brain health, many doctors and institutions are decades behind the cutting edge information.
From Dr. Hyman:
This documentary is 100% about YOU. It is about every person in my community – and in the world at large – who has tried to find answers to the most important questions they may ever face – and gotten 100,000+ responses from Google … facing overwhelm and fear, leaving them wondering where to begin.
This is your starting point and probably one of the greatest resources on brain health you will ever have access to.
With 1.1 BILLION lives disrupted by broken brains, you can't afford to miss a moment.
Here's to your brain, the birthplace of all inspiration and the keeper of all of your memories.
Anxiety, Alzheimer's, Brain Fog, Dementia, Depression, Autism, ADHD… You CAN change your brain!
Watch online this weekend for FREE!
https://youtu.be/Gb3cWC-6S10
Thanks to: http://medicalkidnap.com