America's War on Religious and Conscientious Objections to Mandatory Vaccines
Upholding Religious and Conscience-Based Vaccine Exemptions
by the World Mercury Project Team
For many individuals and families, deeply held conscientious and religious beliefs play a guiding role in decisions about vaccination. Recognizing the primacy and legitimacy of these beliefs, 47 out of 50 states permit religious and/or conscience-based vaccine exemptions, and about 1% to 6% of kindergartners claim such exemptions.
A religious exemption generally asserts that "the administration of immunizing agents conflicts with the person's religious tenets or practices."
Individuals who claim religious exemptions do not need to belong to a particular church or organized religion, but authorities may ask them to describe the religious or spiritual basis for their beliefs about vaccination.
Philosophical or conscientious exemptions, available in 18 of the 47 states, generally state something to the effect that "no student is required to have an immunization that is contrary to the conscientiously held beliefs of his/her parent or guardian."
The specific exemption legislation varies considerably from state to state. In some states, individuals requesting vaccine exemptions must complete additional requirements, such as obtaining affidavits or notarization or receiving "vaccine education" from health care providers. In the event of an illness outbreak, a number of states require that exempted students be excluded from school.
Conscience and Religious Freedom Division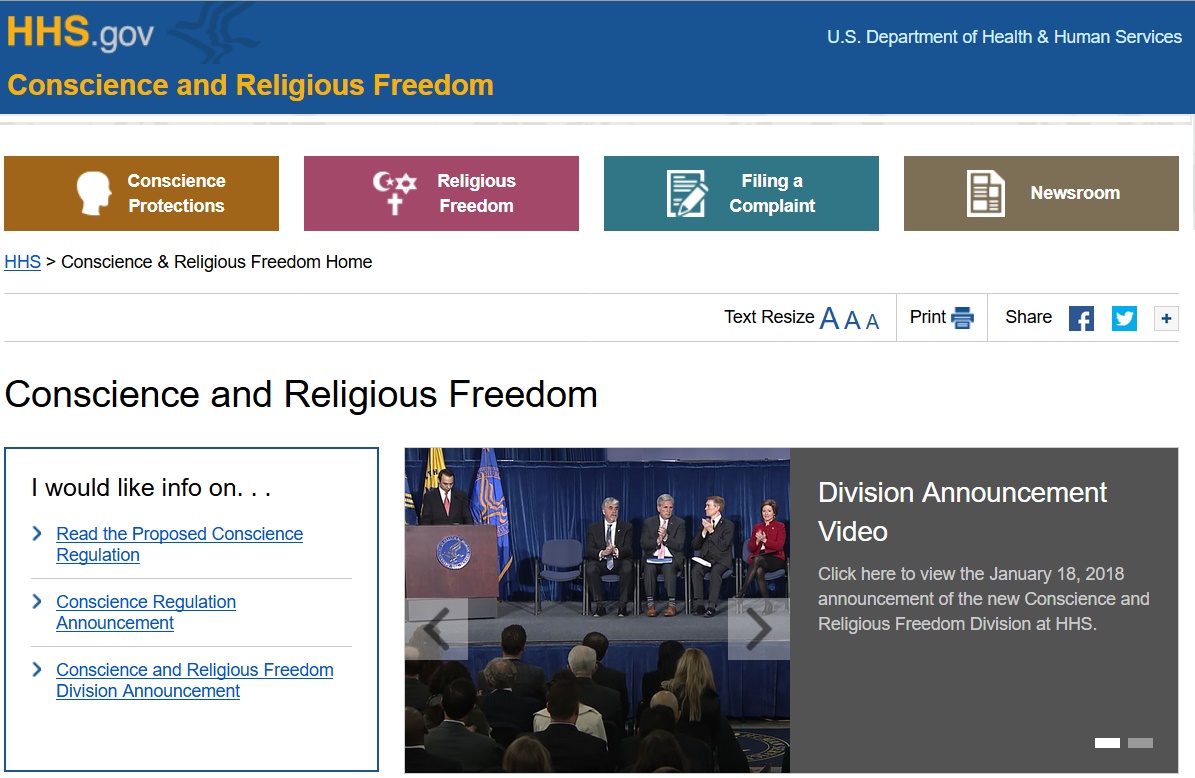 Conscience and Religious Freedom section of the HHS website.
Institutions such as the American Academy of Pediatrics (AAP) and vaccine cheerleaders such as Richard Pan—both beholden to pharmaceutical industry donors—make little secret of their desire to override parents' sincerely held conscientious and religious beliefs with regard to vaccination.
In line with his goal of moving toward "stricter vaccination policies and enforcement," Pan spearheaded passage of the 2015 bill (SB-277) that revoked all nonmedical vaccine exemptions in California.
With the bill's passage, California joined the only two other states (Mississippi and West Virginia) to have eliminated such exemptions.
…browbeaters should not be allowed to ride roughshod over citizens' sincerely held religious or conscientious beliefs, …
Recognizing that browbeaters should not be allowed to ride roughshod over citizens' sincerely held religious or conscientious beliefs, the U.S. Department of Health and Human Services (HHS), on January 18, announced that it was forming a Conscience and Religious Freedom Division within the HHS Office for Civil Rights (OCR).
The new Division's mandate will be to enforce "federal laws that protect conscience and the free exercise of religion and prohibit coercion and discrimination in health and human services."
To date, most news stories about the new OCR Division have focused on the Division's role in standing up for the moral or religious beliefs of health care providers.
However, the Conscience and Religious Freedom Division has indicated that it may also be willing to receive and respond to complaints from citizens who have been prevented from freely exercising their conscientious and religious beliefs related to vaccination.
Act Now to Educate HHS on What You Want
From now until
March 27, 2018
, citizens have an opportunity to tell the OCR that they want the Conscience and Religious Freedom Division to explicitly include vaccine-related situations in the categories of complaints that the Division will consider.
This is a big opportunity to not only retain the right to refuse vaccines on religious and conscientious grounds but also perhaps to reinstate religious and/or philosophical exemptions in California, West Virginia and Mississippi.
The OCR needs to hear from as many citizens as possible during the public comment period.


It only takes a few minutes to submit a comment.

In your comment, be sure to include the following: "Expand the categories for parents, students and children to file vaccine situation complaints."

Add the requested personal information (name, zip code, email address). There's no need to include an organization name.

Click the SUBMIT button.

Below the comments area, you can read more information about the proposed rule.

Taking the step of commenting on the Federal register is paramount to ensuring that HHS and OCR hear the vaccine safety community.
Read the full article at WorldMercuryProject.org.
Thanks to: http://vaccineimpact.com