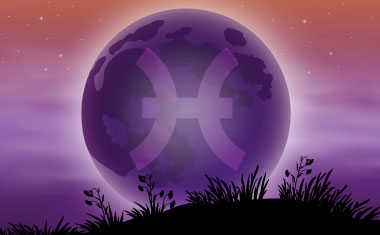 The Karmic New Moon in Pisces — the most Powerful Healing Moon of 2018!
By The Open Mind Staff contributor
- March 17, 2018
The New Moon in Pisces is a very psychic moon. Today, we will look at how you can have that little extra advantage into the psychic opening to help lead you along the way when you are making your new moon wishes. We all need a little extra guidance. That is why we are here, but this New Moon in Pisces will help you tap into that guidance from within.
What the New Moon in Pisces really means for you?   
You should remember that Full Moons are about endings and New Moons are about beginnings. The moon rules our emotional center, and it is through our open emotions that we actually feel, as well as see deeper into the psychic portal. When the New Moon is in the psychic mutable water sign of Pisces, we all have a little bit of silver opening into the psychic portal.
You can open that silver wide, or you can just take a peek. It is all up to you. Looking at the New Moon is going to remind you just what that symbolism means.
This Pisces transformative New Moon will be helping you to feel a sense of completion or wholeness with the direction of your life. It is also going to help you to start thinking about the future.
While it is impossible to plan for the future, this New Moon will be a great time for thinking about what you want to pull or bring into your life.
You don't have to have an exact plan.
Think about what seeds you want to plant, or what emotions you would like to bring into your life.
You should think about how you want to feel as you move through this next chapter of your life. Think about what emotions or energy you want to bring in your life. Focus on how you can create these in small ways every day.
While this New Moon will be great for sending out your wishes and desires, it also carries very healing energy as well.
If there are any wounds or sores which you have been nursing, this energy is going to help you think about them in a new light and bring a sense of acceptance and forgiveness to whatever has transpired.
Our self-esteem might be at an all-time low, and we may also seek validations from our friends and family. But, they cannot heal us, because healing has to come from within. We might overthink things and think that everything is much worse than it is. If we are not careful, all of the negative emotions might well become a reality.
Chiron will help us in facing the wounds that we always ignore or suppress.
This will also be a great time for healing as Chiron can give us the strength to address these sore spots without hurting them even more. Powerful periods in the lunar cycle are the time when we are emotionally charged, and any little thing can also trigger, as well as flare us up. This is also the perfect period for us to travel within ourselves, as well as heal these wounds.
We can also take the help of all the elements that can make this testing time a little easier for us. Water is another great source of healing, and you can also draw baths with healing salts, to make this period a little bit easier for us.
Sound therapy, as well as music, can also be of great help for us. Whatever it takes, you should open yourself up to face these wounds and heal yourself. Chiron in Pisces can also make the journey a lot easier for us if only we have the faith to let it.
We just need to have patience and inner strength to go through this period, and we are going to come out of it more powerful and healthier than before.
Thanks to: https://www.the-open-mind.com