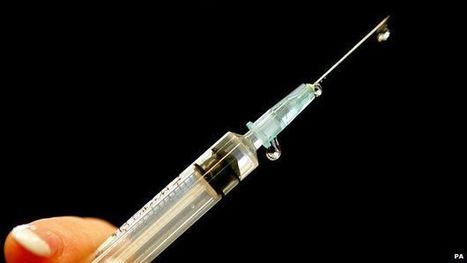 Bombshell: All tested vaccines reveal toxic substances linked to autoimmune disease
(Naturalhealth365) According to the National Institutes of Health, up to 23.5 million Americans suffer from autoimmune disease – and the number is increasing steadily. Unfortunately,
Western medicine continues to ignore the impact of vaccines on this growing health crisis
.
In addition, rates of cancer, diabetes, autism and other neurodevelopmental diseases continue to soar – a disease (and disability) epidemic that has researchers baffled. Yet, many integrative healthcare providers have warned the general public that vaccines – already known to contain neurotoxic metals like, lead and chromium – are a fundamental trigger for these so-called 'mysterious' health issues.
Now, a pair of Italian scientists are reporting unsafe levels of contaminants in human vaccines, further raising the concern over these negative (and avoidable) health outcomes.
WARNING about vaccines: Sophisticated new method of analysis reveal extensive contamination
The study was conducted by a husband and wife research team, Antonietta Gatti and Stefano Montanari. Antonietta Gatti, a selected expert of the World Health Organization (WHO) for the safety of nanotechnological food, is a member of the National Council of Research of Italy and the scientific director of Nanodiagnostics.
Using electron-microscopy, the researchers examined 44 samples of 30 different human and veterinary vaccines, including those for influenza, meningitis, allergies, cervical cancer and hepatitis.
And what they found was disturbing. The pair identified contaminants in all tested vaccines – but for one. (The lone vaccine to test free of inorganic contaminants was Feligen, produced for use on cats).
When it comes to vaccine safety, humans didn't fare as well.
In the study, published in 2017 in
International Journal of Vaccines and Vaccinations
, the researchers reported that they found both single particles and aggregates – or assemblages – of a variety of bizarre and toxic substances in the vaccines.
Researchers "baffled" by the composition of the contaminants
The researchers described the contaminants as "micro- and nano-sized particulate matter composed of inorganic elements not declared in the products' ingredients lists."
The vaccines were found to contain "red cells" – of human or possibly animal origin – along with metals such as lead, tungsten and chromium. (Chromium, found in 25 of the tested human vaccines, has been linked to autoimmune disease and leukemia).
In fact, when it came to heavy metals, vaccines feature a veritable "Russian roulette." Other metals identified included silver, gold and platinum – precious metals when found in the form of jewelry, but not so precious (in fact, toxic) when injected into the human body.
Specifically, lead particles were found in the cervical cancer vaccines Gardasil and Cervarix, as well as in the seasonal flu vaccine Aggripal and in the meningitis vaccine Meningetec.
An infant vaccine called Infarix Hexa – intended to protect against DPT and other diseases – contained stainless steel, tungsten and a gold-zinc aggregate. Another flu vaccine, marketed for children three years and older, contained 11 different metals and aggregates of metals.
The scientists reported that they were "baffled" by the unusual chemical composition of the foreign bodies and pollutants, which they called "non-biodegradable" and "non-biocompatible."
Likening the substances to "products generated by burning waste,"
the team said the substances had no technical use and could not be found in any material handbook.
The team concluded that the contaminants' presence was accidental, and possibly a result of inadequate filtration. They called for purification of vaccines to improve their quality and decrease the number and seriousness of adverse effects.
The scientists emphasized that these substances should not be present in any vaccine – in particular, those meant for infants.
Researchers: Adverse effects are "possible and credible"
The researchers identified some possible immune responses to the contaminants.
The immune system, they wrote, could react by dispensing microphages to engulf the foreign bodies. This action could contain the contaminants, as swellings or granulomas at the injection site. Alternately, they could be ferried in the bloodstream to other sites in the body, with unknown consequences.
The foreign bodies could also precipitate the release of a flood of cytokines – inflammatory substances – that could then trigger autoimmune diseases such as multiple sclerosis and diabetes
. (The researchers noted that the pro-inflammatory chemical Interleukin-6 has already been incriminated in autism).
Finally, the foreign nano-particles are so small that they are capable of interacting with cell DNA – with unforeseen consequences.
Due to their smaller size, children are particularly vulnerable to damage from vaccine contaminants.
Reported side effects from vaccines include headaches, fatigue, seizures, muscle pain, paralysis and even sudden infant death syndrome.
Of course, this latest study highlighting contaminants doesn't represent the only evidence of lapses in vaccine safety. In the 1960s, polio vaccine was contaminated with a simian virus from monkey kidney cells – which is now linked to the growing epidemic of cancer.
In 2007, 1.2 million doses of Hib vaccine were recalled due to contamination with cereus, a bacterium that causes food poisoning. And, in 2009, a meningitis vaccine for babies was contaminated with S. aureus bacteria.
From the U.S. CDC and WHO: Nothing but "crickets" in response to this alarming news
A reasonable response to the findings of Drs. Gatti and Montanari would have been for the U.S. Centers for Disease Control and Prevention (CDC) to begin an investigation – using independent scientists to either confirm or refute the findings.
But
medical and governmental authorities in the United States appear to have taken no notice of the pair's findings
. A year after the publication of the study, no such investigation has been launched.
And the explosive research has not been widely covered in the media. (Natural health advocates maintain that the mainstream media's ties to big pharma cause them to be reluctant to investigate, or even publicize, negative vaccine stories – a disgraceful state of affairs).
Note: a type of digital ledger known as blockchain is gaining traction as a way to collect, track and share data on vaccines and adverse reactions.
To learn more about blockchain, visit: the World Mercury Project web site.
Update: According to news reports, Italian police raided the home and laboratory of Drs. Gatti and Montanari last month, seizing laptops, computers, documentation, data and flash-drives. Vaccine safety advocates say this is a blatant attempt to silence the scientists – while other sources say the raid is due to a dispute surrounding the ownership and use of an electron microscope.
In any case, the timing certainly seems highly suspicious.
Sources for this article include:
CMSRI.org
Medcraveonline.com
Thanks to: https://www.naturalhealth365.com