Bill Cosby Feeling Disoriented After Jury Slips Conviction Into His Verdict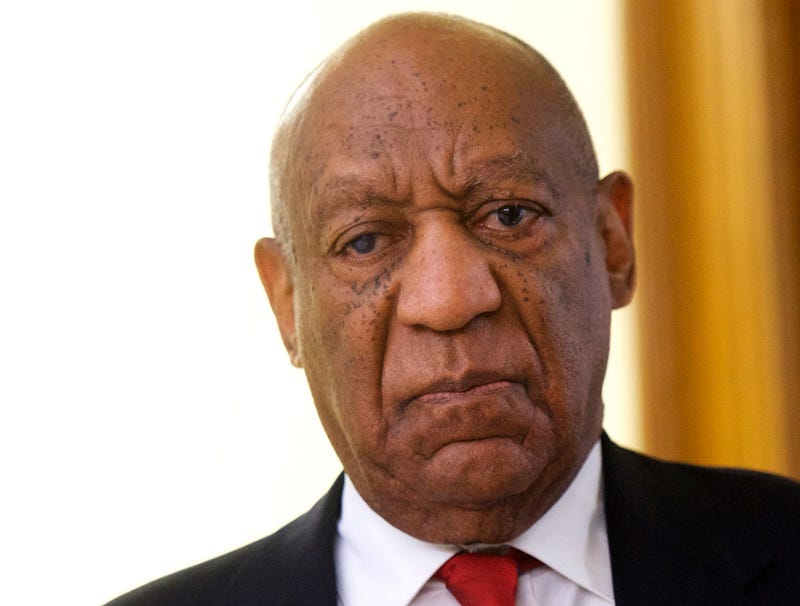 Bill Cosby guilty; faces up to 30 years imprisonment
Posted on April 26, 2018 by Dr. Eowyn  
Bill Cosby (l) and Obama celebrating Ted Kennedy's birthday, 2009.
Justice, at last.
Page Six
reports, April 26, 2018, that nearly 14 years after actor/comedian Bill Cosby drugged and molested a woman 30 years his junior, a jury found him guilty of all charges in his sex assault retrial.
His first trial last year ended in a hung jury after jurors were unable to reach a verdict.
Cosby, 80, showed no emotion and looked down at the table in front of him as the jury forewoman read aloud "guilty" to all three felony counts of aggravated indecent assault. He now faces
up to 10 years behind bars on each of the three counts.
Cosby was allowed to remain free on $1 million bail despite a fight from prosecutors who said he was a flight risk and someone with "limitless wealth" and a private plane. The argument prompted an outburst from Cosby, who stood up and yelled, "He doesn't have a plane, you a–hole! That shows what you know!" Cosby was ordered to surrender his passport and stay in Montgomery County pending his sentencing date, which was not set.
Cosby's chief accuser, Andrea Constand, 45, took the stand to publicly relay for a second time her recollection of the horrifying 2004 attack. The former Temple University basketball administrator told jurors she took three blue pills from Cosby, which she thought were herbal, to help with stress while at his Cheltenham, Pennsylvania home in January 2004. She said her mouth became "cottony," and her legs "rubbery," and was helped by the then-67-year-old Cosby to a couch before she slipped into darkness.
Constand testified: "I was kind of, um, jolted awake, and felt Mr. Cosby on the couch behind me, and my vagina was being penetrated quite forcefully. I felt my breasts being touched. And he took my hand, and placed my hand on his penis, and masturbated himself with my hand. And I was not able to do anything about it."
In what proved to be a turning point for prosecutors, five other Cosby accusers were allowed to testify at this trial — supermodel Janice Dickinson, Heidi Thomas, Chelan Lasha, Janice Baker-Kinney and Maude Lise-Lotte Lublin. They each testified that Cosby had slipped them pills and sexually assaulted them.
Cosby has been accused of drugging and sexually assaulting some 60 women, not a single one of whom is black.
~EowynThanks to: https://fellowshipoftheminds.com