Justice Anthony Kennedy Retires, Handing Trump Historic Chance to Reshape Supreme Court
By Ivan Pentchoukov
June 27, 2018 4:53 pm Last Updated: June 27, 2018 7:47 pm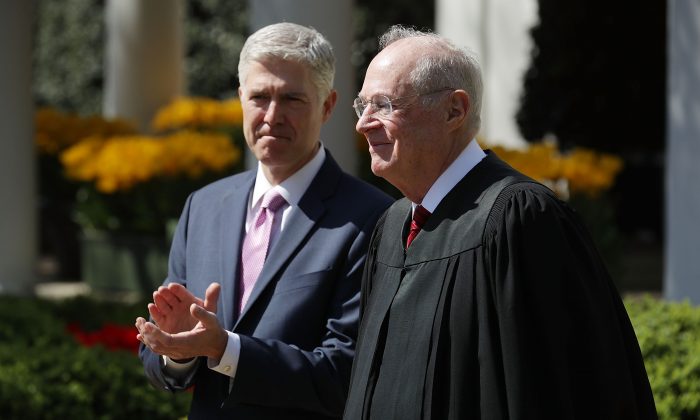 U.S. Supreme Court Associate Justice Anthony Kennedy (R) prepares to administer the judicial oath to Judge Neil Gorsuch during a ceremony in the Rose Garden at the White House in Washington on April 10, 2017. (Chip Somodevilla/Getty Images)
Justice Anthony Kennedy announced his retirement on June 27, giving President Donald Trump an opportunity to shift the Supreme Court to a solid conservative majority.
In a letter to Trump, Kennedy wrote that he would retire at the end of July. The potential for a new vacancy has been rumored for months. The news of the retirement arrived one year after another Trump appointee to the bench, Justice Neil Gorsuch, began to serve a lifetime term.
Kennedy wrote to Trump. "Please permit me by this letter to express my profound gratitude for having had the privilege to seek in each case how best to know, interpret, and defend the Constitution and the laws that must always conform to its mandates and promises."
Though a conservative, Kennedy is considered a swing vote in the court. He has sided with the liberal side of the bench in crucial cases, including the legality of same-sex marriage and Roe v. Wade, the landmark case that in 1973 struck down laws that criminalized or restricted access to abortions.
"He's a man that I've known for a long time and a man that I've respected for a long time. He's been a great justice of the Supreme Court. He has been a man that has displayed tremendous vision and tremendous heart and he will be missed," Trump said at the White House on June 27.
"We will begin our search for the new justice of the United States Supreme Court. That will begin immediately. … Hopefully we'll get to pick someone who is as outstanding."
Conservatives have long dreamed of building a firmly conservative majority on the court that would push to overturn Roe v. Wade.
Kennedy disappointed conservatives by joining Supreme Court decisions that affirmed the Roe decision, including a landmark 1992 ruling in the case, Planned Parenthood v. Casey.
Gorsuch already has demonstrated that he is one of the most conservative members of the court, aligning himself with justices Clarence Thomas and Samuel Alito.
Republicans in the Senate would need a simple majority to confirm Trump's new pick. Senate Majority Leader Mitch McConnell said that the Senate will vote on a candidate in the fall. McConnell did not specify whether it would come before the court's new term starts in October or before the November mid-term elections.
Gorsuch, Trump's prior nomination to the court, faced an epic confirmation fight last year. Republicans were forced to change the Senate rules for confirming Supreme Court justices to erase a 60-vote restriction that gave Democrats an opening to filibuster the vote.
With the restriction gone, a new pick can be approved with a simple majority. Republicans outnumber Democrats in the Senate, 51 to 49.
President Ronald Reagan nominated Kennedy to the court in 1987. Kennedy began his term on the bench the following year and served for three decades.
Reuters contributed to this report.
Thanks to: https://www.theepochtimes.com
https://youtu.be/Sbrm3xtkVQ8