Hundreds of HPV Vaccine Victims Take to the Streets in Dublin to Protest – 2 Girls Suffer Seizures During Protest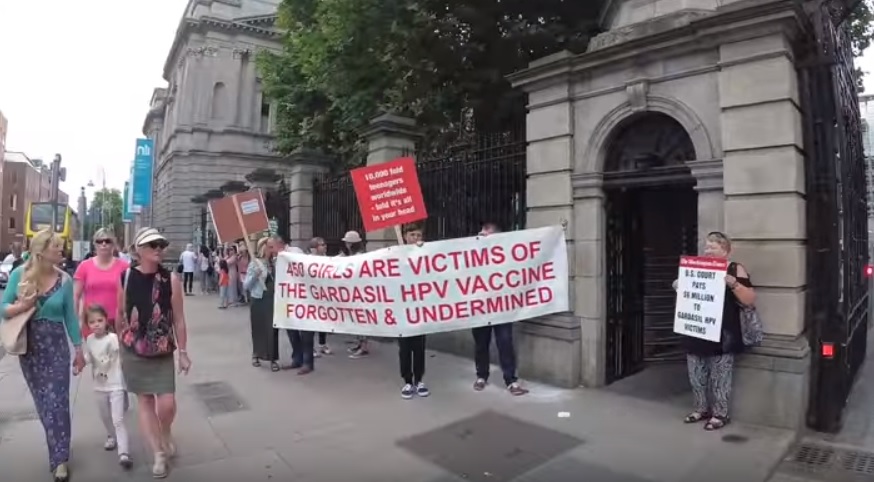 by
Brian ShilhavyEditor, Health Impact News
Hundreds of HPV vaccine-injured people took to the streets to protest at Leinster House, Dublin, on July 9th, 2018, while Professor Ian Frazier, one of the co-inventors of the vaccine, gave a speech next door at the Royal College of Physicians.
During the protest 3 Gardasil vaccine victims took ill, with 2 of them having seizures. Both of the girls suffering seizures had to be taken to the hospital.
The following video was taken of the protest, and towards the end of the video you can see one of the girls having a seizure.
This protest has been mostly censored in the "mainstream" corporate-sponsored media.
https://youtu.be/X-1_99cF7Yk
Irish Survivors of Gardasil Unite
The R.E.G.R.E.T. Support Group was launched in 2015 in Ireland by parents of chronically ill teenage girls.  These parents blame an injection the girls received at school as the cause of their daughters' illness. The drug in question is called Gardasil, and it is being marketed as an anti-cancer vaccine. 
R.E.G.R.E.T.
 is an acronym for 
"Reactions and Effects of Gardasil Resulting in Extreme Trauma".
See:
Gardasil Vaccine Survivors in Ireland Launch Support Group
Fiona Kirby with supporters outside of High Court. Image source: Irish Examiner.
Fiona Kirby, a nurse from Kilbeggan, Co Westmeath, appeared in Dublin's High Court in 2016, taking her fight to the High Court, seeking the Health Products Regulatory Authority to withdraw the HPV vaccine in Ireland.
The mother of an HPV vaccine-injured daughter, Kirby, has vowed not to quit in her efforts. Ireland is one of the few countries in The European Union that does not have a compensation program for vaccine injury.
See:
Ireland's HPV Vaccine Injured Fight for Human Rights in Dublin's High Court
Irish Political Controversy over Gardasil Vaccine: Risks of Shots Not Given to Parents
A major point of contention by Irish parents is the fact that proper informed consent has not been given since the HPV shot has been implemented in the country. In fact, Ireland's Health authority (HSE) specifically instructed local health care providers not to give the Patient Information Leaflet to parents.
Instead, a watered-down version of cherry-picked info, regarding Gardasil, was given to parents exaggerating the shot's claims and downplaying adverse reactions. The continued improper informed consent accompanying these vaccines in Ireland was criticized by Irish Senator Paschal Mooney.
https://youtu.be/OSpu0XLV9sI
Thanks to: http://vaccineimpact.com