POOFness for SEPT 5: MIDWEEK BY ZAP 9-5-18
Posted By: hobie [Send E-Mail]
Date: Wednesday, 5-Sep-2018 23:16:35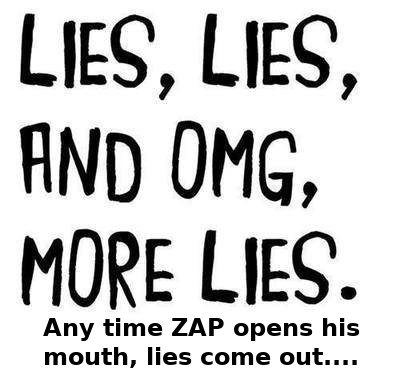 Hi, folks - Received via e-mail: =====

Subject: MIDWEEK BY ZAP 9-5-18
From: "The Office of Poofness" <2goforth@humanus.ca>
Date: Wed, September 5, 2018 11:06 pm Zap Says

HI ALL, JUST GOT INTO SHENZHEN FROM BEIJING. THE TRIP THERE WAS A TREMENDOUS SUCCESS WITH AGREEMENTS SIGNED, AND OUR ORGANIZATION WILL SET THE MODEL FOR ENVIRONMENTAL AND HUMANITARIAN PROJECTS WITH THE CHINA GOVERNMENT. I TELL YOU A FINER BUNCH OF GUYS TO WORK WITH YOU WOULD BE HARD PRESSED TO FIND. CONTRARY TO POPULAR OPINION, THE CHINESE PEOPLE ARE SIMPLY REMARKABLE. IF YOU SHOW KINDNESS AND COMPASSION, THEY WILL RETURN IT AND GIVE YOU THE SHIRT OFF THEIR BACKS. MOREOVER, THEY WILL GO HOME AND KNIT YOU A SHIRT. THEY ARE DEEPLY MISUNDERSTOOD AND THE CHINESE DREAM IS ONE OF UNITY AND JOY AND PROSPERITY FOR THE WORLD. YOU JUST HAVE TO LOOK AT THEIR HISTORY AND THE GREAT WALL TO BEGIN TO UNDERSTAND THAT THESE GUYS ARE AFTER PEACE AND THE ABOVE ITEMS. THE GREAT WALL WAS BUILT TO PROTECT THE PEOPLE FROM THE BARBARIAN HORDES, NOT TO WAGE WAR AND THAT IS A CLEAR FACT. NOW WITH THE PARADIGM CHANGES UPON US, THEIR PRESIDENT XI JINPING HAS MADE A DRAMATIC MOVE TOWARDS AFRICA GIVING THEM A NO STRINGS 60 BILLION PACKAGE. NOW THAT SAYS A LOT. NO STRINGS MEAN THEY ARE THERE TO GIVE A HELPING HAND, NOT RAPE AND PILLAGE THAT SOME IDIOTS HAVE CLAIMED. THEIR HOSPITALITY IS UNPARALLELED. I HAVE EXPERIENCED IT BEFORE, AND IT HAS NOT CHANGED. THEY TRULY LOOK AFTER YOU AND FEEL RESPONSIBLE IF YOU STUB YOUR TOE. I HAVE STUBBED MINE MANY A TIME, AND THE FORGIVENESS AND HELPING HAND IS THERE IN SPADES. MANY COUNTRIES COULD USE THEM AS A GOOD EXAMPLE ON HOW THEY DO THINGS. SO BOTTOM LINE IS THAT I FEEL VERY COMFORTABLE AND HONORED WITH THEIR RECEPTION, AND THEIR TAKING A LEADERSHIP ROLE IN PRESENTING NOT ONLY A FACE FOR THE BENEFIT OF OUR HUMANITY, BUT ACTUALLY IMPLEMENTING IT. PRETTY DARN GOOD FOR SUCH A LARGE COUNTRY. OH, AND THEIR CITIES ARE ABSOLUTELY BEAUTIFUL AND THEY CONSTANTLY WORK AT BEAUTIFICATION AND RAISING THE STANDARD OF LIVING ALL THE TIME. THE WORK ETHIC IS THERE TO DO IT RIGHT.
SO THERE ARE MY THOUGHTS ON CHINA AND THE PATH THEY HAVE UNDERTAKEN TO DO FOR THE BENEFIT OF OUR HUMANITY. JUST A WOW . THIS MIRROR'S GRANDFATHERS PATH AND HIS WISHES FOR THE SAME THING SO BOTH COUNTRY AND THE CHINA FAMILY (WHICH USED TO BE AT ODDS WITH THE GOVERNMENT) ARE IN SYNC ON THE SAME PAGE. AGAIN PRETTY DARN GOOD. MEANWHILE, I HAVE NOT HEARD MUCH OF THE TRUMPSTER AND COULD USE A FILL IN IF YOU WANT TO WRITE IN WHAT HE HAS DONE LATELY. AFTER CHINA I WILL BE BACK IN CANADA AND MAKE ARRANGEMENTS TO BEGIN THE EXACT SAME THING I HAVE MANAGED HERE. THAT INCLUDES SAYING HI TO HIM AND OTHERS AND FIGURE OUT WHICH ENVIRONMENTAL PROJECTS HAVE TO BE UNDERTAKEN FIRST. THERE IS SO MUCH TO DO. THE TECHNOLOGIES FOR THE CLEANUP OF THIS PLANET ARE ALL HERE AND JUST HAVE TO BE DEPLOYED AFTER PROTOTYPING, MANUFACTURING, AND REGULATORY APPROVALS. EACH COUNTRY HAS ITS OWN SET OF STANDARDS THAT MUST BE COMPLIED WITH. IN RESPECT OF THE RV, I HAVE HEARD SOME VERY ENCOURAGING NEWS IN THAT THERE IS A SET DATE FOR IT TO BEGIN, BUT NOBODY IS TALKING AND THAT'S THE WAY IT SHOULD BE. SPECULATION IS USELESS BEIJING IS SMOGGY AND NEEDS OUR TECH TO CLEAN THE AIR AND GET RID OF THE POLLUTING SOURCES. ON OUR PROPOSAL, WE WERE MET WITH A VERY WARM EMBRACE AND HAVE ESTABLISHED A FRAMEWORK OF DEPLOYING MANUFACTURING OF THE TECHNOLOGIES THAT WILL ACCOMPLISH THIS TASK. THE WATER IS AN ISSUE AND AGAIN THE TECH WAS WELL RECEIVED, AND CHINA SHALL BE MANUFACTURING THE TECHNOLOGIES THAT WILL CLEAN OUR WATERS BACK TO A PRISTINE STATE. OTHER TECH HAS BEEN DISCUSSED BUT THESE ARE AMONGST THE VERY FIRST EFFORTS WE SHALL DO HERE. THE QUESTION OF SENIOR RESIDENCE AND SHELTERS FOR KIDS AND SINGLE MOTHERS WILL BE A HUGE UNDERTAKING HERE AS MILLIONS ARE IN NEED OF FACILITIES. WE ARE BEGINNING EFFORTS HERE TO HELP OUT GRANDFATHER'S PROBLEMS IN HIS COUNTRY. THESE EFFORTS WILL BE UNDERTAKEN IN NORTH AND SOUTH AMERICA WHEN I GET BACK. ON OTHER MATTERS WITH THE FAMILY SIDE HERE I CAN NOT COMMENT ON, BUT VERY SOON THE RELEASES I HAVE SPOKEN TO WILL BE DONE AND ANOTHER CHAPTER IN THE NEW PARADIGM WILL BEGIN. OH YES, I WAS ALSO A BIT INVOLVED IN THE AFRICAN-CHINA SUMMIT.

THE AGREEMENTS ARE IN PLACE NOW, AND AFRICA WILL PROSPER. WE WILL HELP GREATLY.
I WILL BE BACK SOON AND GET OFFICES SET UP AND WE SHALL BEGIN THE WORK AHEAD NOW THAT THE FUNDS ARE ASSURED AND THE SETUP FOR MANUFACTURE OF ENVIRONMENTAL TECHNOLOGIES ARE DONE. ONE OF THESE DAYS I WILL PUBLISH SOME PICTURES THAT WERE TAKEN HERE THAT I WILL BE ALLOWED TO SHARE AS THEY HAVE SOME SMALL HISTORICAL SIGNIFICANCE NOW. BACK TO WORK FOR ME SINCE TOMORROW MORNING I WILL BE DEEP INTO SOME PRETTY HEAVY MEETINGS.
MUCH LOVE AND GOD BLESS. LOVE AND LIGHT
IN OUR SERVICE
ZAP

Contributions Thank you for your support as we do our best to keep you up to date. We couldn't do this Without Your Help.!!! Please go to Paypal.com using the account address: goneforthfornow@gmail.com to support the cause. Please remember to click friends and family when sending. If you are not a member of paypal and sending a donation please send an e-mail to goneforthfornow@gmail.com so we can log you in and send you a Thank You. We appreciate all the help you continue to provide in keeping food on people's tables, medical needs met, computers running and shelter .
With Much Gratitude and Appreciation,
Love and Kisses,
"The Office of Poofness"
ZAP, Susan and Staff

===== --hobie

Thanks to: http://www.rumormillnews.com

HOW TO REPORT JERZY, SUSAN AND GANG:
https://www.oom2.com/t57287-how-to-report-jerzy-susan-and-gang-and-stop-the-donation-fraud
Fake Organization Scams


Fake government agencies, non-existent charitable organizations and other fake groups and entities - there are a host of scammers who create legitimate sounding organizations that do not exist or exist only on paper.  Before you donate or pay some organization, check here for the frauds!

Read more at http://www.consumerfraudreporting.org/index.php#aKvHDdSSf6vt4Cch.99
REPORT FRAUD HERE:

http://www.consumerfraudreporting.org/index.php

Jerzy lives and executes his fraudulent activities from Calgary Canada.
The Canadian Anti-Fraud Centre (CAFC) is the central agency in Canada that collects information and criminal intelligence on such matters as mass marketing fraud (e.g., telemarketing), advance fee fraud (e.g., West African letters), Internet fraud and identification theft complaints.
http://www.antifraudcentre-centreantifraude.ca/index-eng.htm