Julian Assange's Last Words "Intelligent Evil Dust, it's Everywhere in Everything" Then Cut Off Air (Video)
Tuesday, September 25, 2018 11:19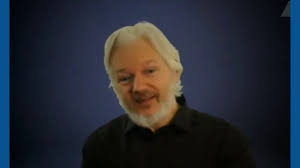 We will be looking at what Julian Assange was talking about as he mentioned "Intelligent Evil Dust" Julian Assange Last Video Before Communications Cut At Embassy Sept 20 2018
Julian Paul Assange (/əˈsɑːnʒ/; born Hawkins; 3 July 1971) is an Australian computer programmer and the editor of WikiLeaks. Assange founded WikiLeaks in 2006, but came to international attention in 2010, when WikiLeaks published a series of leaks provided by Chelsea Manning.
Chris Aussie  And they aren't just upper atmosphere here they spray very low sometimes. So low I can see the windscreen on the plane and count the windows on the side of the plane. They are usually converted passenger planes that fly out of Pearce airbase around 20 miles east of my house. It's not just America Australia is being hammered too. After yesterday's lingering chem haze I have a real sore left ear. We don't vaccinate my now 22 month old son got whooping cough 4 months ago. He is the only child not vaxxed at the daycare he attends 2 days a week. No other child had it just my son, I wonder where it come from.
He was fine it was like he had a cold for 6 days. Runny nose no real coughing fits at all our GP is real good he is fine with our choice and tested as a precaution by time the results come back my son was fine and no treatment at all was required. We have all organic meat fruit and veg also we take cold press organic flax seed oil and cold press organic cumin seed oil, organic honey, oats , beans , tinned tomato and butter, milk as much as I ca get organic at a fair price I will use. Also organic cold press coconut oil for cooking we take atomic iodine and turmeric. Basically my POINT IS if you keep your kids super strong and healthy they can naturally fight anything EASILY.
https://youtu.be/Rd6u5Los-VM
https://youtu.be/PB2Nf3w8AUg
Thanks to bs4ever for the forward and: https://beforeitsnews.com