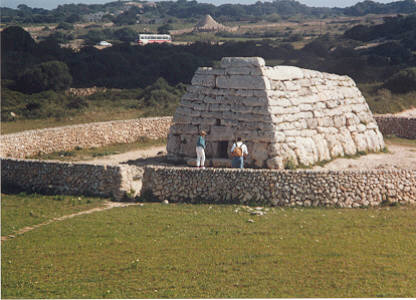 https://youtu.be/3n8UhjOqZSg
Mystery History
Published on Oct 11, 2018
Support Our Fight Against Academic Fallacies: Patreon:
https://www.patreon.com/MysteryHistory
Facebook:
https://www.facebook.com/MysteryHisto...
Twitter:
https://twitter.com/Mysterytweetery
Steemit:
https://steemit.com/@mysteryhistory
Narration By Don Moffit:
www.DonMoffit.com
In our last video, we explored the remarkable ancient remains, of a purported temple still to be found upon the Maltese island of Gozo. A site, that according to local legend, was constructed by an ancient giant. Known as Ġgantija, it is, intriguingly, not the only ancient ruin in existence in the area, which share a similar legend surrounding its inexplicable construction, and possible ancient giant origins. Among many other such sites, is a perplexing structure that can be found upon another Mediterranean island, Minorca. Largely accepted as the most remarkable megalithic chamber on the island, which is predictably, is academically claimed as a tomb, found upon the Balearic island of Spain, the site is known as the Naveta d'Es Tudons, and according to academia, is dated as a Bronze Age structure from the pre-Talaiot period. This account, like many other academically posited claims of origin, solely surround the vast array of surviving archaeology found at such sites, often providing their explanations absent of any logical explanations,,, as to how such sites were built, which is so often conveniently overlooked by these funded academic gatekeepers. However, we do indeed believe that these bronze age relics, confirm that it did indeed once serve as a collective ossuary, from the pertained date of between 1200 and 750 BC, yet a we also beleove a vast amount of the structures true history is missing. consisting of 2 chambers, which we feel, long after the original intention for the construction, and indeed its actual builders became lost to history, was used,,, like many other ancient sites,,, due to their inexplicable and awe inspiring grandeur,,, by our bronze and copper wielding ancestors for ritual purposes. With the Naveta d'Es Tudons later used as an altar room for funeral offerings. Interestingly, and linking back to our previously noted research pertaining to Ġgantija, according to a similar local legend within the area, the the Naveta dels Tudons and also that of the Pou de sa Barrina, which roughly translates as "the well of the driller," was built by two male giants who were competing for the love of a local average sized girl. Which although similar to that Ġgantija, Ġgantija's legends surround a female giant. The site was first discovered and described within modern history, during the early 19th century, but was left unexcavated until 1959, eventually excavated by archaeologist Lluís Pericot García, unsurprising to us, he found the mysterious structure to have contained the remains of at least 100 skeletons, including various artefacts including bronze bracelets, bone and ceramic buttons. These, we posit, were the result of these ancient people perceiving such site, as having godly importance, this due to its seemingly impossible construction, and mysterious origins. According to Garcías research, the structure had intentionally been created to resemble the shape of an upturned boat, with the challenge for its original giant builders, who in competition for the love of the local mistress, was to drill a well nearby until one struck water. The first to complete the task would marry the girl. Then, according to his investigations of local legend, when the giant building the structure was placing the last stone, the other giant successfully struck water. In a fit of savage jealousy, the builder threw his last stone, killing his rival. Then, feeling unbearable remorse, killed himself. Who built the Naveta dels Tudons? Was it indeed built, like the many other sites throughout the world, often claimed by local legend, built by ancient giants? We find the site, and indeed its attached folklore, highly compelling.
https://en.wikipedia.org/wiki/Naveta_...