Galaxy cluster looks like the USS Enterprise
Posted on Saturday, 17 November, 2018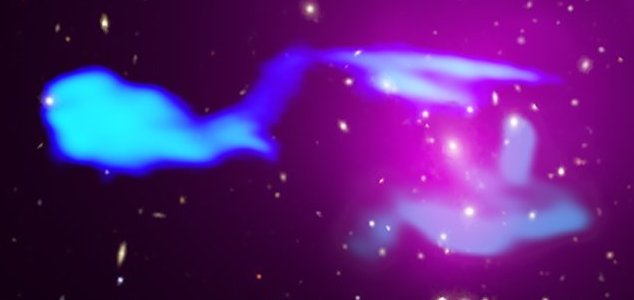 To boldly go where no one has gone before. Image Credit: NASA / SDSS / LOFAR et al.
NASA has shared an image of a distant galaxy cluster that looks quite a bit like the iconic Star Trek vessel.
The composite image shows galaxy cluster Abell 1033 which is itself a merger between two smaller galaxy clusters - the largest structures in the universe that are held together by gravity.
These vast regions of space can contain thousands of galaxies and weigh trillions of solar masses.
The image is made up of data from several different sources including NASA's Chandra X-ray Observatory (purple) and the Low-Frequency Array (LOFAR) network (blue).
The cluster is situated approximately 1.6 billion light years from Earth.
https://youtu.be/yUECTVzXv5k
Thanks to: https://www.unexplained-mysteries.com