OSIRIS-REx probe arrives at asteroid Bennu
Posted on Monday, 3 December, 2018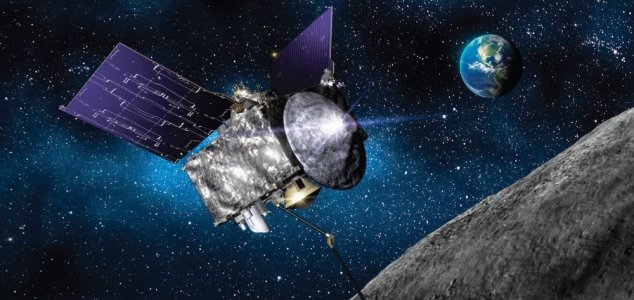 An artist's impression of OSIRIS-REx at Bennu. Image Credit: NASA / Lockheed Martin
A NASA probe that launched back in 2016 has drawn up alongside an asteroid that could one day strike Earth.
Part of NASA's ongoing New Frontiers Program, the spacecraft has travelled 2 billion kilometers and is now set to spend the next 505 days mapping the space rock in unprecedented detail.
The mission will help to provide us with a better understanding of the formation and evolution of the solar system while also offering a detailed close-up look at an object that astronomers believe could one day end up on a collision course with our own planet.
Among the probe's instruments is a robotic arm and collection device that will gather some of the asteroid's regolith and pack it up for launching back to Earth for further study in 2023.
With a diameter of almost 500 meters, Bennu would cause some serious damage to our planet if an impact was to take place. Fortunately, though, the likelihood of this happening remains slim.
Even so, learning as much as possible about the asteroid is definitely a wise strategy.
https://youtu.be/NYGHbl_esgw
Thanks to: https://www.unexplained-mysteries.com