Massive 'Sarlacc Pit' discovered in Canada
Posted on Tuesday, 4 December, 2018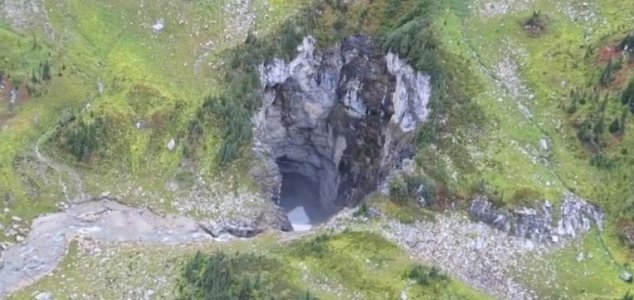 The cave was previously covered by snow. Image Credit: YouTube / Canadian Geographic / Catherine Hickson
A previously unexplored cave in British Columbia has been described as having 'national significance'.
Discovered in a remote valley in Wells Gray Provincial Park, the enormous cave had never been seen before now because until relatively recently it had been permanently covered in a thick layer of snow.
"When I first saw the photos my initial reaction is this is very significant, this is a very important discovery," said geologist Catherine Hickson whose team surveyed the cave in September.
"It is huge. It is enormous. When you first see it, you just gasp because it's just this huge hole."
The cave measures approximately 100 by 60 meters and extends underground for at least 100 meters with the first 80 meters or so being a sheer vertical drop down in to the darkness.
Water thunders down in to the entrance and is thought to emerge as a stream around 2.1km away.
The shape and size of the cave has earned it the Star Wars-themed nickname 'Sarlacc Pit'.
There is a chance that it could even be the largest cave in Canada.
https://youtu.be/05r3FHF7OJg
Thanks to: https://www.unexplained-mysteries.com