Trump signs declaration recognizing Israeli 'sovereignty' over Golan Heights
COMPILED FROM WIRE SERVICES
ISTANBUL
Published 25.03.2019 19:21
Updated 25.03.2019 23:27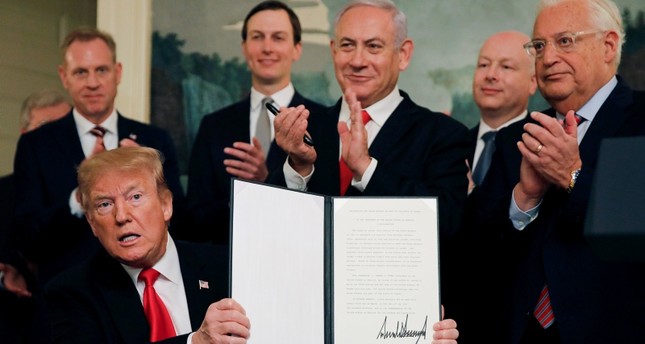 President Trump holds a proclamation recognizing Israel's sovereignty over the Golan Heights as he is applauded by Israel's Netanyahu and others during a ceremony in the Diplomatic Reception Room at the White House, March 25, 2019. (REUTERS Photo)
President Donald Trump signed a decree on Monday at the start of a meeting with Israeli Prime Minister Benjamin Netanyahu saying the United States recognizes Israeli sovereignty over the Golan Heights, territory that Israel seized from Syria in the 1967 Middle East war.
The decree formalized Trump's statement on March 21 saying it was time for the United States "to fully recognize" Israeli sovereignty over the Golan. The move appeared to give Netanyahu a boost ahead of the closely contested April 9 Israeli elections.
"This was a long time in the making," Trump said alongside Netanyahu in the White House. U.S. recognition for Israeli control over the territory breaks with decades of international consensus.
Trump said his decision would cement the Jewish state's ability to defend itself from regional threats should a broad Arab-Israeli peace deal ever be reached.
The U.S. is the first country to recognize Israel's sovereignty over the Golan, which the rest of the international community regards as Israeli-occupied.
Netanyahu called the recognition "historic" and said the Golan Heights, which are still claimed by Syria, would remain permanently under Israeli control. "We shall never give it up," he said.