Paranormal investigator Lorraine Warren dies
Posted on Tuesday, 23 April, 2019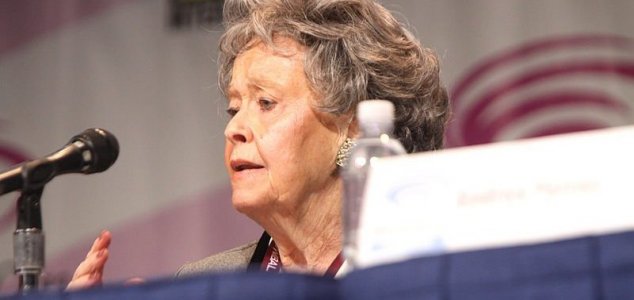 Lorraine Warren speaking at WonderCon in 2013. Image Credit: CC BY-SA 2.0 Gage Skidmore
Warren and her husband Ed had been the inspiration behind 'The Conjuring' and 'The Amityville Horror.'
The pair, who in 1952 founded the New England Society for Psychic Research, investigated some 10,000 cases of paranormal activity and wrote numerous books about their experiences.
Lorraine herself professed to be a clairvoyant and medium while her husband Edward was a World War II US Navy veteran and former police officer, as well as a self-taught demonologist.
Together the Warrens became famous for their investigations in to several prominent cases including the Enfield Poltergeist, the haunted doll Annabelle, the Snedeker house case and the haunting of the Smurl family, among others.
Their investigations would go on to inspire a number of TV shows and movies including several films in
The Conjuring
franchise which also featured portrayals of Ed and Lorraine themselves.
Lorraine sadly passed away on Thursday at the age of 92.
Her husband died back in August 2006.
"She died peacefully in her sleep at home," said her son-in-law Tony Spera. "She was a remarkable, loving, compassionate and giving soul. To quote Will Rogers, she never met a person she didn't like."
"She was an avid animal lover and contributed to many animal charities and rescues. She was wonderful and giving to her entire family. May God Bless her."
Source: NBC News

Thanks to: https://www.unexplained-mysteries.com