More mystery 'jars of the dead' found in Laos
Posted on Saturday, 18 May, 2019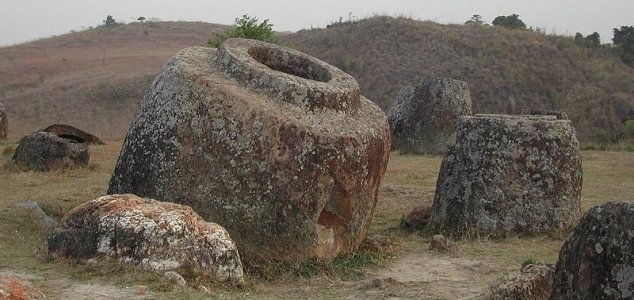 Who built these jars and how were they used ? Image Credit: CC BY-SA 3.0 Christopher Voitus
Archaeologists have unearthed an additional 137 large stone jars at megalithic sites in Southeast Asia.
Found throughout the central plain of Xiangkhoang Plateau in Laos, these mysterious stone jars have remained something of an archaeological enigma since their discovery back in the 19th century.
So many of them have been found in the region in fact that it has become known as the Plain of Jars.
This latest discovery, which was made across 15 new megalithic sites in a remote mountainous forest, adds a further 137 jars to the total while also helping researchers learn a little bit more about them.
The most widely accepted theory is that the jars were associated with prehistoric burial practices and were either used to temporarily hold the remains of the deceased or to act as a secondary gravesite.
As things stand however, there is much we still don't understand about the way they were used and archaeologists are still not even clear which culture actually constructed them.
"It's apparent the jars, some weighing several tonnes, were carved in quarries, and somehow transported, often several kilometres to their present locations," said study co-leader Dougald O'Reilly from Australian National University.
"But why these sites were chosen as the final resting place for the jars is still a mystery."
"On top of that we've got no evidence of occupation in this region."
Source: Gizmodo

Thanks to: https://www.unexplained-mysteries.com