US flooding crisis: Two new levee breaches along the swollen Arkansas and Mississippi rivers prompt evacuations in Dardanelle, Arkansas, and Quincy, Missouri
By
Strange Sounds
-
May 31, 2019
Two new levee breaches along the swollen Arkansas and Mississippi rivers have prompted evacuations in Dardanelle, Arkansas, and Quincy, Missouri.
A levee along the swollen Arkansas River breached early Friday. Residents in about 160 homes in Dardanelle, Arkansas, were urged to evacuate. Residents in three towns were urged to evacuate after a levee breached in Missouri. Officials say flooding will not be over anytime soon.
New Levee Breaches in Arkansas, Missouri Prompt Evacuations. Picture by AP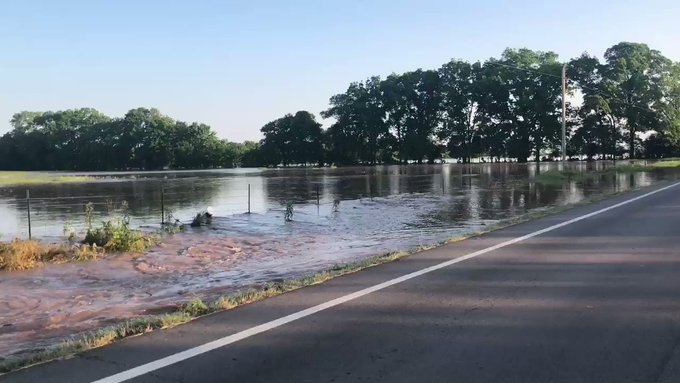 Melissa Chrise  @MelissaChrise

Holla Bend levee along #ArkansasRiver breaches in #Dardanelle prompting evacuations.

4

7:21 AM - May 31, 2019
See Melissa Chrise's other Tweets
"Emergency management reported flooding along the Durgens Creek in Lewis County. Water is expected to flow south into West Quincy. Move to higher ground now. Act quickly to protect your life," the National Weather Service office in St. Louis said in a flash flood warning that was issued for the area.
Even as the Arkansas River slowly begins to recede in some areas after record-levels,
officials say flooding will not be over anytime soon.
Nathan Spicer, emergency management specialist in
Little Rock — where the river is expected to crest at 28 feet on Monday —
told the city board the rain will prolong the flood's effects.
"
This flood event could last for two, three weeks, maybe a month,
" Spicer said, according to a report by the Arkansas Democrat Gazette.
https://youtu.be/iea8TGFeEOY
The Arkansas River is expected to crest Friday near Fort Smith, Arkansas, at 40.8 feet, well above the previous record of 38.1 feet there but less than the 42.5 feet that had been expected.
"
It will be over 40 feet for several days,
" Michael Biggs, chief of the hydraulics and technical services branch for the Little Rock District of the U.S. Army Corps of Engineers, told the Democrat Gazette. "
That's better than 42.5 feet.
"
On Thursday, President Donald Trump declared an emergency in several Arkansas counties to provide assistance for emergency protective measures.
Melody Daniel, the state's emergency management spokeswoman, told CNN more than 500 Arkansas homes have been directly impacted by flooding.
Flooding across the region has forced
Amtrak to suspend service between St. Louis and Fort Worth, Texas, until June 7.
https://youtu.be/6D-xzPrTL58
Oklahoma
In neighboring Oklahoma, more than 2,400 people have been evacuated and more than 1,000 homes have been flooded by this long-lasting event.
Officials announced Thursday the U.S. Army Corps of Engineers will gradually decrease the outflow of water from Keystone Dam through Monday, which should alleviate some flooding, the Tulsa World reported.
Authorities in the Tulsa region continue to warn people drawn to the river out of curiosity to stay away.
"
What it's going to cause and what it has caused is the attempt to rescue somebody. We're going to have a first responder put their lives in harm's way to save you because you chose not to listen to a very simple warning and put your life at risk,
" Sgt. Shane Tuell with Tulsa police told KTUL.
Tuell noted that even if "the water" or a "sinkhole doesn't get you," the water is unsanitary and could cause illness. "
There are snakes that have been displaced and are not very happy,
" Tuell added.
Meanwhile, according to a new annual report, 7.3 million homes at risk of hurricane storm surge on the US East Coast. Get prepared and be ready for this new burst of extreme weather.
[Weather.com]
Thanks to: http://strangesounds.org
https://youtu.be/FFDYuO53BUk