Bright pink water flows from taps in Ohio
Posted on Friday, 7 June, 2019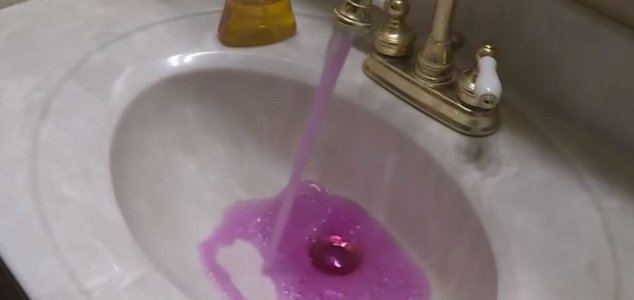 Would you drink this water ? Image Credit: YouTube / Click On Detroit
Coal Grove residents were left perplexed recently after their water supply turned a strange shade of pink.
The abnormally colored water started to appear in people's homes on Monday morning, prompting concern from locals and leaving officials scrambling to determine the cause.
It turned out that the unusual pink coloration was the result of a malfunction at the water treatment plant that had caused large amounts of sodium permanganate to be dumped in to the water.
According to plant operator Stephen Burchett, the pink water is safe to drink however it could stain clothing if it is used for washing.
The water has since been flushed out several times to try and get rid of the excess chemical however it may take a while for the pink coloration to completely disappear from the system.
In the meantime, most residents are likely to opt for bottled water instead.
https://youtu.be/chvbh3Sk87A
https://www.unexplained-mysteries.com/news/328319/bright-pink-water-flows-from-taps-in-ohio
Thanks to: https://www.unexplained-mysteries.com