Video shows giant hailstones pelting Germany
Posted on Tuesday, 11 June, 2019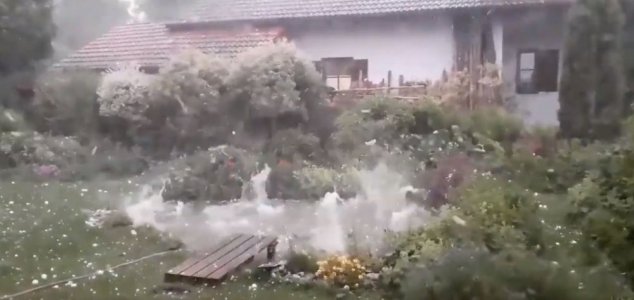 You really wouldn't want to be outside in this. Image Credit: Twitter / @filiusmontium
The Munich region of Germany was hammered by hailstones the size of tennis balls earlier this week.
The huge chunks of ice, which measured up to six centimeters in diameter, pelted homes and gardens while torrential downpours flooded the streets, causing widespread disruption.
Several people, including a 7-year-old boy, were reportedly injured by the falling ice.
The below video, which is one of several uploaded on to social media of the extreme weather, shows the sheer mayhem wrought by the gargantuan hailstones as they rained down on a residential garden.
The spectacle of the ice hitting the pond in the middle of the frame is particularly intense.
"I've never experienced anything like it before," said local man Roberto De Angelis.
https://youtu.be/jn_PZVRPi-Q
Thanks to: https://www.unexplained-mysteries.com