New footage offers clear views of Area 51
Posted on Sunday, 16 June, 2019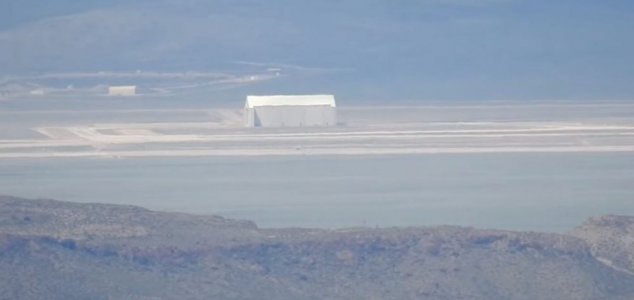 What is going on at the base ? Image Credit: YouTube / ADVENTURES with Christian
A hiker recently captured some intriguing video footage of the base from the top of the adjacent Tikaboo Peak.
There are few places on Earth as notoriously secretive as Area 51 - a remote facility in the Nevada desert that has become synonymous with stories of reverse-engineered alien technology and the development of highly advanced black projects that next to nobody knows anything about.
This latest footage, which was captured back in May by the titular owner of the YouTube channel
ADVENTURES with Christian
, provides some of the clearest views yet of the facility.
Recorded from a distance of 26 miles, the video is surprisingly clear with minimal heat distortion and provides a unique look at some of the mysterious goings-on at the base.
Several vehicles and aircraft can be seen throughout the recording, including a black HH-60 Pave Hawk helicopter which at one point flies at low altitude over Groom Lake.
A Janet 737 airliner later takes off from one of the runways and it is also possible to see some other vehicles moving on the ground, however it unclear exactly what they are.
In addition to the footage below, a video of the hike up to Tikaboo Peak can be viewed -
here
.
https://youtu.be/1Q2HvCCtFkg
Thanks to: https://www.unexplained-mysteries.com