Nazca bird geoglyphs depict 'exotic' species
Posted on Saturday, 22 June, 2019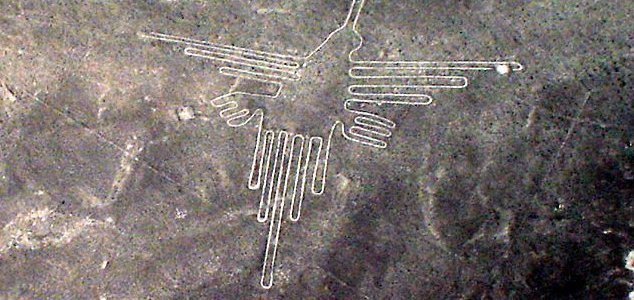 What is the significance of the geoglyphs ? Image Credit: CC BY 3.0 Martin St-Amant
A new study has reignited the debate over the mysterious line drawings and why they were created.
Situated on a remote arid plateau in southern Peru, the Nazca Lines are a series of spectacular artistic designs, including images of spiders, monkeys, hummingbirds, fish and lizards, which were etched in to the desert floor almost 2,000 years ago.
Deciphering the meaning behind the images however has long proven a challenge.
Now a new study conducted by a trio of researchers from Japan has suggested that previous studies may have misinterpreted the exact species of bird depicted in some of the images.
An ornithological analysis has revealed that the geoglyph thought to be a hummingbird is actually a hermit - a specific subgroup of hummingbird native to the forests of northern and eastern Peru.
Another image described simply as "a bird" is now believed to be a type of pelican, as is a separate geoglyph previously thought to depict a guano bird.
The researchers were unable to identity all 16 bird geoglyphs, however it is possible that some of them show species that have since gone extinct.
Intriguingly though, the findings seem to suggest that exotic, non-native bird species may have held special significance to the ancient people who created the geoglyphs.
"If exotic/non-local birds were not significant for the Nazca people, there [would be] no reason to draw their geoglyph," said study co-author Masaki Eda of the Hokkaido University Museum in Japan.
"So, their existence should be closely related to the purpose of etching geoglyphs."
"But the reason is difficult to answer."
Source: Smithsonian Magazine

Thanks to: https://www.unexplained-mysteries.com