The importance of profound self honesty
By Phil Rowen - Posted on 01 November 2012
OPENHAND FOUNDATION
http://www.openhandweb.org
By Chris Bourne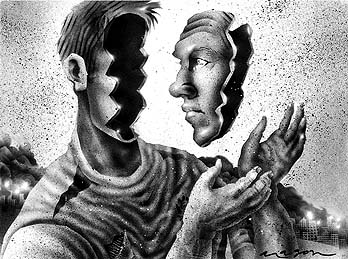 The only place from which to begin.
I'd
say there are many things to master in walking the path, but perhaps
nothing so important as profound self honesty. If we can be totally
honest with ourselves about our true motivations for action, then we are
continually presented with the starting point for change. But without
that, we never really have that authentic platform from which to begin,
and all kinds of illusionary realities can get created. And it doesn't
matter even if we don't follow our highest truth, as long as we're
honest about why...
The Spanish Inquisition
Self
introspection has always come naturally for some reason. My father was
quite a controlling guy so I'd continually be presented the 'Spanish
Inquisition' about why I did certain things and not others. In my
teenage years, it seemed like a curse, the mind playing endless
strategic games always to stay one step ahead.
When
I awakened, the divine feminine unfolded pretty rapidly. To be
perfectly frank, that side of me had been buried and underactive for
ages. Now total self acceptance happened practically over-night. I no
longer had the need for people to think of me in this light or that.
What a liberating blessing!
What
I also found, was that the years of 'Spanish Inquisition' also became a
blessing, because I was totally used to watching my motivations for
action - why was I really doing this or that? But stripped of the
external (indeed internal) judge, I discovered I could be honest about
what was going on, yet accepting of why I was doing it.
Emulating spiritual identity
I'd
say one of the key problems facing evolving people right now, is the
projection of how we should be - many have recognised great spiritual
traits to master (like empathy for example), but then the mind goes into
over-drive trying to create that external projection. We can so easily
get caught in trying to emulate another.
I
remember feeling a powerfully strong sense of the Christ Consciousness
flowing through me at one point. This consciousness flowed into mind,
but then the mind owned it. I wanted to behave how I thought that
consciousness was. I found myself trying to uplift, motivate and heal
everyone who came across my path. Pretty soon, I found myself contracted
down with the false profit 'do-good-burden'.
But
just as soon as I recongised it by being honest with myself,
refreshingly the yoke fell quickly from my shoulders, and once more I
found myself in the place of pure presence, where how I was feeling to
be, was simply allowed to happen.
"Over
the four years that I was teaching, I found that rarely someone wanted
to hear the truth. Many people come to this type of satsang because they
want to be told that there are shortcuts and often they want to adore
someone. Not many want to hear about the painstaking work of purifying
our minds and healing our pains. In fact, in the satsangs, the jokes
about working on yourself are plentiful....We realize that the freedom
we thought we had found in the bliss and joy of the Enlightenment high
is not the real freedom at all. It is much deeper. It is truly accepting
what IS.
~ Rani

Digging deeper
When
we're being honest with ourselves, it means we can dig deeper. So for
example, we may have some kind of attachment: perhaps to particular
food, to a relationship or to external pleasure distractions. If we're
honest about our attachment to these, then it means when they kick in,
we can be much more sensitive to what's really going on.
And
sensitivity is a powerful tool. Because within the attachment will be
some kind of blind spot - there always is. A critical edge where
presence is lost, the switch is thrown and we fall over into the
conditioned behaviour. But with sensitivity on that edge, then we can be
deeply honest with the feeling until it no longer owns or defines us.
Take
distraction for example. How many of us are really content with the
peace of absolutely nothing? There's no blame for the condition of
course - take a look at just how distracting society is! But if we can
be honest with ourselves about this, then rather than skipping over the
sycnhronistic messages from the universe, we can allow them to direct
our attention to where it really needs to be.
In that moment immediately before you switch on the TV, or pick up
the computer, the mobile phone or the newspaper, instead, can we feel
the programmed stimulation activating yet resist the conditioning to
follow it? Can we watch the inner contraction starting to happen and
just feel it? Here's where mastery is being offered on an empty plate.
To feel the pain of the contraction, but choose instead to eat it up and
soften into it, letting the emptiness fill your belly. It is right at
this point that liberation presents itself, together with a profound
gift - one of authentic beingness
The importance of profound self honesty | Openhand
Thanks to: http://soundofheart.org