Empire in crisis
Sixties rock guitarist Charles Trois sank his fortune into art works, historical artifacts and a ranch near Enchanted Rock. Now embroiled in legal battles, Trois embodies an eccentric tale of obsession and loss.
By Patrick Danner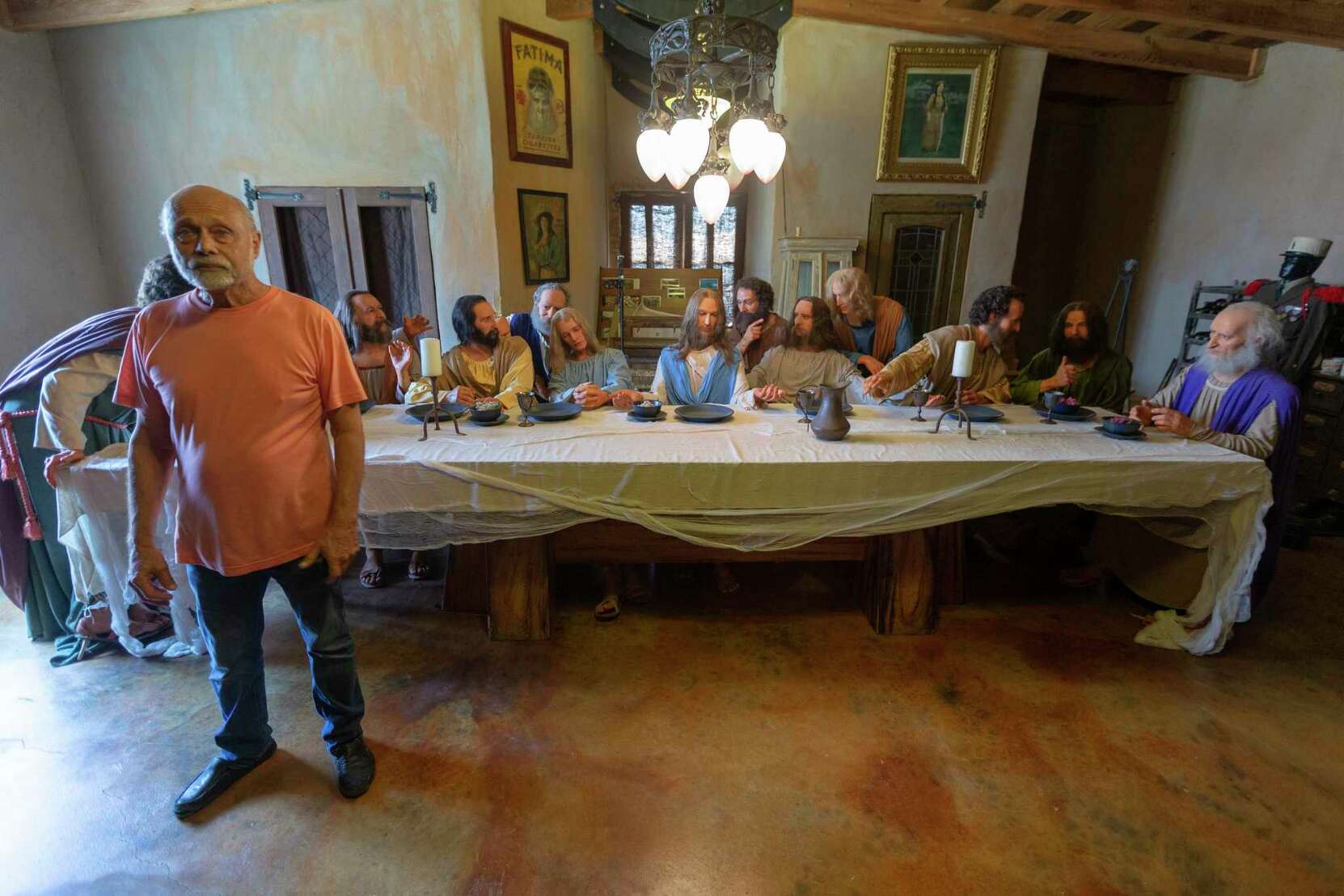 Charles Trois stands before a depiction of the Last Supper with wax figurines. Trois said he has to sell the work because he needs the money. But he also wants to include it in a new museum he envisions that would chronicle the "evolution of civilization." Photo: William Luther | Express-News
FREDERICKSBURG — On a recent weekday, collector extraordinaire Charles Trois packed up some of his countless historic and artistic items in preparation for moving them off the estate he built here in the shadows of Enchanted Rock State Natural Area.
Trois, the onetime guitarist for a briefly-famous 1960s rock band, had to beat a June 5 deadline to remove his "stuff" from the property. Already packed and gone were "thousands and thousands" of cap guns that filled a museum he operated on the grounds.
ABOUT THIS STORY

To understand Charles Trois' financial woes and the legal battles over  his art collection, business reporter Patrick Danner reviewed more than a hundred court documents and property records filed in Bexar and Gillespie counties. He conducted a dozen interviews with individuals involved in the disputed art dealings and traveled to Fredericksburg to tour Trois' estate.
He still had plenty left to move — everything from life-sized wax sculptures depicting Jesus Christ and his 12 disciples at the Last Supper to a teapot featuring two deer heads to an 1880's Italian figurine that once upon a time greeted theater goers.
Trois has amassed a fortune in collectibles — yet he's broke.
"I got caught into a money crunch and no cash flow," he explained.
Trois' money woes are why he's has been forced to pack his things and vacate the nearly 40-acre namesake estate that resembles an old-world village in the Texas Hill Country.
Trois pledged his half interest in the property — an ex-wife owns the other half — as collateral on a $2.5 million loan. He failed to pay back the loan and the lender recently foreclosed.
Efforts to dig himself out of the financial hole have only exacerbated his troubles and gotten him sideways with those he was working with — including an Ohio auctioneer, a "treasure hunter" facing a possible prison sentence, a Houston museum-exhibit designer and a cryptocurrency promoter.
"Charles is a very trusting person, and often assumes that people will treat him like he would treat other people, and as a result, he often doesn't do a good job of reducing his agreements to writing," said San Antonio attorney David "Clay" Snell, who represents Trois. "Unfortunately, he's encountered some unscrupulous people that have taken advantage of his trustworthy nature."
Others say Trois has only himself to blame for his circumstances.



Charles Trois had a vast collection of cap guns that filled a museum he operated on the Trois Estate at Enchanted Rock.
 (Gloria Ferniz, San Antonio Express-News | Express News)



The compound in the Hill Country includes an 18-room lodge, an old-timey saloon, a small chapel and a grotto.
 (William Luther /Staff Photographer | Express-News)


Trois is suing to get back two paintings purportedly worth millions — an 11-by-20-foot painting titled "Custer's Last Rally," featuring George Armstrong Custer at the fateful 1876 Battle of the Little Bighorn, and "Barely There" by the Robert Rauschenberg, a native of late Port Arthur.
Trois also is suing the cryptocurrency promoter for allegedly reneging on a $125 million deal to buy various paintings by such artists as Van Gogh, Picasso and Dali.
In spite of his financial troubles, Trois remains obsessed with fulfilling a dream of building a museum, possibly in San Antonio, to display some of his possessions and more.
Trois discussed during an interview how the wax Jesus and his disciples will be a museum fixture. Yet he later mentioned that he's negotiating to sell the work to raise money and perhaps get back his half interest in the estate.
"You know who is coming to see about buying it? Ripley's Believe It or Not!," Trois said. Reminded that he already said the wax display would be part of his planned museum, he replied, "I know, I need it. But I'm broke! I'm broke!"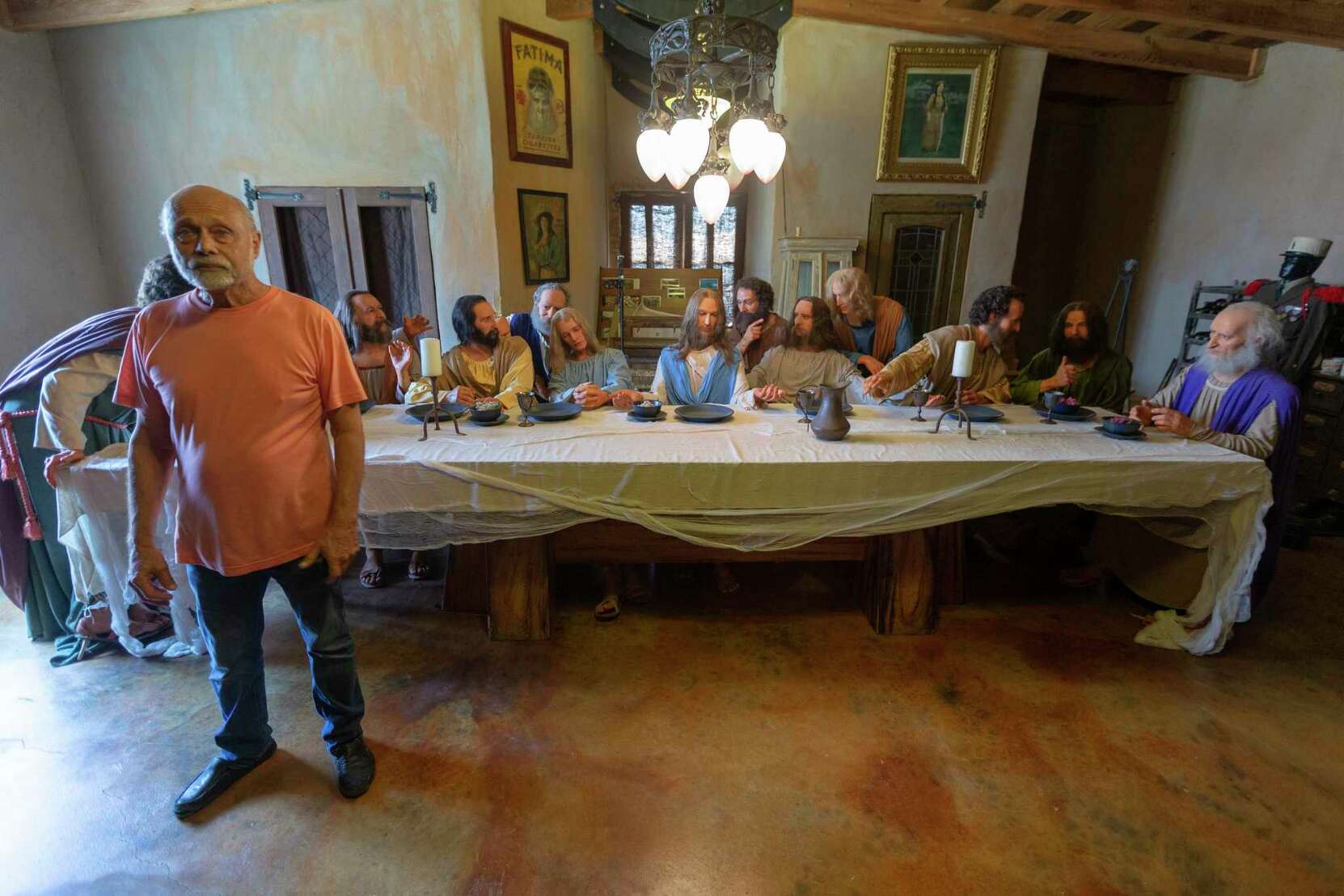 Life-size, wax figures depicting the Last Supper are among the many items Charles Trois has collected during his life.
(William Luther /Staff Photographer | Express-News)
Rock star turned collector
Trois, a Philadelphia native, has had many pursuits in his storied life.
Now 75, Trois gained fame as a guitarist in the band Soul Survivors — best known for the 1967 tune "Expressway to Your Heart." The song hit No. 4 on the Billboard Hot 100.
Trois later reinvented himself as a painter, real estate investor, builder, architect, furniture maker and perhaps most notably, a fervent collector of seemingly anything of value.
Being a rock star gained him fame but not fortune. He credited some savvy real estate investing in the 1980s for allowing him to amass his collection, though he was vague on the details.
"A little bit of everything," Trois responded when asked whether he invested in commercial or residential real estate. He mentioned that a home he built in Austin was once showcased in a seven-page spread in Architectural Digest.
Trois said he built the Trois Estate at Enchanted Rock, the compound in the Hill Country about 20 years ago. There's an 18-room lodge, an old-timey saloon, a small chapel and a grotto complete with a Playboy Mansion-esque swimming pool. He went to Mexico to learn how to build vaulted ceilings, he said.
The estate is promoted on the web as a bed and breakfast with facilities to host weddings and receptions. Trois' ex-wife Rebecca runs it.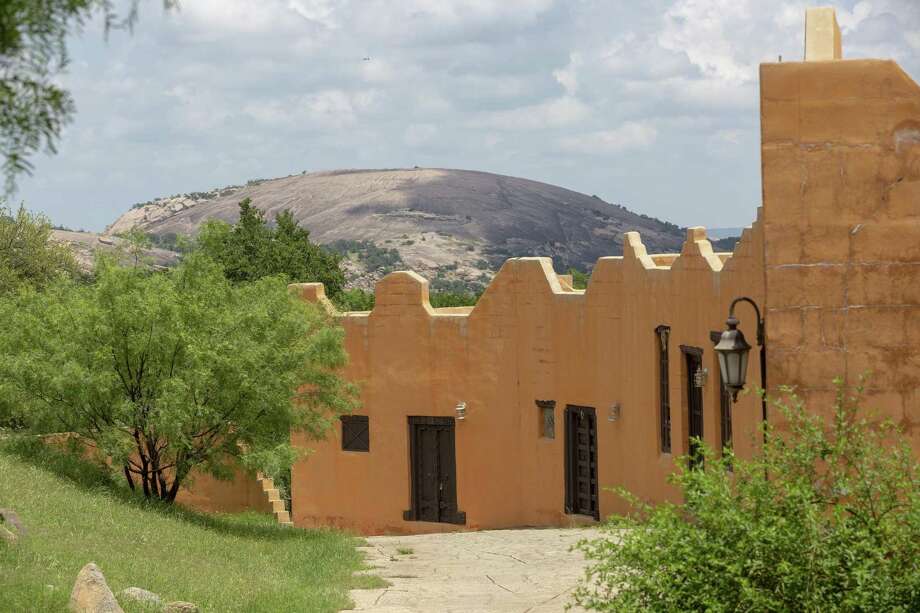 A lender recently foreclosed on Charles Trois' half interest in the 40-acre Trois Estate in Fredericksburg, which sits in the shadow located of Enchanted Rock State Natural Area.
 (William Luther /Staff Photographer | Express-News)
Related:
Trois Estate near Enchanted Rock up for sale
Trois also has stored his vast collection at the property.
"I'm all over the board," he said about what he likes to collect. His whimsical collection has included Old West cowhide vests and jackets, antique tricycles and toy cars, the first electric vending machine, short wave radios and tin sculptures.
No less an authority than Barry Weiss — a star of the A&E show "Storage Wars" for four seasons earlier in the decade — raved about Trois' collection.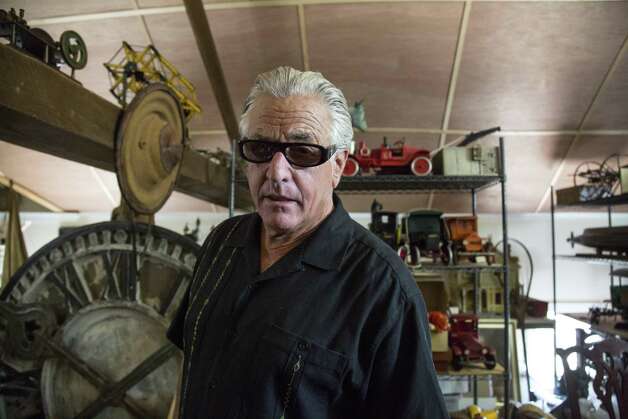 Barry Weiss, who starred in the short-lived A&E series "Barry'd Treasure," called Charles Trois' collection "over the top."
 (Photo: Zach Dilgard /A&E)
'Barry'd Treasure'
"You're not going to believe this guy's collection," the flamboyant Weiss told an acquaintance on an episode of his short-lived spin-off series "Barry'd Treasure." "I mean, I've seen collections and I've seen collections. This guy, it's over the top — not only the way he displays it but the amount of stuff, the rarity, the obscurity."
Among the items Trois exhibited on the show were a dagger and a bulldog revolver that he said had belonged to Napoleon and Custer, respectively.
As much as Trois likes to collect things, though, he has a hard time parting with any of it, according to Michael Barrick, Trois' friend before the pair had a falling out.
Barrick, a self-described artifact and treasure hunter, recounted how he begged Trois — at the urging of Trois' then-wife Maria "Mavi" Vaselli — to sell some of his collection to pay off debts.
"When it came time to part ways with the things, he couldn't turn (them) loose," said Barrick, who goes by the nickname "Kentuckyana Jones" and who also has appeared on "Barry'd Treasure."
"He'd obsess over them. And one thing you learn as a collector in these kind of things is, you don't fall in love with things."
It was Barrick who suggested Trois contact Dallas-based private equity lender Revere Capital about a loan to ease his financial pressures.
RevCap, a Revere-related entity, loaned $2.5 million to Trois in 2014. As a condition of the loan, Trois pledged his half interest in the Trois Estate's real estate as collateral.
Trois also put up as security "Custer's Last Rally," the 1881 painting by Irish artist John Mulvany. Trois said he acquired the painting for cash and the Terlingua ghost town of Villa de la Mina, featured in the film "Streets of Laredo."
Related:
West Texas ghost town for sale
An appraisal on the deed of trust for the loan valued the painting at $9 million to $10 million. A more recent appraisal valued it at as much as $23 million.
Both Trois and RevCap agreed that Tony Webber, CEO of Houston-based Southwest Museum Services, which designs museum exhibits, would hold the painting. Webber would surface later in Trois' travails.
Within a year, RevCap would move to foreclose on the collateral.
In the meantime, Barrick worked on trying to sell some of Trois' artwork and began spending time at the Fredericksburg estate. Trois refers to the artwork as the Vaselli collection, consisting of 18 paintings by Van Gogh, Picasso and Dali, Trois said.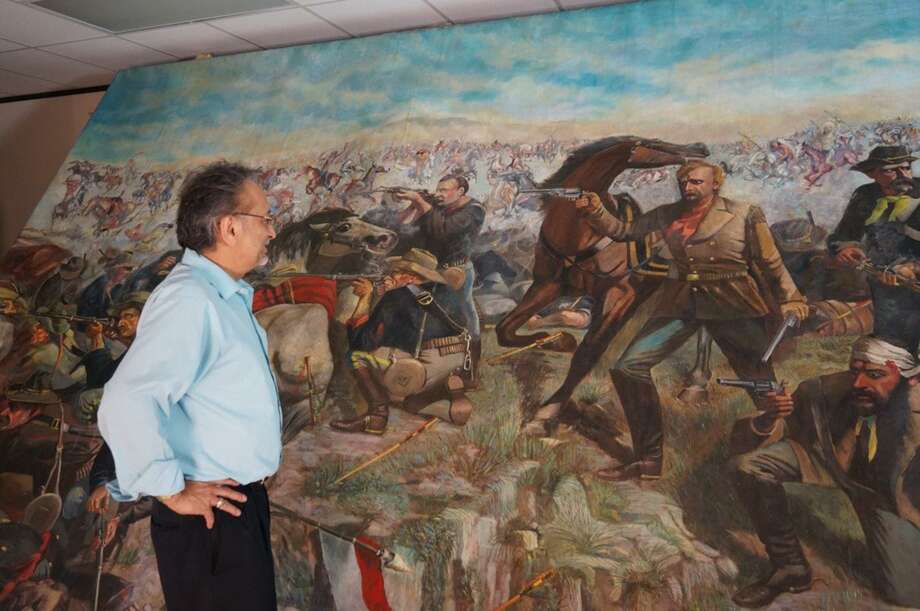 Tony Webber, CEO of Houston-based Southwest Museum Services, stands next to "Custer's Last Rally," artist John Mulvany's 11-by-20-foot painting depicting George Armstrong Custer at the Battle of Little Bighorn in 1876. Charles Trois, the painting's owner, used it as collateral on a $2.5 million loan. The painting was transferred to Webber for safekeeping under a bailment agreement.
 (Mark Nickel /Courtesy | Express-News)
A failed auction
Trois bought the paintings from his ex-wife Mavi's mother, Maria Frau, a former Italian film actress who was married to Giovanni Vaselli.
Giovanni Vaselli was the grandson of Count Romolo Vaselli, who owned the Hotel de Russie in Rome after World War II. Romolo Vaselli knew famous artists, including Pablo Picasso and Henri Matisse, and bought art directly from them, Trois said.
Reached by phone, Mavi Vaselli confirmed Trois bought the Vaselli collection but she didn't know the number of paintings.
"I don't have any idea how many. A lot of paintings," she said in a thick Italian accent. "But I don't really want to talk about it, if you don't mind." Trios wouldn't say how much he paid for the art.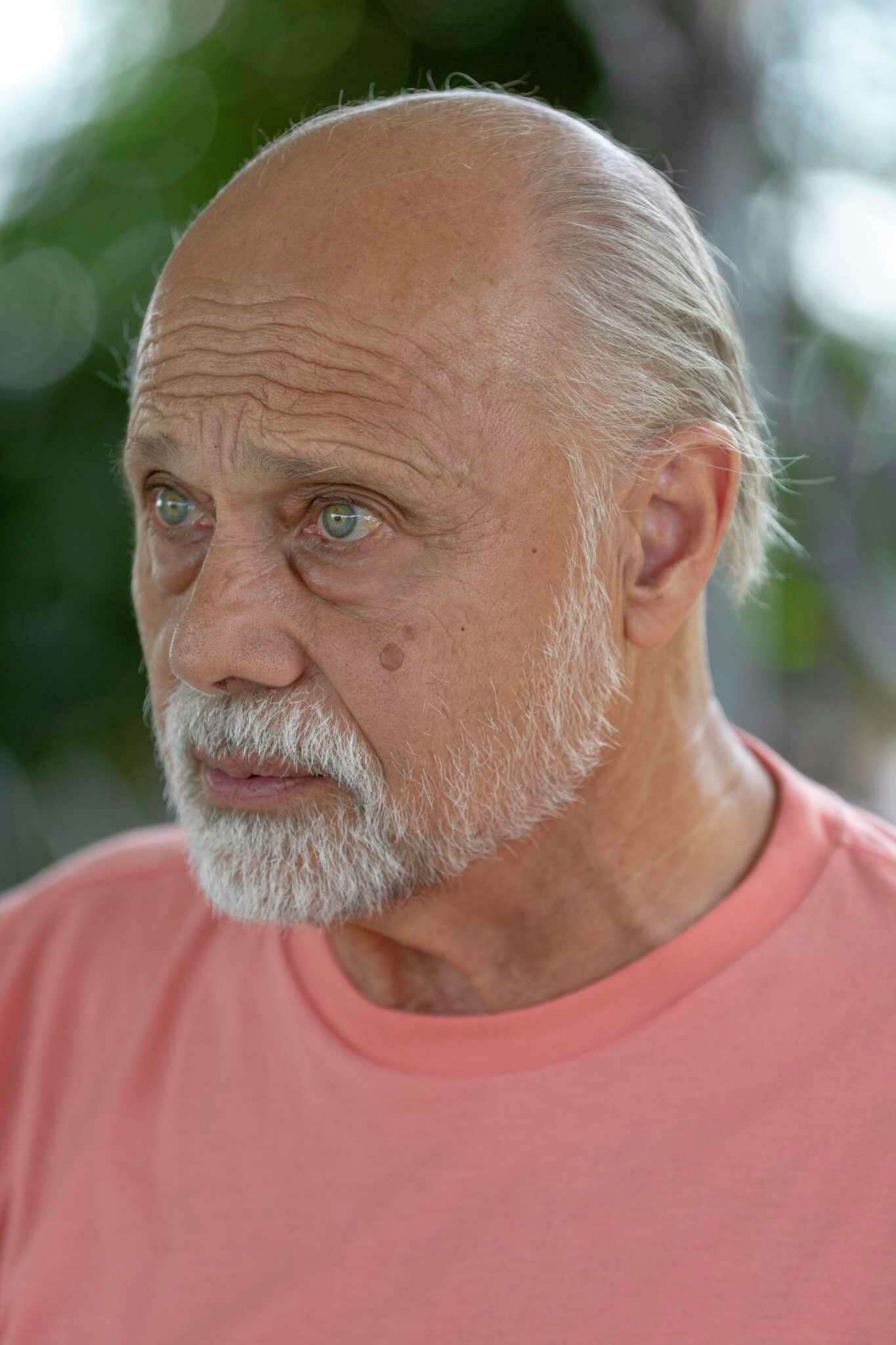 Charles Trois was a guitarist in the band the Soul Survivors, best known for the 1967 hit "Expressway to Your Heart." He was forced to pack his collectibles and remove them from the Trois Estate in Fredericksburg after a lender foreclosed on his half interest in the propert.
Photo: William Luther /Staff Photographer
Barrick set up a showing of the artwork at the Perot Museum of Nature and Science in Dallas, said Kansas attorney Tim Stein, who also represents Trois. The venue was an odd choice given that the art was displayed in a room full of rocks and minerals, Stein said.
Representatives for wealthy art collectors from Mexico and Europe were among those expected to attend, but hardly anyone showed, Stein said. Worse, none of the art was sold.
Then, around the spring of 2016, Barrick arranged for Trois to sell some of his collectibles through Apple Tree Auction Center Inc. in Ohio. Trois said he was going to use proceeds from the auction to pay back RevCap on the $2.5 million loan.
Apple Tree paid Trois a $300,000 advance in exchange for providing $2 million worth of items for the auction. In a federal lawsuit it filed in late summer 2016, Apple Tree said Trois was interested in selling 500 guns and a collection of antiques and fine and decorative items, numbering 500.
Trois delivered only 117 guns and 164 items, Apple Tree alleged. The collection generated just $112,164 in sales, leaving the auction house almost $188,000 in the hole after fronting Trois $300,000, Apple Tree alleged.
Trois filed his own suit, accusing Apple Tree of failing to insist on a minimum bid or reserve as it promised. Many of his items sold for a fraction of their value, he added. Some Apple Tree employees even bid on items for sale, which the suit said was a violation of Ohio regulations governing auctioneers.
The litigation was dismissed in November.
As an aside, Barrick last month pleaded guilty to five counts of bank fraud in a Louisville case unrelated to his dealings with Trois. Barrick faces up to 150 years in federal prison when he is sentenced in August.
"Nothing's over till it's over," Barrick said of his criminal case.
After agreeing with RevCap that Webber would hold "Custer's Last Rally," Trois subsequently granted Webber the right to market another one of his paintings — "Barely There" by Robert Rauschenberg.



A close-up photo of Port Arthur native Robert Rauschenberg's collage painting "Barely There."
 (Kim Brent /The Beaumont Enterprise | Express-News)



Rauschenberg's signature on "Barely There."
 (Kim Brent /The Enterprise | Express-News)


Selling the Rauschenberg painting
Trois promised Webber a commission if he could find a buyer who would pay more than $2 million for the piece, according to an April lawsuit Trois filed in Bexar County district court.
Webber was given a year to sell "Barely There" after getting it authenticated. But the painting never sold and Webber has refused to return it, Trois alleged in his suit. The action demands Webber release the "Custer," and seeks an injunction preventing him from transferring, encumbering or harming the paintings.
Contacted about Trois' lawsuit, Webber — who had not been served — replied, "Well, he owes me like $425,000 that I've loaned him. (Trois puts the figure at about $90,000.) That's No. 1. I've told him that he can have any of the paintings back if he pays me my receivables."
LISTEN:

Business reporter Patrick Danner breaks down the eclectic life story of collector extraordinaire Charles Trois. on the EN-Depth podcast.
Asked in a follow-up interview how he could turn over the "Custer" if he was paid by Trois, given the judgment obtained by RevCap against Trois, Webber said his comment "needs to be corrected."
In his answer to the suit, Webber said he must have RevCap's consent for him to release the "Custer" to Trois.
RevCap and Trois were making arrangements to have the "Custer" transferred to another third party to hold it until they could decide how it can be sold, according to RevCap attorney James N. Henry Jr. of Dallas.
Trois prefers auctioning the painting. He stands to pocket any of the sale amount above the roughly $500,000 he still owes RevCap, minus a commission. RevCap was owed, with interest, roughly $3.2 million. RevCap acquired Trois' 50 percent interest in the Trois Estate at a March foreclosure auction with a $2.7 million credit bid.
"It's a beautiful historical work of art," said Scott Ferguson, executive director of Las Vegas-based Art Encounter, who appraised the "Custer" painting at as much as $23 million in 2016. "It's really the scale of the work of art and the fact that the artist traveled to the site to interview people to get a really true perspective on the Battle (of the Little Bighorn) itself. It's a part of American history."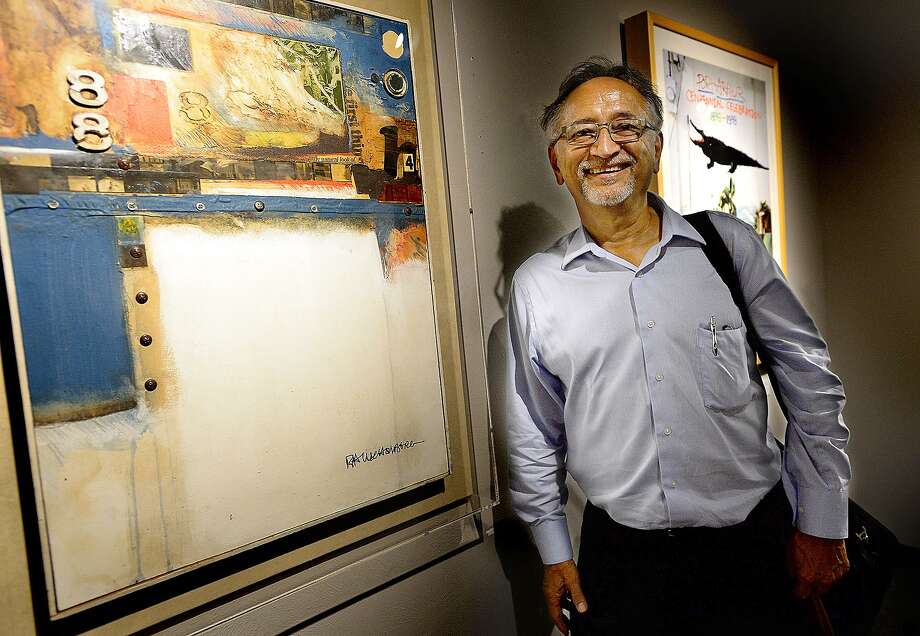 Tony Webber, president and CEO of Southwest Museum Services, claimed ownership of Rauschenberg's "Barely There," in an interview with the Beaumont Enterprise last year.
 (Kim Brent /The Beaumont Enterprise | Express-News)
Where's 'Barely There'?
What's become of the Rauschenberg painting, meanwhile, is more of a mystery. Webber said he gave it to John Schumacher of Houston — the painting's previous owner — because Webber said Trois never paid Schumacher.
Schumacher couldn't be reached for comment. Stein disputed Webber's take.
Trois' lawyers said Webber's account marks the latest in a series of stories he has told about the painting. They provided emails and other documents that they say Webber sent.
A 2016 invoice stamped "PAID" shows Trois sold the painting to Webber for $800,000. Trois' name is signed at the bottom but he said that it's not his signature.
"It looks like Mickey Mouse signed it," Trois said of the signature, which appears to have been written in a shaky hand. It doesn't resemble Trois' signature on other documents in the public record.
According to an April 26 email to Trois attorney Stein, Webber said he asked Trois to drop the lawsuit because a Dallas art broker was "very near to selling the Rauschenberg." The sale would collapse if the buyer got wind of the lawsuit, Webber added.
Yet in the same email, Webber said he passed the painting on to Schumacher because Webber had received a "directive from the FBI not to sell or borrow on the Rauschenberg."
Webber didn't elaborate on the FBI's interest, but in a Feb. 26 email, he said agents wants to "seize it and confiscate." Stein said he was told by Webber that the Rauschenberg was on a list of fraudulent art.
The FBI doesn't confirm or deny the existence of an investigation, San Antonio spokeswoman Michelle Lee said in an email.
Webber claimed ownership of the painting in an August article in the Beaumont Enterprise, which chronicled the artwork's return to Rauschenberg's hometown of Port Arthur and its appearance at the Museum of the Gulf Coast.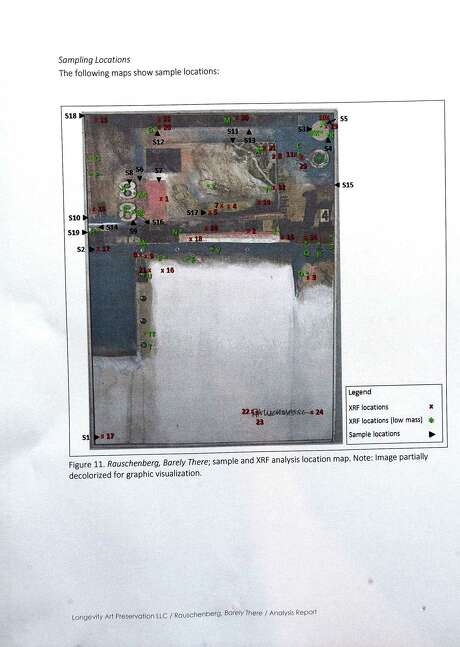 The Beaumont Enterprises reported that forensic testing was done to verify the authenticity of "Barely There."
 (Kim Brent /The Beaumont Enterprise | Express-News)
The article detailed how Webber was working to get the painting authenticated and officially recognized.
"Barely There" was originally traded as payment for a deli tab of sandwiches and cream sodas in the 1960s. Webber said the painting was appraised by a Houston firm for $4 million two years ago, but he told the Beaumont Enterprise it could fetch as much as $20 million.
The painting is consistent with Rauschenberg's early "combines" — assemblages of paint, film negatives, buttons and other materials from the streets of New York City, according to the newspaper. He lived there beginning in the early 1950s.
"Visible beneath a layer of sepia and orange paint is a copy of an advertisement for Max Factor's latest makeup lines and the painting's namesake, 'Barely There,' which came in the market in the early '60s," the newspaper reported.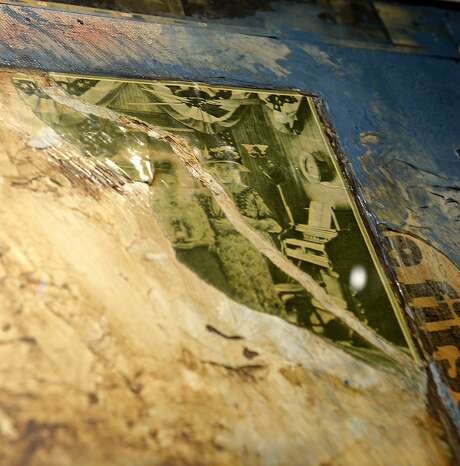 A section of "Barely There."
 (Kim Brent /The Beaumont Enterprise | Express-News)
Cryptocurrency investment

Meanwhile, Webber also blames Trois for $60,000 he said he lost in a cryptocurrency investment known as Meta 1 Coin, a private digital currency purportedly backed by art and gold.
"I still hold Charles responsible for that because he would declare up and down this is the best investment," Webber said.
Stein told Webber in a February email Trois was not a guarantor on Webber's investment.
Trois sued the Meta 1 Coin Trust and trustee Robert Dunlap for fraud in January in Bexar County district court. Trois alleged that Meta 1 agreed to buy the Vaselli art collection for $125 million but never made a $37.5 million down payment.
Further, Trois charged that Meta 1 claimed ownership of the artwork despite never buying it. With a cloud hanging over ownership, Trois said he's been unable to sell the artwork. He seeks damages of more than $1 million.
A "white paper" posted on Meta 1's website contained images of the artwork the trust said it owns but Trois said is his. Those images were removed from the white paper after Dunlap was contacted by San Antonio Express-News for comment about the lawsuit against him and Meta 1.
In response to the query, Dunlap emailed two documents asserting that Hearst, the newspaper's parent company, was in breach of copyright trademarks regarding Meta 1 and Dunlap's name.
Each document contained a blood-red thumb print next to Dunlap's signature.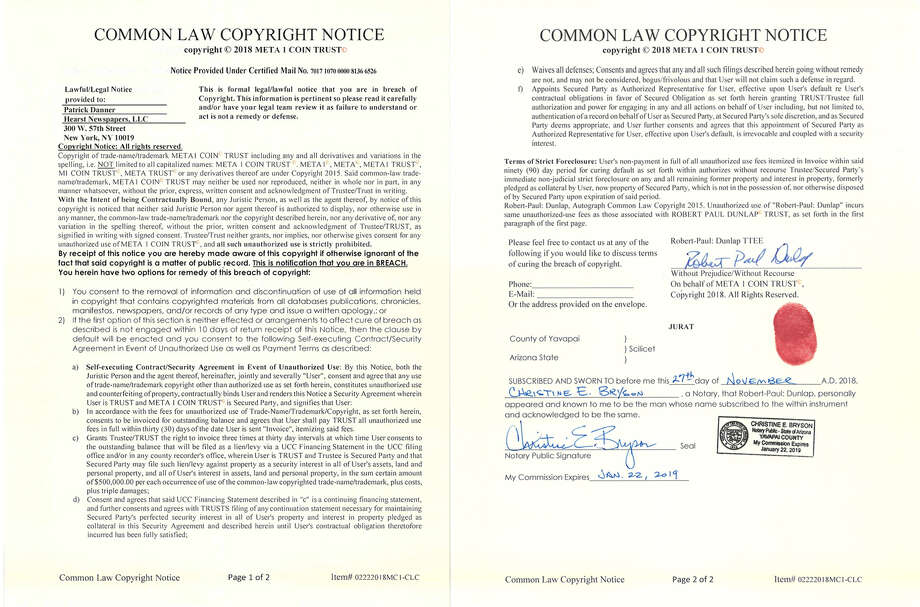 Trois sued the Meta 1 Coin Trust and trustee Robert Dunlap for fraud in January in Bexar County district court. After the San Antonio Express-News asked Dunlap for comment, he emailed documents asserting that Hearst, the newspaper's parent company, was in breach of copyright protections covering Meta 1's and Dunlap's names.
 (Hearst | San Antonio Express-News)
Snell, the San Antonio attorney who represents Trois, also received nearly identical documents.
"I will not be complying with your nonsensical demand to stop using your name in court pleadings or correspondence," Snell replied in an email to Dunlap.
The white paper says investors "will be able to invest in the art market by merely purchasing the Meta 1 Coin. The increasing demands for Meta 1 coin and the trust's acquisition of more art will increase the value of each coin."
Dunlap regularly appears in web videos with Dave Schmidt, host of a program called the Sedona Connection, which deals with links between spirituality and finance. Schmidt is on the Meta 1 Coin Trust board and is a former Washington state senator.
In a May 3 video posted to YouTube, the pair said 450 million Meta 1 coins would double in price to $44.44 each effective May 15. They based that on the addition of $1 billion in assets added to the coin.
Dunlap is starting to work with pioneers of two of the largest crypto coins, Ethereum and Litecoin. Meta 1 is going to be on their exchanges and vice versa, Schmidt said.
Despite Trois' financial troubles and legal issues, he isn't giving up on leaving a legacy — his planned 350,000-square-foot museum that will chronicle the "evolution of civilization."
Photo: William Luther /Staff Photographer
IMAGE 1 OF 11
The lodge at the Trois Estate in Fredericksburg.

Leaving a legacy
"This is a major, major project," Trois said. "You walk through it starting with the Hadean period. And you walk all through it, and you go into everything from Mesopotamia — when civilization was supposed to have started, Adam and Eve, Civil War.
"But everything is life-like," he continued. "You actually see giant dioramas as you walk through it. It's a major undertaking. I've collected all of this stuff, major, major artifacts and things to go in. It's a lot of money."
Trois said he was working with San Antonio architecture firm Overland Partners on the project. The Express-News emailed Overland, which prompted a call from Trois.
The Meta 1 troubles dealt a setback to his museum plans, Trois explained.
"So I don't want them (Overland) under the impression — well, we're still working together," Trois said. "It's on hold."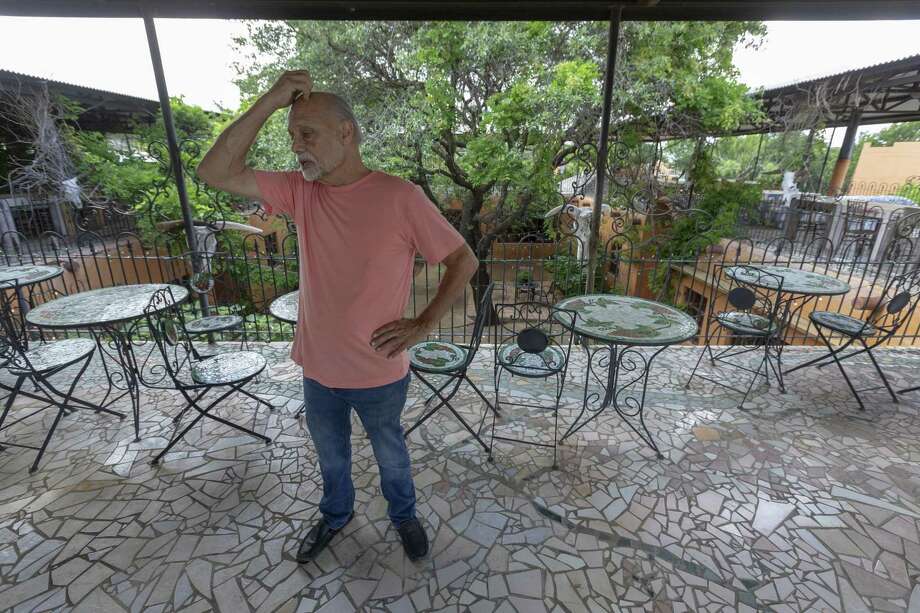 Charles Trois at the Trois Estate in May, a few weeks before a deadline to remove his vast collection of historic and artistic items from the property.
 (William Luther /Staff Photographer | Express-News)
Patrick Danner is a San Antonio-based staff writer covering banking and civil courts. Read him on our free site, mySA.com, and on our subscriber site, ExpressNews.com. | pdanner@express-news.net | Twitter: @AlamoPD
Design by Joy-Marie Scott.
A version of this article will appear in print on June 23, 2019, on Page A1 of the San Antonio Express-News. | Today's Paper
https://www.expressnews.com/business/local/article/Hill-Country-obsession-crypto-coin-lawsuit-13973355.php