'Pollution incident' turns river bright blue
Posted on Saturday, 10 August, 2019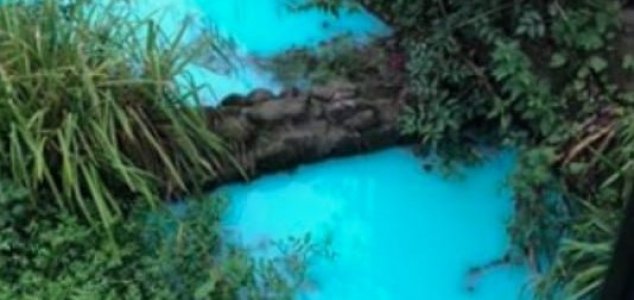 The nature of the pollution affecting the river is unclear. Image Credit: Twitter / @EnvAgencySW
Authorities in England have been investigating why a river tributary has turned such a strange color.
The peculiar luminous discoloration has affected part of the River Frome in Somerset where officials from the Environment Agency have been working to ascertain what the cause might be.
So far there are no reports of any dead wildlife in the area however samples of the water have been collected for testing and the results are expected within a few days.
"We are investigating a pollution incident near Frome that has turned a tributary of the River Frome bright blue," said a spokesman. "There are no reports of wildlife in distress or dead. Samples have been taken for testing. We will continue to monitor the stream over the weekend."
There have been numerous cases of anomalous water discoloration over the last few years.
Back in June, residents in Ohio reported pink water
flowing from their taps
, while in September 2016 the Daldykan river in Russia was reported to have turned a
disconcerting shade of red
.
There were also reports of
bright pink water
caused by Algae in the Arctic in June 2016.
Source: The Guardian

Thanks to: https://www.unexplained-mysteries.com