Record-breaking hailstone in Colorado: 'Big hail like this can easily kill people'
Date:
August 16, 2019
Author:
Nwo Report
Source:  Amanda Schmidt, AccuWeather staff writer
Monster hail fell from the sky and hammered areas of the central United States on Tuesday, shattering a state record. Earlier on Tuesday before the storms developed, AccuWeather Extreme Meteorologist Reed Timmer warned that Colorado's state hail record could be in jeopardy given the intensity of the storms that he saw developing.
His prediction came to fruition on Tuesday afternoon when a hailstone with a maximum diameter of 4.83″ fell in Bethune, Colorado, on Tuesday afternoon.
The record was confirmed
on Wednesday evening by the Colorado Climate Center and the National Weather Service office in Goodland, Kansas. The previous state record in Colorado was 4.5 inches.
As the Colorado Climate Center said on Twitter, photos indicate that the stone could have been even larger than recorded due to the time in between its falling and when it was put in the freezer.
The weight of the record-breaking hailstone
came in at 8.5 ounces
.
 Brian Bledsoe  
 @BrianBledsoe
@NWSBoulder
@NWSGoodland
I am verifying what looks to be a record setting hailstone for
#cowx
Am told this fell near Bethune this afternoon. Would easily beat the 4.5" record... Given the way the radar looked, I wouldn't be surprised. Stay tuned!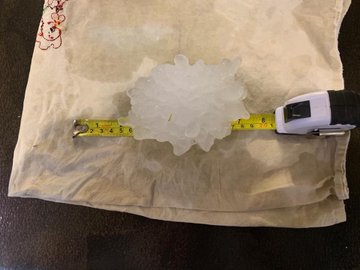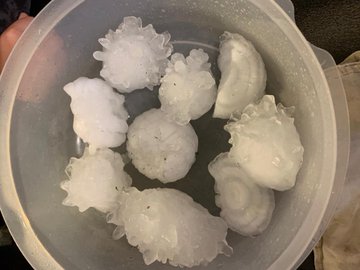 405
6:10 PM - Aug 13, 2019
A dramatic video
posted on social media captures one truck driver in an intense hailstorm in Frederick, Colorado, on Tuesday night. The truck driver, Brittney Richardson, expressed concern while in the back of her truck cabin.
"I heard kind of a bang and I thought somebody hit the truck," Richardson said. "The truck started rocking and we have large hail coming down."
Report this ad
Report this ad
As Richardson narrates the video, large thuds can be heard in the background. She feared the truck would be "totaled" by the large hail and told Storyful the experience was "absolutely terrifying."
Richardson has been driving a semi-truck around the nation for seven years, documenting her travels on her
Facebook page, "Brittney in Pink"
.
Timmer was staked out in far northeastern Colorado to monitor the storms. He reports that the area experienced a "perfect combination of wind shear, low-level moisture and mid-level dry air" to stir up some strong severe storms.
The main storm in question developed in the High Plains near Bethune on Tuesday in the afternoon with a report of hailstones in excess of 5 inches in diameter, which would be similar to pirate ship cannonball-sized, at 3:35 p.m. MT, according to AccuWeather Senior Storm Warning Meteorologist Eddie Walker.
"The atmosphere was primed for strong to severe thunderstorms with very high instability, modest speed shear and strong low level directional shear. This allows for long-lived storm structures with strong, sustainable updrafts," Walker said.
Another remarkable aspect of the hail was how it presented on radar. Brian Bledsoe, the chief meteorologist for Channel 11 news in Colorado Springs who shared photos of the monster hail on Twitter, marveled at radar imagery depicting the hail that was falling from the sky. "Given the way the radar looked," Bledsoe said he "wouldn't be surprised" if the hailstones the storm unleashed are indeed record-breaking.
So how do meteorologists recognize exceptional hail on radar imagery?
AccuWeather Meteorologist and Social Media Manager Jesse Ferrell explains forecasters analyze specialized radar and must know what tell-tale signs to look for.
"NEXRAD Doppler Radar detects the size of water droplets that its beam intercepts, so higher 'reflectivities' (colors you see on your average television or internet radar) indicate larger drops, or hail," Ferrell said. The radar snapshot seen below shows the highest reflectivities (purple) southwest of Bethune at the time of the hail depicted in the photo fell on Tuesday.
Barron's Doppler Radar detects the size of water droplets that its beam intercepts, so higher "reflectivities" (colors seen on the average television or internet radar) indicate larger drops, or hail. (AccuWeather)
Report this ad
Report this ad
Meteorologists also have access to special radar products that attempt to gauge the size of hail stones, Ferrell added. The Baron Hail Track image, which estimates sizes of all the hail that fell in the area for one hour and is depicted above, shows extreme hail southwest of Bethume on Tuesday afternoon. Another tool that meteorologists use, the NEXRAD radar's Storm Cell Identification Tracking, helps estimate the size of hailstones. Radar images showed a maximum estimated hail size of 4 inches in diameter at time of Tuesday's storm. Meteorologists look at the darkest part of the hail imagery to gauge the intensity, depicted in purple in the radar reading, as shown in the screen shot below.
Could the hail indicated there have been what's shown in the photo?
Meteorologists use t
he Baron Hail Track image
to estimate the size of hailstones. This image shows a maximum estimated hail intensity at the time the hailstones fell, in the spot where the red arrow is pointing. (AccuWeather)
"It's plausible," Ferrell said, adding, "the radar's beam can only hit a limited area of the storm's vertical structure." The National Weather Service in Goodland, Kansas, and the Colorado State Climatologist is investigating will issue the final determination on whether the hailstone seen in the photo is real, and whether or not it breaks the Colorado state record of 4.5 inches, which, incidentally, was just tied Sunday.
Thunderstorm development was explosive with cloud tops quickly reaching an altitude of more than 40,000 feet.
"As hail began to grow higher up in the thunderstorm, strong updrafts keep the hail stones aloft, the longer the bigger they become. In this particular situation, this mass of storms had been going for over an hour, allowing for massive hail," Walker said.
Not only was this environment inviting for hail, but also for tornado development. Several tornadoes were reported in the area, and Timmer
captured video of a developing tornado on Tuesday afternoon
.
Sizable hail was also reported throughout the Plains, in states like Nebraska, Kansas and Minnesota, on Tuesday.
Report this ad
Report this ad
"Hail of four inches or greater is relatively uncommon, but usually happens at least a few times each year during the spring and summer months," AccuWeather Meteorologist Brett Rossio said.
"Big hail like this is a little bigger than a grapefruit. This can easily kill people and livestock," Rossio said.
Hail of this size is most common west of the Mississippi and east of the Front Range, and is most likely in the High Plains.
While the size of the recent hail is impressive, it does not break the nation's record, which was set on July 23, 2010, over portions of South Dakota. Several super cell thunderstorms moved over the region, with one particularly strong storm that tracked southeastward across portions of Stanley, Jones, and Lyman counties.
One of the hardest hit locations was the community of Vivian, South Dakota, where extremely large hail, destructive winds up to 80 mph, and a brief tornado were reported.
(NOAA)
A record-setting hailstone was discovered in Vivian, measuring an astonishing 8.0 inches in diameter, 18.625 inches in circumference, and weighing in at an amazing 1.9375 pounds,
according to the NWS
. Many other stones with diameters exceeding 6 inches were also noted during the storm survey. "It punched a hole in a wooden deck!" Ferrell pointed out.
This hailstone broke the previous U.S. hail size record for diameter and weight, which were previously a diameter of 7.0 inches on June 22, 2003, in Aurora, Nebraska, and a weight of 1.67 pounds on September 3, 1970, in Coffeyvile, Kansas. The Aurora hailstone retains the record for circumference with 18.75 inches.
Thanks to:
https://nworeport.me