Mystery surrounds Himalayan 'skeleton lake'
Posted on Wednesday, 21 August, 2019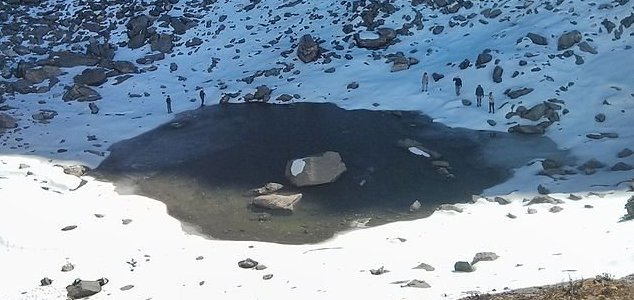 Roopkund Lake remains shrouded in mystery. Image Credit: CC BY-SA 4.0 Ashokyadav739
A shallow lake situated high up in the mountains of India is filled with skeletal remains dating back centuries.
At a glance, Roopkund Lake might seem like any other mountain lake in the region, but if you venture closer, its icy surface conceals the skeletal remains of hundreds of individuals.
Who these people were and how they got there has long remained a topic of debate among researchers, with some speculating that an ancient catastrophe could be to blame.
Now though, a new study involving an analysis of 38 of the skeletons has revealed that these people came from several distinct groups who arrived in the region over the course of 1,000 years.
"Through the use of biomolecular analyses, such as ancient DNA, stable isotope dietary reconstruction, and radiocarbon dating, we discovered that the history of Roopkund Lake is more complex than we ever anticipated," said Harvard Medical School geneticist David Reich.
Out of those examined, 23 had come from present-day India, 14 had come from Crete and Greece while the one remaining individual appeared to have come from Southeast Asia.
"We were extremely surprised by the genetics of the Roopkund skeletons," said evolutionary biologist Eadaoin Harney from Harvard University. "The presence of individuals with ancestries typically associated with the eastern Mediterranean suggests that Roopkund Lake was not just a site of local interest, but instead drew visitors from across the globe."
Exactly what drew these people to the lake over the centuries however still remains a total mystery.
Source: Science Alert

https://www.unexplained-mysteries.com/news/329861/mystery-surrounds-himalayan-skeleton-lake
Thanks to: https://www.unexplained-mysteries.com