First Titanic footage in 14 years released
Posted on Thursday, 22 August, 2019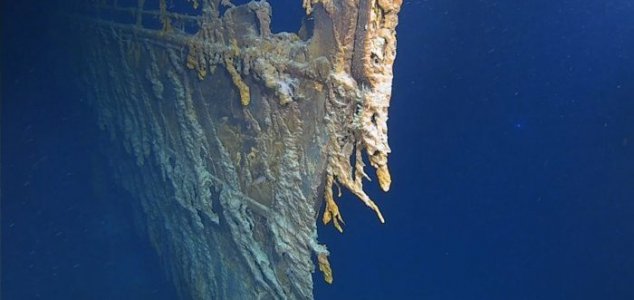 The Titanic is slowly disintegrating. Image Credit: Atlantic Productions
The first new expedition to the Titanic in over a decade has revealed the deterioration of the iconic vessel.
Situated 13,000ft beneath the surface of the Atlantic, the wreck of the Titanic was discovered in 1985 and has since served as a humbling reminder of the disaster that claimed over 1,500 lives.
There have been several visitors to the wreck over the years, including movie director James Cameron who used some of the footage he captured in his 1997 blockbuster
Titanic
.
Now the latest expedition - the first in 14 years - has revealed just how much the wreck has deteriorated in that time, with some iconic parts of the ship in danger of being lost forever.
One of the worst affected areas is the hull near the officers' quarters on the ship's starboard side.
"That whole deck hole on that side is collapsing, taking with it the staterooms, and the deterioration is going to continue advancing," said Titanic historian Park Stephenson.
"The captain's bath tub is a favorite image among the Titanic enthusiasts, and that's now gone."
Sadly, as time goes on, the wreck will continue to deteriorate until it becomes unrecognizable.
"The future of the wreck is going to continue to deteriorate over time, it's a natural process," said scientist Lori Johnson. "These are natural types of bacteria, so the reason that the deterioration process ends up being quite a bit faster, is a group of bacteria, a community working symbiotically to eat, if you will the Iron and the sulphur."
Newly released high resolution footage of the wreck as it is now can be viewed below.
https://youtu.be/HI6mt2w89rU
https://www.unexplained-mysteries.com/news/329872/first-titanic-footage-in-14-years-released
Thanks to: https://www.unexplained-mysteries.com