Russia's gun-toting robot flies to the ISS
Posted on Friday, 23 August, 2019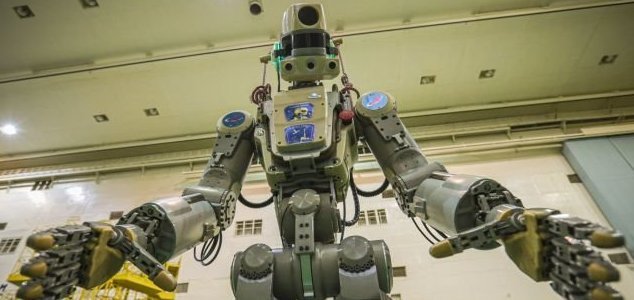 Are robots the key to sustainable space exploration ? Image Credit: Roscosmos
The humanoid contraption was the only passenger aboard a Soyuz capsule that launched on Wednesday.
Images from the inside of the spacecraft, which soared into the heavens after a successful launch from the Baikonur Cosmodrome in Kazakhstan, showed the robot clutching a small Russian flag as it sat proudly in the commander's seat.
Known as Skybot F-850 and nicknamed 'Fyodor', the robot will spent roughly two weeks aboard the International Space Station so that its creators can see how it gets on in zero-gravity.
It is the latest in a series of Russian-built FEDOR robots that can be designed to perform a whole range of tasks from driving cars to operating a welding torch and everything in-between.
Perhaps the most notorious example of the robots' versatility is a video from 2017 showing one of them wielding two automatic pistols and shooting at targets on a gun range.
The stunt even prompted Deputy Prime Minister Dmitry Rogozin to write - "We are not creating a Terminator, but artificial intelligence that will be of great practical significance in various fields."
Fortunately though, Fryodor won't be bringing any weapons aboard the space station.
https://youtu.be/Az_qrXQzYOA
https://www.unexplained-mysteries.com/news/329746/russias-gun-toting-robot-flies-to-the-iss
Thanks to: https://www.unexplained-mysteries.com