Mystery 'gel' found on far side of the Moon
Posted on Tuesday, 3 September, 2019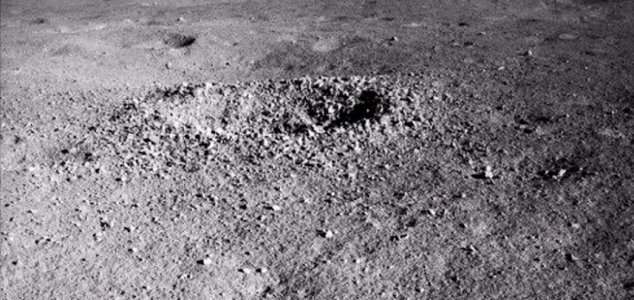 What is this substance and how did it get here ? Image Credit: China National Space Administration
Scientists operating China's Yutu-2 lunar rover have discovered a strange 'shiny gel' inside an impact crater.
Situated within the 2,500km-wide South Pole-Aitken basin, the rover, which landed on the Moon as part of China's groundbreaking Chang'e 4 mission back in January, first noticed the anomalous gel after spotting a shining object while trundling across the lunar surface.
Exhibiting a shape and color that stands out against the surrounding regolith, the gel has been described as having "a mysterious luster" and is situated right in the middle of an impact crater.
While scientists have yet to conclusively identify the substance, some have speculated that it could be a type of glass created from the heat of the impact that formed the crater.
The rover had been due to power down for one of its regular 'naps' just prior to the discovery, but when the anomaly was spotted engineers decided to postpone the process so that it could be investigated.
Without additional instruments however, conclusively explaining the substance may prove a challenge.
Source: Independent

https://www.unexplained-mysteries.com/news/330158/mystery-gel-found-on-far-side-of-the-moon
Thanks to: https://www.unexplained-mysteries.com