'Extraterrestrial highway' sign is taken down
Posted on Monday, 16 September, 2019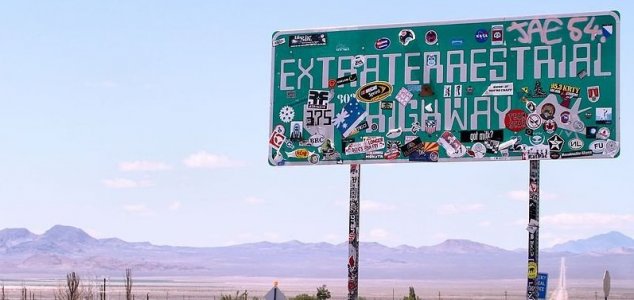 The sign is gone for now, but it will be back. Image Credit: CC BY-SA 2.0 / Airwolfhound / Flickr
A world-famous sign situated near the secretive Area 51 facility has been taken down by local authorities.
Emblazoned with the words "Extraterrestrial Highway" in bold white letters on a green background, the famous sign has long greeted visitors to State Route 375 in south-central Nevada.
Now though, local authorities have taken the decision to remove the sign on a temporary basis because of the number of people expected to flock to the region over the next week or so.
According to Nevada Department of Transportation public information officer Tony Illia, the sign had been due for replacement anyway.
"As such, we will be removing it prior to the 'alien-fest' event and replacing it afterwards to help reduce traffic congestion at this location due to people stopping to take pictures," he said.
"Additionally, it's one of our most stolen highway signs statewide."
Last week, 'Storm Area 51' founder Matty Roberts announced that his planned 'Alienstock' festival had been cancelled in favor of an event in Downtown Las Vegas on September 19th.
Even so, there are several other events set to take place in the vicinity of the base itself.
With only a few days left to go, it will certainly be interesting to see what happens.
Source: MSN.com

https://www.unexplained-mysteries.com/news/330506/extraterrestrial-highway-sign-is-taken-down
Thanks to: https://www.unexplained-mysteries.com